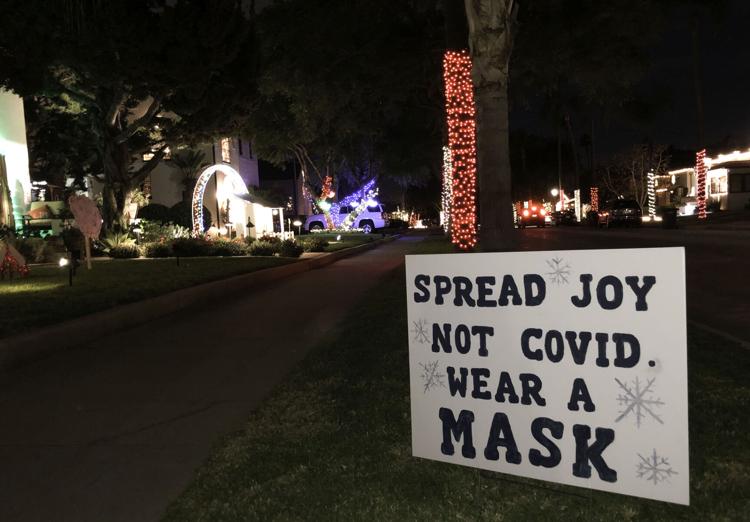 Despite the untraditional nature of the 2020 holiday season, festive lights are appearing in full force all over Orange County. Even during these tough times, nothing warms the heart and brings nostalgia quite like the wonder and twinkle of a holiday light display.
Holiday Light Cruises
The annual Newport Holiday Boat Parade was canceled due to COVID-19, but the twinkle of holiday lights can still be enjoyed from the water with a holiday light cruise. Davey's Locker in Newport offers cruises, whale watching and sport fishing year-round. 
Now through Jan. 3, holiday cruises can be booked online. Prices start at $32 and vary based on the time slot reserved. The 75-minute cruise tours the Newport harbor in all its holiday glory. Cruise capacity is reduced for safety, and there is an extra $5 charge for popular time slots between 5 p.m. and 8:30 p.m.
A glamorous, twilight boat cruise lit with holiday cheer is the perfect way to enjoy a bit of normalcy this holiday season.  
Night of Lights Orange County
Opened on Dec. 10, the Orange County Fairgrounds in Costa Mesa is home to the drive-thru "Night of Lights OC'' event. Tickets and times from 5 p.m. to 10 p.m. can be reserved online for $49.99 to $69.99 per vehicle, depending on the day of the week. 
The drive-thru winter wonderland features 1 million lights and bubble snow. Guests will drive their vehicles through various festive interactive light displays. Themed nights are celebrated as well, including nights for local colleges and universities. Cal State Fullerton is celebrated on Dec. 29.
Food and merchandise commemorating the unprecedented 2020 holiday event are available but must be purchased in advance at the time of ticket purchase. 
Free Holiday Lights
Orange County also offers several free options for holiday light enjoyment in various neighborhoods and local communities.
Pine Street, near the intersection with Chapman Avenue in Old Towne Orange, gets thematically decked out during the holiday season. 
While not all homeowners choose to follow the theme, there is no lack of creativity. Past years have had themes like "Winter Wonderland," but this year's theme is candy and sweets. Several homeowners adorned their lawns with lit-up candy canes and palm trees that flank either side of the road wrapped in strings of red and white lightsto resemble candy canes.
A Spanish-style house on the corner of Pine Street and Maple Avenue departed from the candy theme with an ode to the "Wizard of Oz." A green string of lights spell "Oz" above the home's entryway and a giant pair of ruby red slippers sits on the lawn. 
On the opposite side of the grass is a shed-sized wooden house labeled "2021" resting under an arch of rainbow lights. A witches' feet stick out from under the house's porch next to a tombstone that reads "Rip 2020." 
Up the street, another house has stuffed clothing in the shape of the intruders from the classic holiday movie "Home Alone." The mannequins are posing on the patio and hanging from the roof as they attempt to break into the house. 
As the holiday season progresses, more residents of Pine Street appear to put lights out. This area is worth a couple of visits during the holiday season. One may even see Santa Claus roller skating in the streets nearby with a group of people in Christmas onesies.
North Yale Avenue is also well known for its sparkle ball display. These balls of Christmas lights can be handcrafted and strung from trees or used in light displays and lawn decorations. 
The trees above North Yale Avenue, Nutwood Avenue and several other streets near Fullerton College campus are richly decorated with sparkle balls. Some blink colored lights, some are white and others fade from one color to another. One lawn display shows The Grinch with a sleigh full of sparkle balls next to a wooden Cindy Lou Who donning a face mask.
The houses are impressively decorated. 
Some are dripping in lights and holiday cheer and others skip the house lights and lawn displays, yet all trees in the parkway have sparkle balls dangling from its branches. It is a magical atmosphere made warmer by the voices of small children shouting Christmas tidings from passing cars and neighbors sharing warm drinks with each other around a firepit in a driveway.
Holiday cheer is readily available in most neighborhoods around Orange County. Displays can be enjoyed from the safety of a vehicle or on a socially distanced walk. Such cheer reignites hope for the coming year and there's no better way to start the new decade.