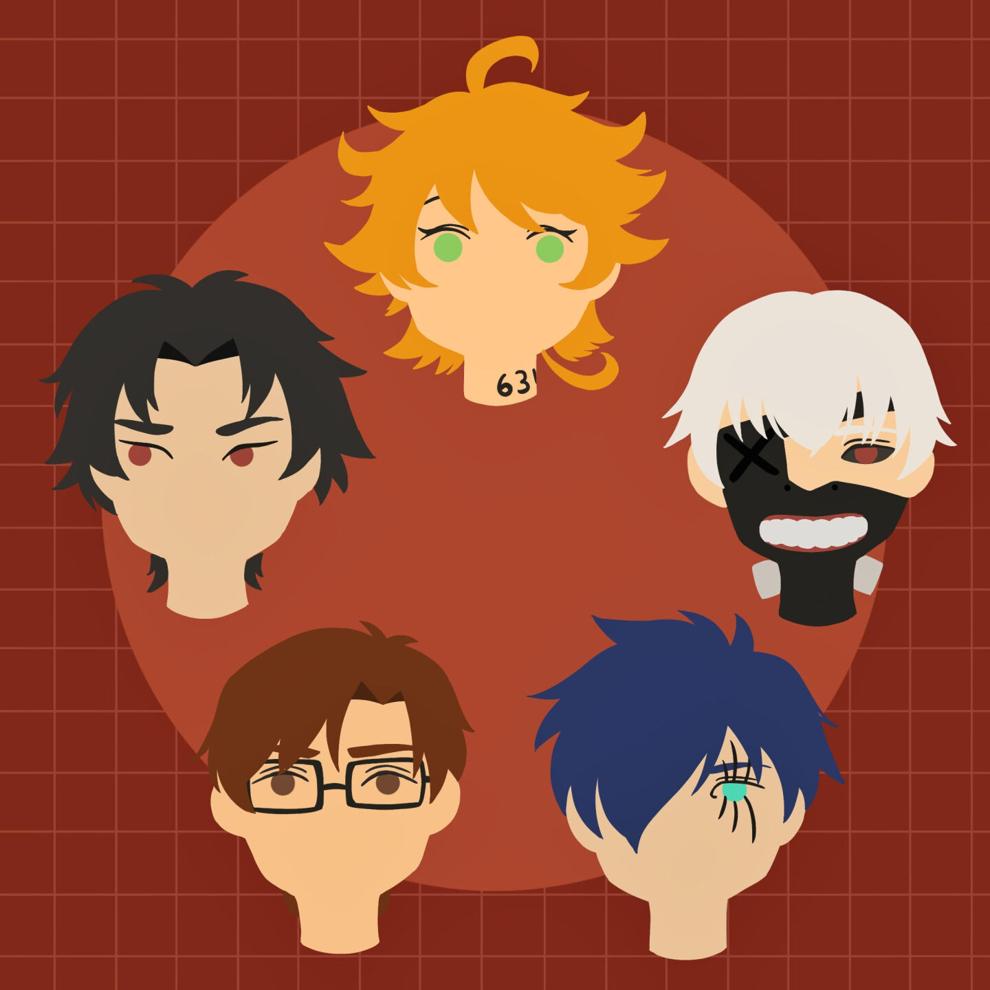 While not everyone is interested in being chased in a maze, or attending a scarily crowded party, being terrified in the comfort of your own home is something everyone can enjoy.
Here are five frightening anime series to get you, and maybe some friends and family, into the spooky spirit.
Spoilers ahead.
"Tokyo Ghoul" (2014)
Based on the manga of the same title written by Sui Ishida, this anime follows Ken Kaneki as he goes on his first date with a woman named Rize Kamishiro. Unbeknown to Ken, Rize is a bloodthirsty ghoul whose sole intent is to eat him. 
Due to the work of a physician, Ken survives the attack after Rize's organs are placed in him. Consequently, Ken becomes the world's first half-human, half-ghoul being, challenging him to navigate his new life with a new identity in what used to be just a human world. "Tokyo Ghoul" serves as an interesting look into what happens when we become what we fear and hate.
"Tokyo Ghoul" is available to stream on Hulu.
"Parasyte: The Maxim" (2014)
Based on the manga "Parasyte," written by Hitoshi Iwaaki, the protagonist, Shinichi Izumi becomes possessed by an alien that goes by the name Migi. The series follows Shinichi as he  adjusts to a life with a Parasite living in his right hand who has a craving for humans. While this anime may sound similar to the premise of "Tokyo Ghoul," "Parasyte: The Maxim'' differs by showing two separate characters learning to coexist in one body. Shinichi doesn't want to commit murders, while Migi insists that it is the only way for them to survive on a planet overrun by Parasites that inhabit human bodies and are determined to feed. Without placing humans on an unearned pedestal, "Parasyte: The Maxim" shows the determination of humans to live and outwit dangerous creatures.
"Parasyte: The Maxim'' is available for streaming on Hulu, Netflix and Crunchyroll.
"Devilman Crybaby" (2018)
Based on the manga "Devilman," written by Go Nagai, the anime follows the friendship of Akira Fudo and Ryo Asuka as they investigate an ancient race of demons. As part of the investigation, the pair go to a nightclub under the presumption that demons will appear. There, Akira is possessed by a demon but through his will power, he is able to retain his soul. This makes Akira a Devilman, one who possesses the soul of a human and physical capabilities of a demon. 
As the world becomes aware of the existence of demons, people quickly turn against one another and mass violence erupts. 
What sets "Devilman Crybaby" apart in this list is the theme of fearful humans turning on one another and losing their own humanity in effect. The series looks at what a world with no trust turns into, and how quickly that can lead to destruction.
"Devilman Crybaby" is available on Netflix.
"B: The Beginning" (2018)
An original anime series created by Production I.G and Kazuto Nakazawa, "B: The Beginning" takes place in Cremona, a city riddled with violent crime. One of the most heavily covered murderers in Cremona has been able to dodge police, only leaving his signature B at the sight of his crimes as proof. 
The vigilante serial killer is attempting to catch the attention and send a message to one long lost friend, but is soon met by legendary investigator Keith Flick. Killer B and Keith Flick soon seek each other's assistance in order to  achieve their goals and together, uncover an even larger threat to the city. "B: The Beginning" is first and foremost a mystery then a horror classification, as it dives into the minds of people with power and those they harm.
"B: The Beginning" is available on Netflix.
"The Promised Neverland" (2019)
Based on the manga of the same name by Kaiu Shirai, the anime centers on the lives of 38 children who live together in an orphanage. The children all live happily with a mother who seemingly wants nothing but the best for them during their time at the house. 
One night, the mother, Isabella, leads a young girl named Conny out of the house as it is her adoption day. Upon realizing she has left her stuffed toy in the house, Emma and Norman, two of the older orphans living in the house, run after Conny and Isabella to deliver the toy. 
Emma and Norman discover Conny's dead body inside of a truck, and soon realize that Isabella sold Conny as "meat" to demons. The two children rush back to the orphanage, determined to not allow any of the other children to be sacrificed. "The Promised Neverland" shows the determination of children living in a world where adults lie, but prove themselves to be capable of survival in a world meant to exploit them.
"The Promised Neverland'' is available on Hulu, Netflix and Crunchyroll.