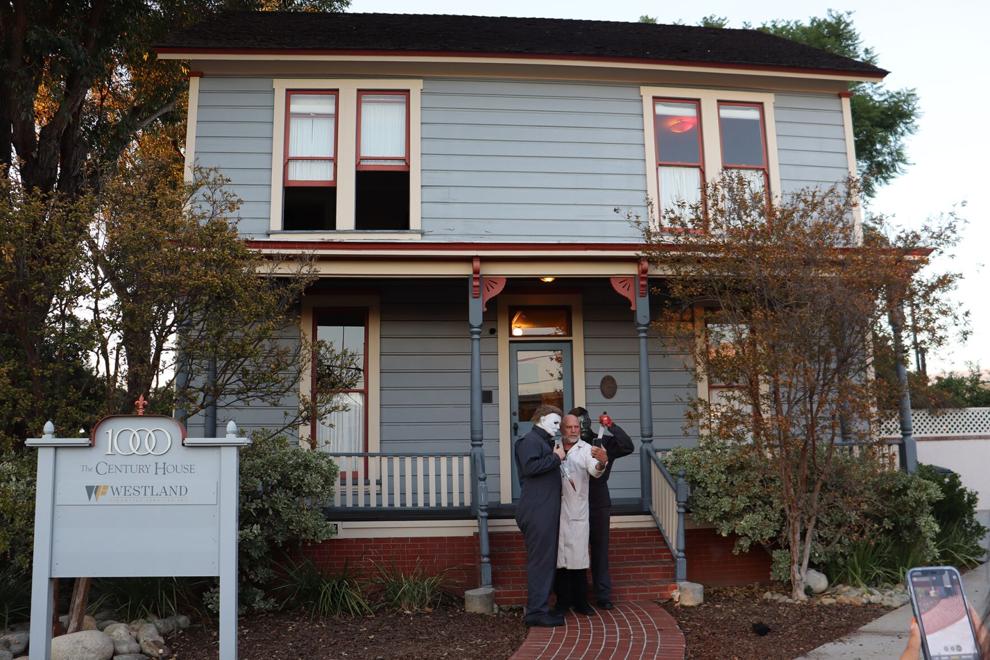 The notorious boogeyman, Michael Myers, strolled the quaint sidewalks of South Pasadena with a tight grip on his bloody knife. He greeted visitors who were patiently awaiting entry to SugarMynt Gallery's collaboration with Horror's Hallowed Grounds and Convention All Stars LLC "Halloween" signing event by pressing his knife against their throats, ready to slash away. 
On Oct. 9, the "Halloween" signing event celebrated the 1978 American independent slasher film directed by John Carpenter, sequels "Halloween" 2018 and the soon-to-be-unveiled "Halloween Kills" directed by David Gordon Green. SugarMynt Gallery invited an array of ingenious and masterful actors, actresses and a makeup artist to mingle with Halloween fanatics. 
SugarMynt Gallery's "Halloween" signing event is situated in the original filming location of the 1978 "Halloween," right next to Michael Myers' infamous and eerie home on 810 Meridian Ave. Streams of Halloween fanatics waited hours until their tickets were scanned and the gate creaked open. 
Granting access to electrified "Halloween" fanatics,  Magdalena Galvan, curator of SugarMynt Gallery's social media and John Orlandini, coordinator of the "Halloween" signing event and father to SaraRose Orlandini, owner and CEO of SugarMynt Gallery, shared what the SugarMynt Gallery's Halloween festivities symbolizes to them.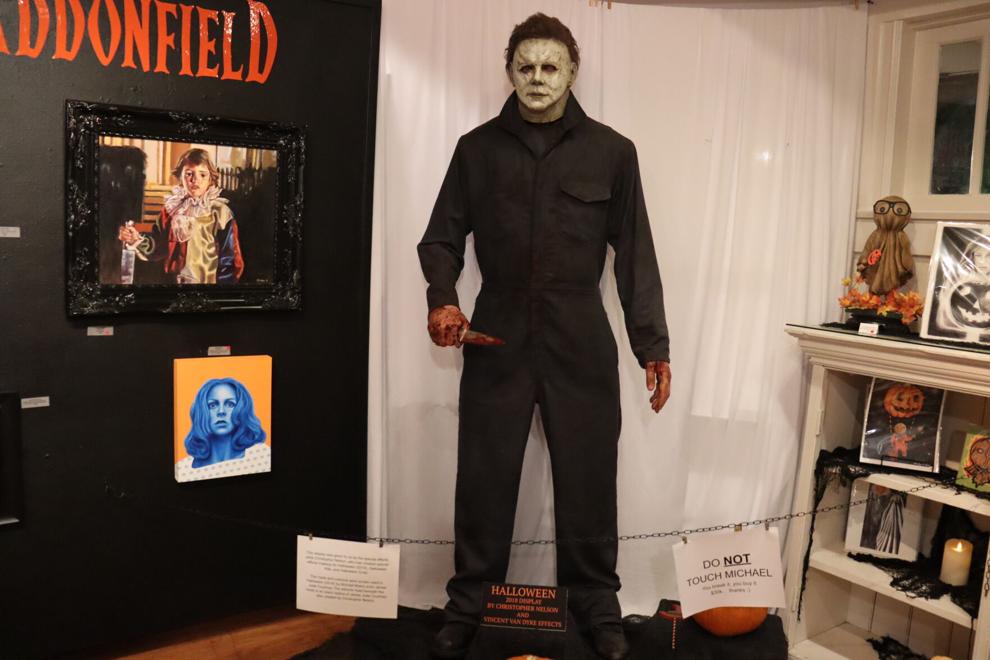 "I guess it feels like home for me, because I grew up here. Before working here, I would be the people in line. I was always at every event, every event, even before it opened," Galvan said. 
For John Orlandini, his face lit up when discussing his daughter's achievements. 
"For me, it's my daughter's gallery, Sara. I see her just start from kind of scratch, and it just gets bigger and bigger, and now, because of Instagram, she has become an Instagram [influencer]. And so she really does a nice job with it," Orlandini said.
Once attendees passed by Galvan and the Orlandinis, there were six celebrities with their own decorated booths on the green lawn, ready to sign autographs and take selfies with visitors.
The signing featured some of the 1978 "Halloween" cast including Nick Castle, who is the first raw Michael Myers known as "The Shape," P.J. Soles (Lynda) and Will Sandin (Young Michael Myers). 
Additionally, James Jude Courtney, who embodied the silent yet violent Michael Myers in "Halloween" 2018, "Halloween Kills" 2021 and even "Halloween Ends" 2022 awaited elated fans.
 Carmela McNeal, actress in "Halloween" 2018 and "Halloween Kills" who played Vanessa, an alluring nurse swooped into the event. Also, Christopher Nelson the renowned special FX makeup artist of "Halloween" 2018, "Halloween Kills" and "Halloween Ends" was spotlighted for his grisly and spine-chilling pieces on the evolution of Michael Myers' mask.
Every attendee had the opportunity to socialize with "Halloween" legends on a personable level. Courtney revealed his unease when rewatching Michael Myers come to life on the big-screen. 
"When I work, doing what I do, fire and high falls, like acting in really critical situations, I've never been stressed. I have zero anxiety. I am just as calm as can be, it's what I do. But when I have to watch myself in the theater, I sweat bullets. I don't like it,"  Courtney said. "I've probably been in over 100 individual episodes of TV shows and movies. I haven't seen 80% of it. I just don't do that. That's not why I do it. I do it because I love it."
Courtney also delved into how he embodies Michael Myers' cold-blooded nature. "That's all in the breath. It's all breathing. It's the space, it's beyond a three-dimensional place. It's beyond time and space. It's beyond judgement, it's beyond definition," Courtney said. 
Courtney credited Max Strom, who taught him breathing techniques years ago. "That's what I use to carry myself into the character, and then I carry myself out of the character with the breath. Because otherwise, David Gordon Green told me that he worked with a guy who goes as deep as I go, and he ended up in a psych ward for two months."
Halloween fanatics could also chat with sweetheart P.J. Soles. When asked how she embodies the role of Lynda, Soles discussed her interaction with director John Carpenter.
"In the script, 'totally' is written probably about five or six times. But, I told John Carpenter that I was gonna push it, and every time I spoke if I could fit it in, I would. So I've been told it's more than 11. I think it has to be more than that," Soles said. "Everything kind of revolved in [Lynda's] world around the word 'totally,' so that just kind of became Lynda's mantra."
After fans left this meeting of the "Halloween" celebrities, they trailed into the "Trick 'r Treat in Haddonfield" art gallery. Chilling art filled the walls for attendees to purchase, and tucked in the corner a 6-foot-3-inch Michael Myers statue created by the FX artist Christopher Nelson was on display.
As Halloween fanatics frolicked out of SugarMynt's Gallery, their frightful journey hit the end. The "Halloween" signing event marked a hauntingly historic night that the attendees will remember once Michael Myers lashes out on the silver screen in "Halloween Kills," releasing on Oct.15.