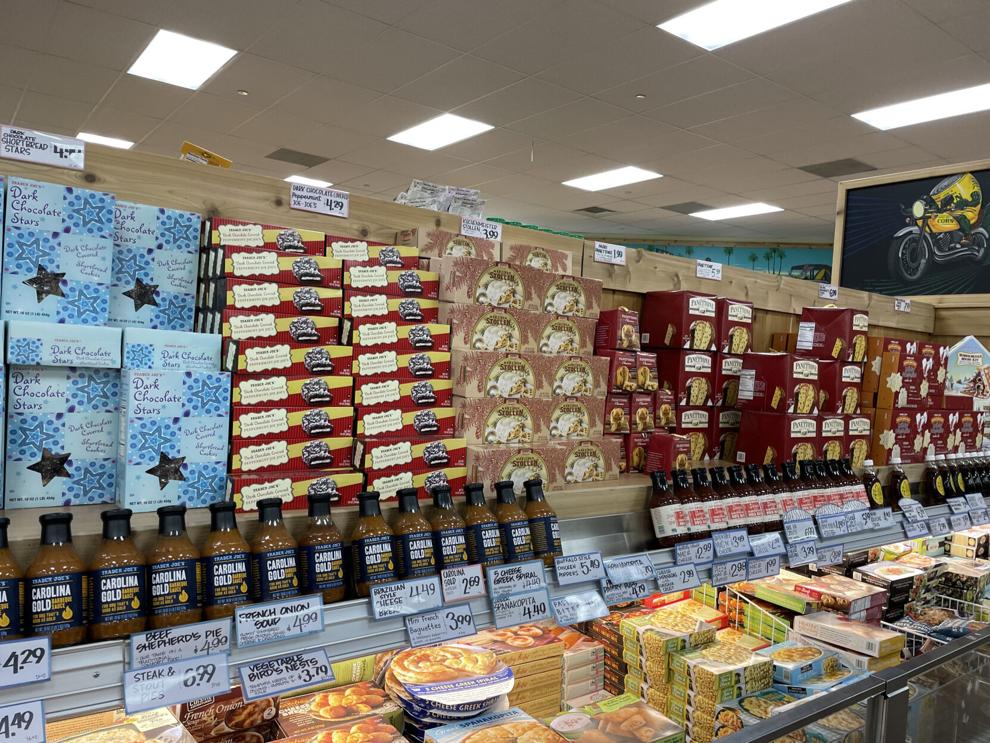 Just when you thought you tried everything Trader Joe's has to offer, their holiday snacks and treats arrive just in time for the winter celebrations. 
Trader Joe's has become one of the top grocery store chains — and remains popular — due to it's inexpensive products and unique store signs. Their frozen foods and prepackaged items are must-haves for college students. 
For the holidays they bring out their best renditions of holiday goodies like peppermint, shortbread and lots of chocolate. Like many holiday treats they are only available during the fall/winter season and when the time comes, some items are in high demand. 
Here is a list of Trader Joe's holiday snacks and treats worth the hype this year.
Candy Cane Joe Joe's Dark Chocolate Bar - $1.99
A peppermint twist on the dark chocolate bar, this is a perfect sweet snack after a meal or for that sweet tooth craving. This treat is a combination that isn't as strong as a mint chocolate bar but it's just a perfect mix of holiday flavors. 
Decked Out Tree Cookies - $2.99
These cookies are perfect to put out for Santa, bring to your holiday parties or put out as a table centerpiece. The tree shaped cookies are frosted with a milk chocolate creme with a white icing and some red and green sprinkles that brighten them up. This is truly a sweet treat to snack on this holiday season. 
Candy Cane Chocolate Covered Almonds - $3.99
This sweet and salty treat is made for almond lovers. The almonds are first dipped in a layer of dark chocolate and then again in peppermint-flavored white chocolate and topped with candy cane bits. Those craving a crunchy yet sweet snack have these to fall for as they are the perfect bites to munch on throughout the day. The eight ounce tub is available in the candy aisle. 
Eggnog - $2.99
What better way to wash down all the delicious food than with a traditional holiday drink like eggnog. With three options to choose from: light eggnog, eggnog, and their new one joining the lineup, Trader Joe's O' Nog, a non dairy option made of oat milk. All options are gluten free. The O'Nog is a perfect way to introduce someone to traditional eggnog in a light, smooth way. 
Peppermint Brownies - $3.99
Brownie lovers will want to snag a couple of these peppermint brownies. The chewy and thick fudge brownie has a seasonal kick of white chocolate chips and a white ganache drizzle and peppermint. This sweet treat is perfect warmed up. 
Hot Cocoa Ornaments - $6.99
If you can get your hands on these popular edible ornaments then you are in for a real treat. The ornament shaped hot cocoa bombs go right in a steaming cup of your choice of milk or dairy alternative where the chocolate shell melts and unveils cocoa powder and marshmallow. This fun festive twist is glittery and colorful and well worth the hype.
Mini Dark Chocolate Mint Stars - $3.49
These dark chocolate covered shortbread cookies will have you eat ing them straight from the box. The cookies are a perfect snack on-the-go, or paired with your lunch or midnight snack. 
A dark chocolate covered shortbread is decorated with a sprinkle-like topping.  The mini stars are small but mighty and infused with peppermint to give it that chocolate mint combination. Both are worth a snag to enjoy during the season. 
Dark Chocolate Covered Peppermint Joe-Joe's - $4.29
A Trader Joe's classic with its seasonal twist, these Joe-Joe's are dipped in dark chocolate and sprinkled with peppermint chunks. It's a crunchy treat that pairs with your favorite dairy or non-dairy option. This delightful treat is perfect to leave out for Santa Claus. 
Some snack honorable mentions include the White Truffle Popcorn, Candy Cane Joe Joe's Ice Cream, Sparkling Pomegranate Punch Beverage and the Wintry Blend Ground Coffee; they are definitely worth a try on your next Trader Joe's run.
Trader Joe's loves its dark chocolate and peppermint flavors but be sure to snag these treats before they are gone. All these options are worth the penny and are perfect for snacking at home, platting to bring to a party or sharing with friends.