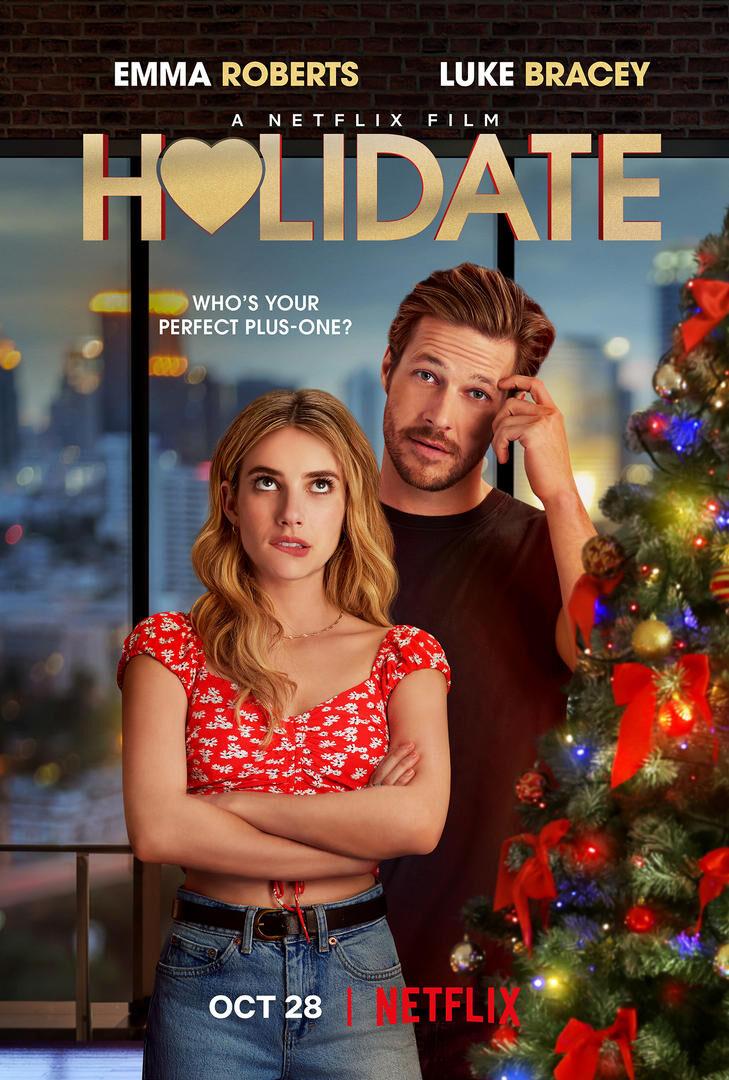 The novel coronavirus is continuing to sweep the nation as cases rise and —
Wait. That's not the right story. We've heard enough about the disaster dubbed 2020 over the last nine months, and it's time for a break. If there was ever a need for holiday escapism, now is the time, and luckily, Netflix has delivered a fresh batch of holiday films.
Last year, I ranked all of the Netflix original holiday rom-coms from bad to worst, but because we didn't get a slew of those this season, I opened up the ranking to 2020 Netflix original holiday movies of all genres. The following films are fun, cliche, and COVID-19 free.
6. "The Princess Switch 2"
Two years after the first "Princess Switch," which starred Vanessa Hudgens and Vanessa Hudgens with a British accent, a third lookalike is back to shake things up again.
Thankfully, the film begins with a recap of its predecessor, where it frequently remarks "you probably remember," even though I'm fairly sure none of us do. In short, Duchess Margaret (Hudgens) is about to become queen, while baker-turned-princess Stacy (Hudgens) sways in the background. However, things take a turn when Margaret's cousin Fiona (unsurprisingly, Hudgens) tries to steal Margaret's life.
Fiona dresses like a discount Christina Aguilar and says things like "spoopy," "his royal hotness" and "minions, I need champagne." In short, it's best to have Urban Dictionary on hand. Fiona ends up kidnapping Stacy after thinking she's Margaret who was pretending to be Stacy and — yes, the plot is a mouthful. As one character says in the film, "I'm very confused."
Two stars, but could likely be four if watched with alcohol.
5. "Dolly Parton's Christmas on the Square"
This movie should have been called "Christine Baranski's Christmas on the Square," because although Dolly appears every now and then, Baranski makes the show as a modern-day Scrooge.
A frequent actor in holiday films, including playing Martha May Whovier in the 2000's "How the Grinch Stole Christmas," Baranski is back as Regina, a woman selling her childhood town. Despite the residents' despair, she hands out eviction notices and notifies them the town will be replaced with a mall, ordering them out before Christmas. One resident tells her that greedy people trudge a rocky road, to which Regina replies, "Note to self: Buy more comfortable shoes." Martha May is weeping.
The songs were lackluster, even those by Parton — who is fairly forgettable for being the show's namesake. Still, there's spirit, heart, and an odd church number where they sing about murdering Regina. Regina's redemption is heartfelt and the film feels classically Christmas, and points for a plot twist I didn't see coming. Three stars.
4. "Christmas Chronicles 2"
The "Christmas Chronicles 2" is that candy box grandma gives you on Christmas that turns out to only hold socks.
It's not that I don't like socks, but after expecting candy it's a bit of a letdown. The first film felt like an instant classic — a heartfelt, fresh spin featuring a modernized Santa Claus, livened by Kurt Russell, and following siblings Teddy and Kate as they wrestle with the loss of their firefighter father while crashing Santa's Christmas Eve run. Two years later, now-teenage Kate and anxiety-ridden Jack—her mom's boyfriend's son—are whisked off to the North Pole as a bitter former elf stages a coup to overthrow Santa.
The first film had a spoonful of magic, but the sequel spilled the whole pot. The North Pole is lathered in Christmas spirit and populated by elves that rival the cuteness of Minions. Goldie Hawn is here too as a perfect Mrs. Claus and the other half of Russel's power duo. The sequel still had moments of heart, but the plot lacked intrigue and villain Belsnickel isn't compelling enough to take seriously.
It's not a bad film, but it can't fill the black boots of its predecessor. Three and a half stars.
3. "Operation Christmas Drop"
In a world of cookie-cutter Christmas movies, this one was new. Based on the U.S. Air Force's real-life Operation Christmas Drop, in which planes drop vital supplies across 55 islands for the holidays, the film adds an element of romance to make the real operation a Christmas favorite.
Snowy suburbs are nowhere to be found, and Guam's beaches look far more like my sunny Southern California holidays than any other film on this list. Congressional aide Erica flies to Guam's military base, tasked with writing a report that will get the base closed because of its Christmas drop. Before she can become the Erica who stole Christmas, she meets Captain Andrew, who — surprise — shows her the joy of the holidays.
While the film won't warrant a rewatch, it was a fresh take mixed with a few beloved cliches. Plus, the leading man is Alexander Lugwig, also known as Cato from The Hunger Games. Four stars.
2. "Jingle Jangle: A Christmas Journey"
I haven't seen a more emotional first 10 minutes of a film since Pixar's "Up." The beginning is a brilliant, whimsical setup that tells us exactly how Jeronicus Jangle, the greatest inventor of all time, lost everything.
Thirty years later, Jeronicus' wife is deceased, daughter estranged and toy-turned-pawn shop a few days from bankruptcy. With the arrival of his granddaughter, however, life seeps back into the world — and his inventions — once again.
"Jingle Jangle" has a healthy dose of magic and musical numbers, creating a stylized world through whimsical sets and colorful costumes. If the film feels like a holiday edition of the 2017 "The Greatest Showman," it's because they share the same choreographer and can-do attitude.
It's a Christmas confection: a thoroughly enjoyable experience, but too much might make you sick. Four stars!
1. "Holidate"
By now, it's clear that this list is overwhelmingly subjective, which is why the brilliant mess called "Holidate" snagged the top spot.
The plot kicks off when two bristly strangers who spend an unusual amount of time in shopping malls agree to be each other's platonic holidates, which means they spend holiday festivities together to avoid the awkwardness of showing up alone. Sloane and Jackson rage through New Year's, drink on St. Patrick's Day and blow Jackson's finger off with a firework on the Fourth of July. You know, the usual.
Some parts felt like I was watching scenes in my high school drama class, which made it just the right amount of awful. Sloane and Jackson have a natural chemistry and more personality in Jackson's chopped finger than most rom-com leads. Points to letting characters develop a relationship over months rather than a stuffed two days.
Most of this movie is deprived of Christmas, but since it begins and ends in the happiest time of the year, it scraped into the ranking and stole the #1 spot. Five stars, plus a few more for a painfully accurate depiction of the kids table and Easter egg hunts.
Happy holidays, and in 2021, may we too find our soulmates in a shopping mall.