Fullerton Fashion Association, a new club on campus, is a perfect fit for Cal State Fullerton's community of fashionistas.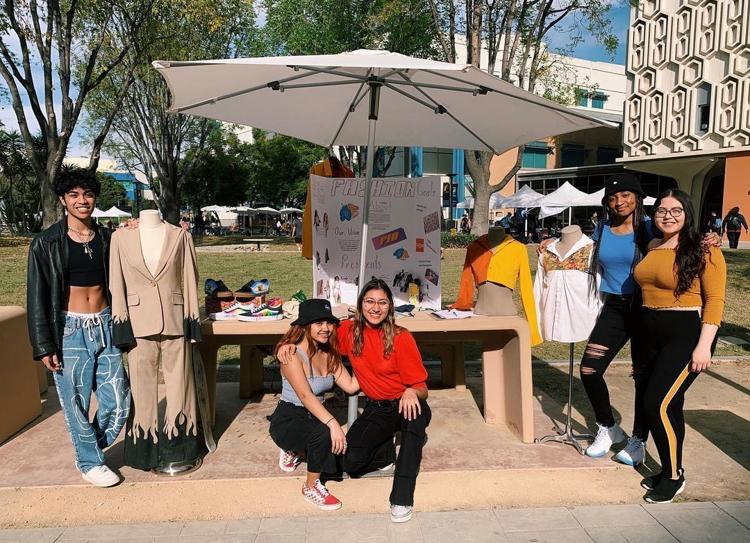 When the association began, it garnered sign-ups of over 200 students. The demand for a community in Fullerton that celebrates fashion of all kinds was apparent.
The Fullerton Fashion Association has a broad purpose, like the many aspects of the fashion industry itself. Katrina Dumilon, its marketing chair, said the association is "a community for individuals to express themselves through style, to express their uniqueness and their individuality. There are many aspects that come into play in fashion, including body image, shapes, silhouettes, color schemes, material and so much more."
The sense of community is strong among those in the association. Once feeling like they had no one to discuss fashion related topics with, FFA secretary Kevin Liu's favorite part is the community they built.
"It's just having people to talk to you about fashion, because I feel like fashion isn't really something that comes across in everyday conversation. So it's just nice to have," Liu said.
This community has been a place for those at CSUF to feel comfortable enough to share their individuality and explore their options.
"I feel like it's super important just to have, like, a super supportive community around you because I didn't have that when I got into fashion," Liu said.
Supporting fellow fashionistas is what inspired Kema Azodoh and Jaron Ramos, the co-founders and co-presidents.
"We happened to be in the Gastronome at the same time and she (Azodoh) just went up to me and said, 'your outfit is so cute' and I'm like, 'oh, thank you I'm thinking about like doing a club, stuff like that. She's like, no way. I'm thinking about doing it," Ramos said.
Fullerton Fashion Association aims to celebrate the uniqueness and individuality among its members while giving them resources and platforms at CSUF.
"The art program didn't even have a fashion class or design class at all and I thought, that's really weird because fashion is such a big industry that I really wouldn't mind having a fashion class on campus," Ramos said.
While the university may not offer fashion-related courses, this group is determined to equip its members with knowledge in all things fashion. The club discusses fashion beyond the surface level conversations of trends.
Azodah said that while in the association she has learned about the importance of sustainability, thrifting and customizing fast fashion clothing to uniquely express her style.
Discussions about fashion practices that have gone out of style are just as prevalent.
"One thing that definitely stuck out to me is body positivity. We live in a society where we look at social media and we'll be scrolling through our feeds and there's like certain ideal body standards that certain brands or just social media images portray. It can be pretty detrimental to the mental health of young people such as myself and also people younger than me," Dumilon said.
The multifaceted world of fashion has a place for those with diverse skills and the association reflects that. For Dumilon, fashion marketing was what sparked her interest.
"Career-wise, it would be a dream to work in the fashion industry. I would love to be behind the scenes in terms of marketing. I want to be on the business aspect of fashion because I don't think that I'm not really talented at designing," Dumilon said
In contrast, Liu said he believes that styling is his forte. "I'm into fabrication and design and stuff like that, but I don't think it suits my personal skills. I feel like I appreciate more how clothes are styled."
Before sweatpants and pajamas were the staples of quarantine fashion, the association had plans to expand in many different ways.
"We were on a roll during spring and all of a sudden, you know, COVID hit and I had to leave." Ramos said.
But while we wait for a sense of normalcy in America to hit the runway again, the club is planning its return. Ramos remembers contacting other clubs such as the Black Student Union, Pilipino American Student Association and Ballet Folklorico de CSUF for a potential collaboration.
"Another cool idea I really wanted to do was a cultural fashion show. I thought that it would be so fun. Like I actually thought about starting it in the spring so that I'd be our like students design stuff in the fall and then a cultural fashion show in the spring." Ramos said.
As was the case for many campus organizations, COVID-19 broke the thread of momentum that the group sewed together. While the club has taken a pause on general meetings, the community still engages with its members through social media.