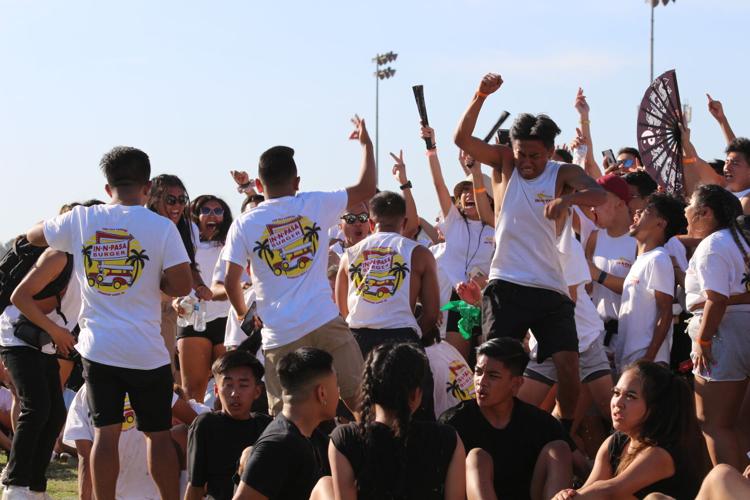 After 40 colleges and universities made their way to the Intramural Fields last October for the Pilipinx-American Student Association's annual Friendship Games, the 2020 edition was set to be another day filled with spirit, pride, unity and friendship, known as SPUF.
But like many events this year, holding the 35th Friendship Games in person is not possible because of COVID-19. However, that didn't stop co-coordinators Kylie Tatom and Marcel Alansalon from delivering a unique experience for everyone in the comfort of their own home.
What is typically a one-day event will now be a two-day virtual event, filled with performances, games and after-parties, all while raising money for COVID-19 relief in the Philippines.
Tatom, a fourth-year business major, and Alansalon, a fifth-year communications major, have had their roles since December. When the pandemic began in March, they began to plan for the possibility of having to hold the games virtually.
"We probably created about eight different versions of how the year could go, whether it was physical or virtual," Alansalon said.
Typically, there is a sports coordinator and co-coordinators, but the sports coordinator left their role in June, leaving Tatom and Alansalon by themselves.
On July 24 Friendship Games announced on Instagram that the event will be virtual. The post stated, "this event has been the highlight event of the Pilipinx-American college experience and we are extremely happy to keep our tradition alive once again."
With the event set, the duo then got to planning. It took close to a month to plan and everything was set in place by September, so participating universities could prepare for the festivities.
While there weren't as many schools as last year — 37 to be exact — there will be schools participating across the country, like the University of Hawai'i at Manoa and Penn State.
Since this year's events will be virtual there are no travel fees for clubs to come to Fullerton, which made this the perfect opportunity to include anyone that had wanted to participate in the games, Tatom said.
"One thing that's why everyone loves Friendship Games so much is because they feel included. They participate, they help their school win, and I feel like that was like one of the key aspects we wanted to do," Tatom said. "We could create all-inclusive games that were easy enough for them to participate in."
Alansalon added that these games aren't just meant for the students at participating schools, as he said, "It wasn't just catered towards just the students. It was for the alumni. It was for your families, for your friends, because the whole point was to bring everyone together."
Normally, the Intramural Fields would be filled with schools performing their skits for each other, artists and dance crews hyping up the crowd, as well as the competitive picnic games, where teams would vie to make it to Final Rampage in hopes of becoming the game's champion.
This year, the live stream will be broadcasted from a studio, with some pre-recorded and live performances from student groups and artists such as JR Aquino, famous for his appearance on "The Voice" and millions of views on YouTube. At the end of each night is the after-party, where everyone can join a Zoom watch party to celebrate and vibe together.
For the SPUF competition, schools will post videos on TikTok, with each like equaling one point, with the winner given the iconic 8-foot trophy. As for Final Rampage, which will be held on Saturday night, the final three participants will be determined based on the school's amount of likes on their organization's Instagram page, showing spirit and using each school's hashtag, as well as through donation wars.
While donation wars may sound intense, it is for a good cause. All the money will be donated to the National Alliance for Filipino Concerns, a nonprofit organization for COVID-19 relief in the Philippines, which has had over 360,000 cumulative cases, according to the country's Department of Health.
"Our intention was always to just think about everyone and what the current situation is, so we knew that there was a lot of trouble with COVID-19 in the Philippines," Alansalon said. "Because we had such a large platform, and we had such a large audience, we knew that if we're going to create something, it has to be for a good cause. We couldn't just put up something just because. We needed it to have a meaning and you need to have a purpose."
Even if someone has never heard of Pilipinx-American Student Association or Friendship Games, Tatom said that experiencing the upcoming event will show how much love and appreciation everyone has for this event that is now 35 years strong.
"I think it's a really good example of how communities should come together to celebrate their love for their culture," Tatom said. "It's fun to watch people who you know that are passionate about something, and all those performers are passionate about Friendship Games."
The event kicks off on Friday at 5 p.m. with the second day on Saturday beginning at 5 p.m. as well, and it can be streamed on the csufpasa YouTube channel.