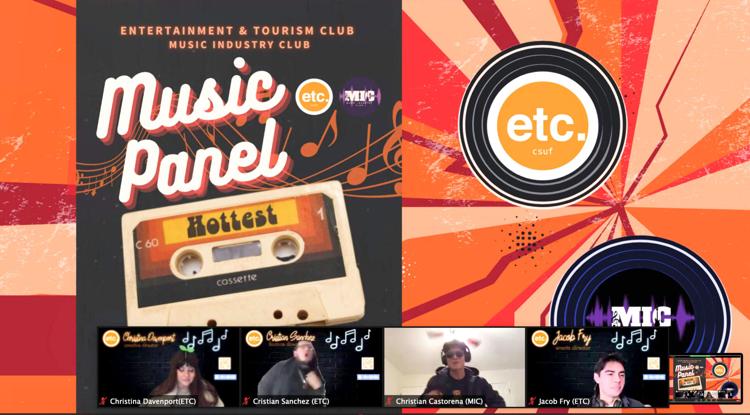 A panel of music and entertainment industry professionals shared their advice on what it takes to succeed in the industry via a Zoom video call on Wednesday night. 
The event was part of a collaboration between the Entertainment and Tourism Club and the Music Industry Club at Cal State Fullerton to provide a networking opportunity for students who are pursuing a career in the music and entertainment business. 
The panel included producers, interviewers and coordinators currently working for widely known entertainment companies and music labels, including iHeartRadio, Soundcloud, Universal Music, Capitol Records and Sony Music. The panelists shared their experiences of working in the industry while also discussing the ups and downs of working during the COVID-19 pandemic. 
The pandemic was the hot topic of the night as the music industry's future is uncertain due to health restrictions that prohibit large concerts, which are the main source of business for both artists and producers. 
Kathryn Huyghue, an iHeartRadio associate producer, said that COVID-19 has forced her and the company to get creative with ways to interact with fans via online resources, including the idea of at-home virtual concerts. 
"Obviously the music industry as a whole has taken a huge hit in COVID, with iHeart half of our business is our events so we've really had to find new ways to keep those going so whether that be at home virtual living room concerts, we were one of the first to do that early in March right when COVID was really happening," Huyghue said. "It sort of has forced us to find new and creative ways to digitally produce content, which has been fun and challenging."
While navigating the pandemic has been challenging for those in the music and entertainment industry, some relief can be found through technology, as social media helps to keep audiences and artists engaged, said Sarah Hau, a marketing coordinator for Capitol Records. 
"COVID kind of happened during a digital centric age and while live music is a huge loss, we've still been able to still have TikTok, Instagram, YouTube all these ways to be able to engage and connect artists with fans," Hau said. 
As the event progressed, panelists shifted from COVID-19 to their personal experiences of working with artists and sharing their advice to students aspiring to work in the music industry on what to expect when working with them. 
Micheline Medina, an associate director for Sony Music Latin, shared her personal insight on working with artists and what skills students will need to strive in the industry.
"For artist relations, you definitely have to learn how to deal with different personalities and adapt to every situation and what has really worked for me is that I don't really look at any problem as a problem, I always look at every problem has a solution and I'm always working through what's next and kind of identifying," Medina said. 
As a project manager it is important to be able to adapt and fix problems quickly without the artist being affected, Medina said. 
Liam McEwan, celebrity interviewer and presenter, advised attendees that the entertainment industry is not easy to break into and warned that students will receive plenty of rejections. 
"You're going to get a lot of no's, things aren't always going to go your way, 90% of the time you don't get what you want in the industry, those are things that you have to look out for and learn," McEwan said. 
The event wrapped with attendees breaking into smaller breakout Zoom sessions, which allowed attendees to network and ask any questions they had for individual panelists. 
"When we put on these panels and networking sessions we hope that students are able to gain insight and valuable knowledge within the entertainment industry," Giang said. "Not only that, but we also want to create a community for students so that they're able to connect with each other because who knows when and if we'll be able to work alongside each other in the future."