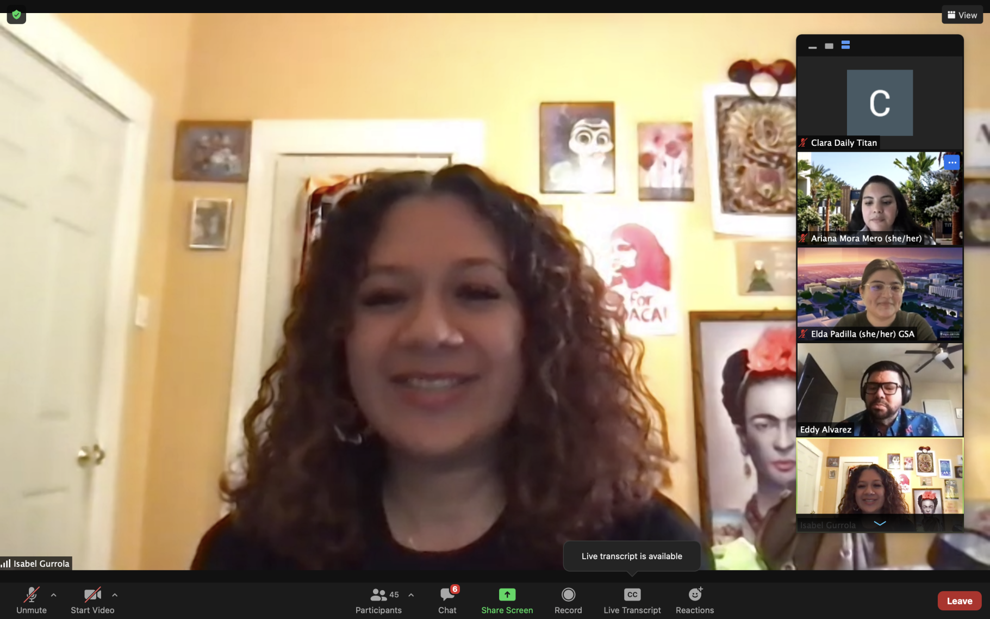 On Monday, Cal State Fullerton's Latinx Community Resource Center sparked conversation within the student community about the importance of Chicana/Chicano studies, its societal impact and common misconceptions related to the field.
"You learn about marginalized people's histories. You learn two critical things: analyzing and confronting power. You learn about other people's struggles," said Isabel Gurrola, a Chicana/Chicano studies major. "Because most of the time, it's like 'me or us,' rather than my struggle intertwines with yours. And people just like to play the oppression Olympics."
The center was off to a rocky start with some audio glitches that were fixed within 10 minutes, just before the programs' graduate assistant student, Elda Padilla, introduced the four panelists to the Zoom participants.
In addition to Gurrola, the panel consisted of CSUF student Citlally Solorzano, along with Chicana/ Chicano Studies professors, Patricia Pérez and Eddy Francisco Alvarez.
Gurrola was originally a psychology major, but she said that she discovered her true interests lie with Chicana/Chicano studies. Today, she runs a history page where she shares "anything and everything" she learned in ethnic studies, she said. 
"Before I took any Chicanx studies classes, I didn't really know what I identified as, but after taking classes I learned to appreciate and love who I am and where I come from, so I identify as Chicana Latina first generation Mexican American from South Central LA," Gurrola said. 
Pérez said she has done qualitative research into education and college access for Chicanx students and most recently studied the issues faculty of color are facing. 
Similarly to Gurrola, Chicana/ Chicano studies also shaped who Pérez is today, she said. She said that ethnic studies is important because it allows for narratives and counter narratives to be shared, while acknowledging that everyone's personal experiences are valid. 
"When I was in those spaces, in the Chicanx studies classes, it was a sanctuary for me, it was a space where I could just be who I was. I didn't have to explain why I was in that space," Pérez said.  
Pérez also pointed out that students tend to have this idea that Chicana/ Chicano studies classes are easy, which is a myth. She said that students will have to work hard and write a lot. She normally releases her syllabuses early, so that students will not be surprised about the level of work required, Pérez said. 
Solorzano encouraged every student to take at least one class taught by Mario Obando while enrolled at CSUF. Solorzano said that Obando taught her that "Chicanx studies or ethnic studies in general is essentially philosophy without white men guiding you."
It was also in a Chicana/Chicano studies class after reading an essay titled "Pero tu no crees en dios" that Solorzano said she learned to not feel guilty about being raised Mexican and Catholic, and not always wanting to comply with church. 
"It is very taboo to critique the church, you can't say anything bad or else you're a horrible person, I have always felt the same way. I never felt fully embraced or comfortable when going to mass. I felt like anything I did, or do will go against what my family believes and their religious beliefs," Solorzano said. 
Alvarez, who researches queer oral history in Latinx communities and is interested in Chicana feminist and queer pedagogy, said Chicana/Chicano studies is important because it teaches students the historical and structural forces that have led us to where we are today. The classes touch on topics such as minorities and borders — physical borders, psychic borders, emotional borders and gender borders. 
When Alvarez was in college, he said he gained a new understanding of history and people's relations.
"It really helped me to sort of make those linkages. That my history is connected to the history of everyone in this Zoom room and that borders have been imposed on us," Alvarez said.