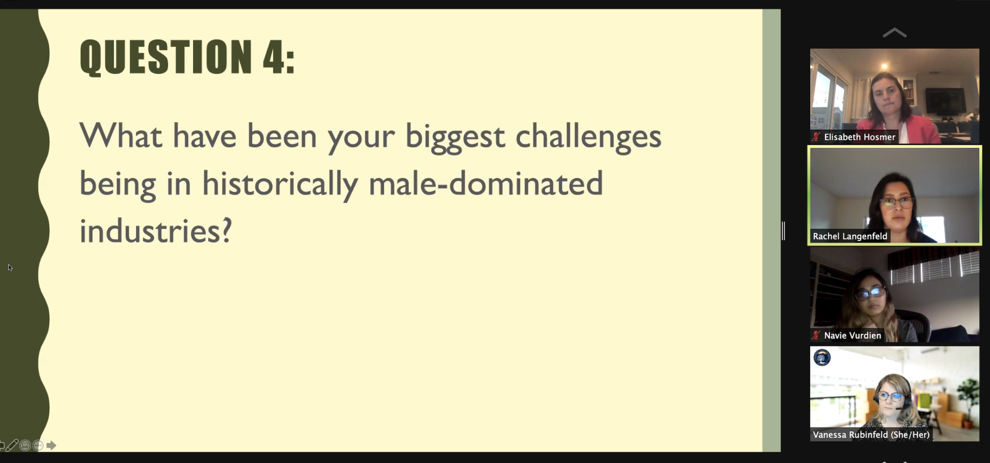 In the midst of Women's History Month, we honor the women who rose to the top in the science, technology, engineering and math workforce — a place where only 28% of the field is female. 
Gender gaps are common in high-paid occupations like computer science and engineering, according to the American Association of University Women. As the world shifts and more people look to break into these male dominated arenas, Cal State Fullerton's Career Center hosted a discussion panel on March 8 to help students learn how to get their foot in the door. 
"Whether you want to or not, you stand out in classes, you stand out in your field," said Rachel Langenfeld, a panelist and CSUF alumna working as a project scheduler for Turner Construction. 
Langenfeld said that being in the minority of women means that recognition is inevitable when there is a failure or success. She recounted an experience with a professor that would single out the only two women in the class, incessantly asking if they had been paying attention.  
Elisabeth Hosmer, panelist and a senior program manager for Raytheon Intelligence and Space, echoed Langenfeld's experiences. Hosmer said it was important to be self-assured despite feelings of uncertainty or lack of opportunities. 
"One of the biggest challenges continues to be that you will, at times, be the only female in the room," Hosmer said. "I think there is also power in that, and I think the way to best combat that is to be truly confident in what you know you bring to the organization." 
She emphasized the importance of advocating for yourself, reflecting on an experience she had in which she spearheaded a project as the only woman on the team. Hosmer said she learned that maintaining an unshakable assurance in her decisions was vital for success. 
"You do not wait for anybody else to figure out what you want to do," Hosmer said. "You need to be really vocal and trust me when I tell you that your male counterparts are being vocal about what next assignment they want, so you need to raise your voice and say 'This is the assignment I want next.'" 
Hosmer also said that uncomfortable situations are opportunities for growth in areas where imposter syndrome, the belief that one is undeserving of their achievements, can stifle progress. 
"Success really comes when you stretch yourself into roles where you may not feel 100% ready for it," Hosmer said. 
Navie Vurdien, panelist and CSUF alumna working as a solution engineer at Google, said people undermined her work, pushing her to prove herself. Prior to entering Google, Vurdien said that she would avoid reaching out to colleagues due to a fear of being belittled.   
Langenfeld said the culture in these industries is not always the most empathetic or politically correct. A lesson learned was that the men will either be blunt or call you "sweetie; " there was no middle ground between the two.  
"It's just not taking it to heart and understanding that they hopefully will learn and grow as a person but they may not and that is not your problem or your fault," Langenfeld said. 
Sometimes being perceived as a newcomer has its advantages, Langenfeld said, as it allowed for more leeway to ask questions. She added that because people in the industry enjoy talking about technicalities, making inquiries could open up an educational conversation. 
Vurdien said that in her experience, people are usually willing to help or talk about their interests, so not being afraid to ask those questions is crucial, which could also help students build a network.
Finding a group of like-minded women at your company will be a large source of support, Hosmer said. She also said that attendees should share their knowledge with the organization's juniors to give them a safety net, something many women may not have had.
"You know just as much, if not, more than the folks in the room with you," Hosmer said. "Really lean into that discomfort and uncertainty. I promise that is where so much growth happens and where so much success happens."