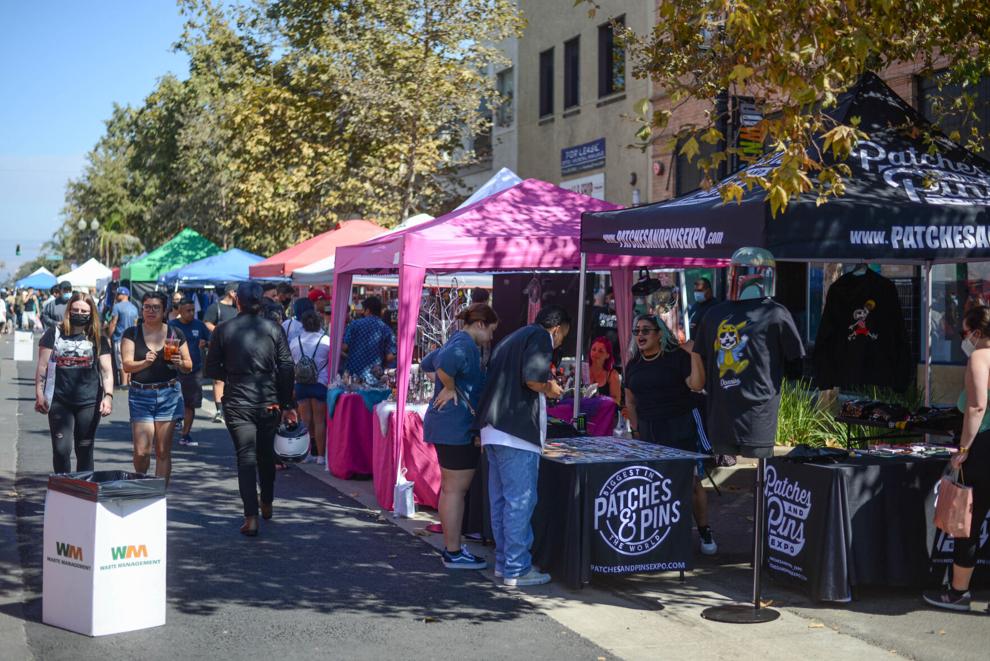 The Patches and Pins Flea Market Expo returned to Santa Ana on Aug. 28, giving attendees the opportunity to purchase collectible items, name brand clothing, original artwork and handmade jewelry. 
The event was held on East Fourth Street, providing shoppers and vendors an outdoor, COVID-19 safe environment. 
Among the vendors is Tristian Cruz, owner of Crux WorldWide. Cruz offers shoppers what he refers to as a "pop culture mashup" of enamel pins. Some of his designs include Jigglypuff, from the  Pokemon, series, drawing on Princess Aurora's face, from the animated film "Sleeping Beauty," and Yoda, from the Star Wars franchise, dressed in Nezuko's outfit, from the anime "Demon Slayer". 
Cruz started designing his unique items after attending The Art Institute of California in Orange County. 
"I went to school as a graphic designer and I'm able to utilize all the stuff I learned," Cruz said. "A lot of my work is digital so all my stuff is done through Photoshop, Illustrator and InDesign, so it's very graphic design heavy."
For Cruz, the appeal of setting up his items at Patches and Pins is different from other expos because of its community which garners more business.
"They're really good at advertising and putting the word out and it's always a good time," Cruz said. "I've gone to other events where there's a lot of crowd but nobody buys anything. A lot of people are here to actually shop."
Through events like Patches and Pins, Cruz is hoping to expand his brand further. Many vendors mentioned how they look forward to tabling at large events, as the foot traffic that these outdoor markets bring can be beneficial to earning loyal customers. 
Exposure was the main appeal for Denise Dominguez, who sells enamel pins, stickers and apparel. Dominguez decided to start her business two years ago, after being encouraged by other artists.
"I had a friend that started to sell her own enamel pin design and I told myself I really want to do that," Dominguez said. "I also went to a lot of anime conventions and I spent most of my time in the artist alley and I thought to myself 'I can see myself doing that'." 
Dominguez's work is centered around pop culture nostalgia and all things she finds endearing.
"My inspiration is definitely my childhood video games such as Pokemon and Animal Crossing but definitely a lot of cute stuff like cute animals," Dominguez said. 
Dominguez explains how successful events like these have pushed her to continue her business.
"I look forward to doing it some more in the future. I can see myself doing this for a really long time," Dominguez said. "I do plan on expanding my apparel line, I have some designs I'm working on for sweatpants and stuff like that. But I want to continue to draw and make enamel pins and stickers for sure."
With a wide range of items available for purchase, Patches and Pins attracts thousands of people. They took to their Instagram page to thank their vendors and over 4,000 attendees.
Jesus Campos, an attendee, appreciates the personal contact at Patches and Pins as he can support small business owners that create their own product.
"There's a much closer relationship between the customer and the person selling to you because you know your money is going directly to that person that is selling you that product," Campos said. "That is a big aspect that I really appreciate."
With the event conveniently located in an area full of restaurants and entertainment, Campos believes all attendees can find something to enjoy. 
"You can come out to the event, if you get hungry or there's other stuff you want to do, there's a lot of stuff nearby, but it's also a big shopping event too so it's something you can set aside your whole day for," Campos said. 
As events return to Orange County, Patches and Pins serves as a great opportunity for anyone looking for safe, outdoor fun.