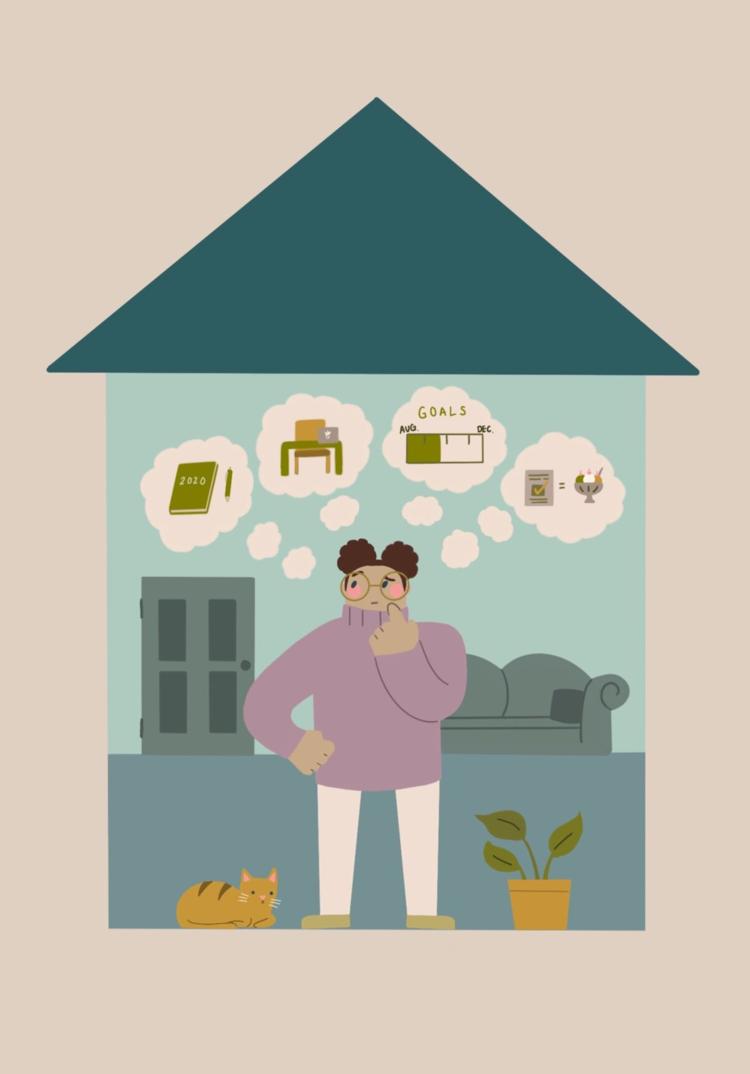 At the start of a normal fall semester, students would be bustling to class, cars would be racing to find a parking spot and professors would be greeting students in a lecture hall. Needless to say, fall 2020 will be much different. As you begin to navigate the world of virtual instruction and prepare for class meetings, we're here to help you find something that you might be currently lacking: motivation.
With only 239 classes approved for in-person instruction, the majority of Cal State Fullerton's student population will face schedules based entirely on virtual learning. While the prospect of learning from home seems wonderful — wearing pajamas to class, sleeping in and napping during breaks — the absence of a steady school routine can cause students to feel unmotivated. This guide includes tips to help you create a positive home environment that fosters motivation and a strong work ethic for the start of online classes.
Invest in a Planner
Not only do students have to worry about online classes and assignments, but many Titans will also continue participating with campus organizations, work and other activities online. Instead of trying to track all of these responsibilities on your own, consider investing in a planner for the 2020-21 school year.
Don't feel pressured to buy something extravagant or break the bank, and consider purchasing a simple one. The most important part of this is how you use the planner. This tool should relieve the pressure of trying to remember everything on your own. A simple 5-by-8 inch planner is $7.99 on Amazon.
It can be difficult to recall dates, especially when you're hearing most of them through emails or Zoom meetings, and a planner can ensure that all the important dates are accounted for. To help prepare you for any important dates, make it a habit to write down anything you need to do in a checklist. The satisfaction of marking an assignment as complete will not only track your progress, but it will also motivate you to keep working on unfinished items.
For an extra level of organization, consider color-coding your agendas. Using colored pens for different responsibilities will create a visual aesthetic that can gauge which activity will require most of your time during the week.
Create a Workspace
Whether it's wanting to climb into bed, getting distracted by roommates or taking another snack break, working from home poses a multitude of challenges that compromise your ability to focus. For this, try to establish a set work environment that alienates you from possible distractions. This could be a desk in a bedroom, an office space or a quiet outdoor area.
The purpose of this space is to act as a classroom setting where you would be expected to focus, work and learn. When you're in this space, minimize distractions by putting your phone in another room, leaving the TV off and giving your full attention to your work for a set amount of time.
Establish a Routine
As a student, you might be used to following a routine when you're on campus. Virtual instruction should mean that you change your routine, not lose it. Focus on creating a unique routine for yourself. This will establish a sense of normalcy while also motivating you to stay on top of your daily responsibilities.
Consider waking up at a certain time every day during the week, getting ready for the day and scheduling times to take breaks. Use the extra time you have to get a good night's sleep every night or decide when you want to take lunch breaks. This weekly routine will mimic a regular school routine, and the structure will give you motivation to get through each day with a purpose.
Set Goals and Plan Ahead
No goal is too big or too small. Instead of blindly working throughout the day, set goals for yourself. You might want to have an assignment done before lunch or watch a lecture before class. Writing goals down and checking them off will motivate you to keep going while also highlighting any progress you've made.
Instead of tackling a big assignment at the end of the semester, plan ahead and separate the assignment into smaller sections that you can work on at your own pace. Set realistic goals, and hold yourself accountable for the things you want to achieve. You can do it, and reaching that goal will be worth the work.
Remember to Reward Yourself
While virtual instruction may come with a few setbacks, it also has its perks. For example, you're in your own home, so don't be afraid to reward yourself for all of your hard work. You might take a nap once you've finished your homework, a 30-minute Netflix break after watching all of your lectures or even talk with your roommates or phone a friend.
Most importantly, motivation begins with positive self-care and good mental health. These tips will help set you on the right track, but remember to be kind to yourself. You are capable of handling anything that virtual instruction throws at you. You just have to be willing to take the first step.