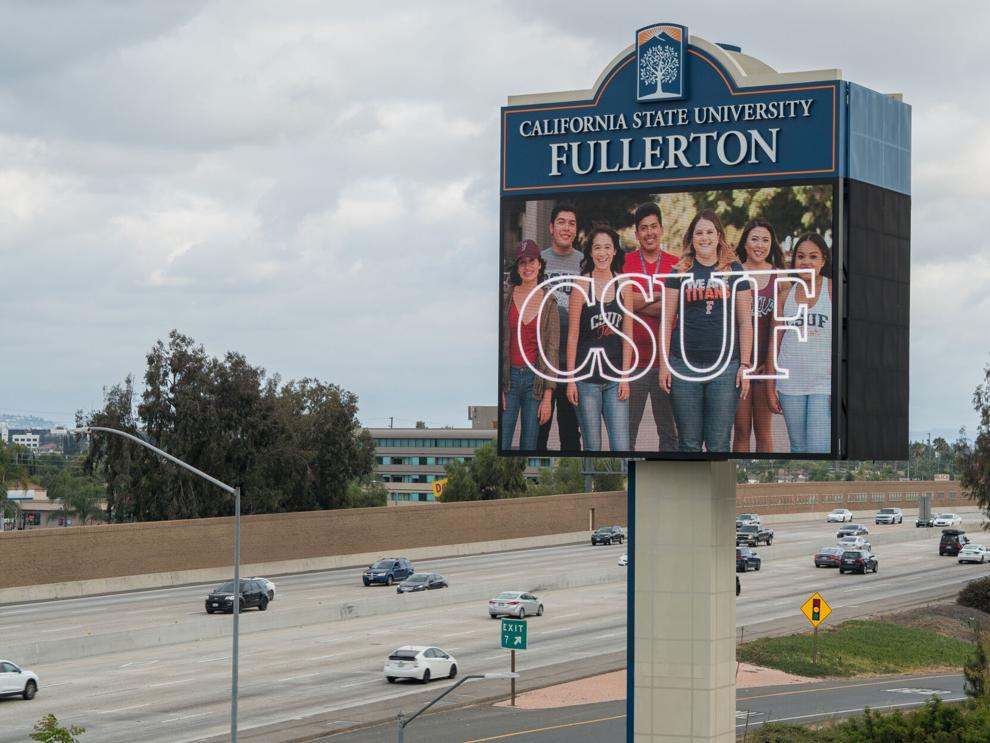 A photography class is making their mark during finals week with powerful student messages flashing across a campus billboard viewable from Route 57.
The billboard will display the finished product of an upper division photography class' long-term group project. The series explores monochromatic color, and each photo will be shown in a slideshow fashion.
"The Color Wheel Project," is a series of 20 different photos created in a class titled "Studio Expanded: Other Genre," where students explore alternative approaches to usual studio methods including performance and video art and the use of art installations.
Navigating a group project of this magnitude from a distance provided some unique challenges while students tried to maintain the spirit of harmonious collaboration necessary for the assignment.
"Honestly, it was an exhausting experience because we had to set up meetings after class, before class. We all met deadlines, we'd all have certain Zoom complications," said Nicole Merton, a senior majoring in creative photography and experimental media.
The class is designed as a pre-professional program with a hands-off approach that seeks to offer students real-world experience. The class was initially split into four groups with each responsible for brainstorming a theme for the project. 
By April, the class narrowed down the theme to two ideas. The options were "hate hurts everyone," and "monochromatic." Merton said the class decided on the monochromatic theme because it was easier for everybody to relate to, and it provided flexibility that each photographer could apply to themselves.
Linda Kroff, program coordinator for creative photography and experimental media, said that she is all too familiar with struggles during a project's infancy, pointing out that all art has what she affectionately calls "the ugly duckling" phase.
"Many times my class will be the only time, and certainly it can be the first time, when a student actually has to work on a group project for a fine art process," Kroff said. "A lot of times graphic design, or illustration, or other mediums, they do a lot of group work, but maybe not so much in photography."
Once the theme was chosen, the grinding workflow quickened as students became more inspired.
"Personally, my mind was everywhere because I was not sure what to come up with, and I could tell that within my group, we were all kind of lost," said Edith Lagunas about her group in the beginning. "Once we all decided on the color wheel project things just took off from there."
Lagunas said that she found herself increasingly drawn to the theme once she saw her classmate Valetina Aproda's interpretation of the concept: a self-portrait entitled "I'm more than Brown." Aproda's work explores her family's "generational American assimilation" and how it has led her to question her ethnic and cultural identities.
Lagunas said she also embraced the focus on cultural identities, creating her photo titled "I Am Mazapán."
"It was my shade of brown," Lagunas said. "Not just owning that as a cultural identity, but also my shade of brown."
Although the class opted for a more relatable theme in "monochromatic,"' the open-ended nature of the project still allowed many, including Lagunas and Aproda, to explore identity in meaningful ways.
Merton said she chose to do the same, pulling inspiration from her experiences as a woman and member of the Mescalero Apache tribe. Her photo entitled "I Am Red" is a black and white self-portrait with a blood-red handprint stamped across her mouth.
"We would put red handprints on our face, which was a sign for silence and solidarity and to pay tribute for the ones that are missing," Merton said. "These women were as young as 10 years old, that are either kidnapped and found, or they're murdered or they're abused."
Though the project was the final for the course, it might not come as much of a surprise that Kroff hardly sees it as such.
"The project's success is really, how much did the students grow?" Kroff said. "I think, really in art you can grade aesthetically, technically, subject matter, but art is much greater once it gets out into the public."
Dale Merrill, dean of the College of the Arts, the project is still in the process of  being approved by Cal State Fullerton's Strategic Communications Department, a decision that is likely to take a week.