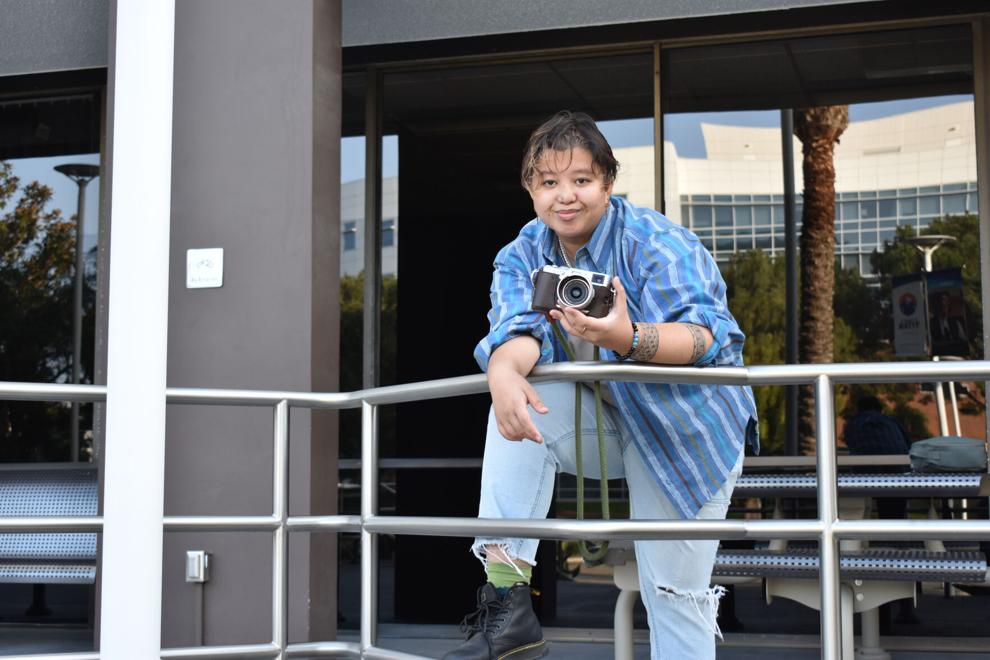 When society expects young people to grow up into cold, jaded and pessimistic adults, it is an act of self-love and rebellion to keep the rose-colored lenses on. RJ Abesamis, a fourth-year Asian American studies major at Cal State Fullerton used photography to capture and convey their ethnic identity and the world around them through the perspective of childlike wonder. 
The most recent showcase of Abesamis' work is currently displayed in the Pollak Library on the Diversity Initiative Resource Center's wall in the "Brave Space." "Bakla ang Babaylan," meaning "The Babaylan are Gay," is a Filipinx cultural piece that is heavy on queer representation. The subjects depict the pre-colonial society's matriarch and the beliefs and fantasy of Philippine mythology. 
Growing up as a queer person in a Filipinx household, Abesamis had to work to deconstruct the layers of their intersectional identity. In fact, art became a way to allow them to see other people and be seen by others. 
"Talking is therapeutic, it's healing. And I think for me, art was definitely a way to validate myself, also validate experiences of others. And to also provide a healing space for others and a new perspective for those who are allies or who want to learn more," Abesamis said. 
Abesamis was always artistic growing up, and with four water signs in their star chart, they were also an expressive child. Soon, they began pursuing different forms of art such as music, poetry and ultimately, photography. 
Music composition and acting were Abesamis' first choice for a career. However, after watching the romantic comedy "13 Going on 30" and getting some photography experience in high school, they turned to photography as one of their main mediums of choice. 
Abesamis' childlike wonder translates into their photography in a free, expressive and candid style. However, their youthful curiosity should not be mistaken with ignorance or naïveté. Abesamis is an open critic of capitalism and works toward dismantling money-driven systems.
"Stories humanize pain that is politicized," Abesamis said. 
Dianne Marie Martinez, a CSUF alumna who portrayed the matriarch in the cultural piece said that the project was highly collaborative. 
"We just started posing, and it felt really comfortable, especially with RJ behind the camera reassuring us to be confident," Martinez said. 
Warm tones, shapes and lines barely graze the surface of what Abesamis cares about in a composition; they wanted to romanticize reality through their work. While realism seems like the goal of maturity, they aimed to portray life as it would appear in a movie. 
Jaron Ramos, a business administration major at CSUF, was also one of the subjects of the photoshoot. They expressed how important the photo gallery was in representing queer Filipinx people in the media. 
"I think it's very important to represent queer Filipinx in media. So, being able to represent that was super honorable, and I'm so thankful that RJ picked me as one of the models," Ramos said. 
Although Abesamis describe themselves as a "big person on representation," they do not see it as the end goal. They said that representation cannot solve systemic trauma and issues. However, art is a way for them to invest back in themselves and heal themselves and their community.  
Abesamis said that they hope that their work will inspire people, but they have already become an inspiration to their peers. Rovick Alberto, an 18-year-old chemistry major at CSUF, conveyed his admiration for Abesamis. 
"Seeing those photos up and how Ate RJ did that, it's monumental to me. It shows that you really can do anything, even the smallest things, those matter," Alberto said.  
As a cultural worker, Abesamis works to encourage the reclamation of identity and collaboration with their community. Their goals in the cultural field easily overlap with the storytelling they employ in their pictures. 
Although they may take pictures of people wearing costume-like clothing in unfamiliar locations, Abesamis emphasized the stories of the people in those photos. Their projects featured a level of collaboration with their models.
Part of Abesamis' process of taking photos is to ask their subjects who they want to be in the picture, like they are pretending to be someone else. The subject is allowed more freedom to exude an energy that is more comfortable to them than they may have if they were forced to pose. The result is a candid picture where both the actor and the character can shine. 
"Posing people and allowing them to do that is more empowering than me telling them to do every single thing that they have to do," Abesamis said. 
In the future, Abesamis said they hope to become a creative director through screenwriting and directing. They want to create films and share stories with their audience. 
Abesamis said there are hopes to become a showrunner for an animated children's television show that helps start conversations among the younger generations. They want to impact their community and make people think and reflect enough to create change for their communities as well. 
"A lot of people are forced to grow up fast, but that doesn't mean that you have to rip away your childlike wonder if you still want to see the world in a way that is playful and that could still be giving," Abesamis said. "Forgiveness and moving on, transformative justice, resting and childlike wonder is a form of decolonization in my mind."