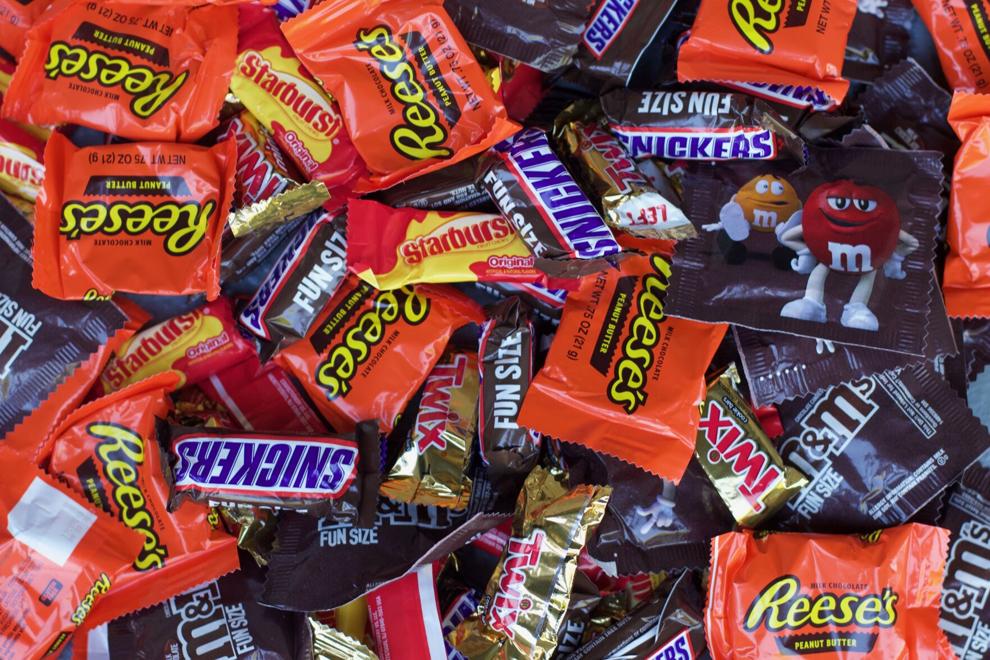 It's likely that most of us won't be trick-or-treating this Halloween, but it's still good to know which candies rank the highest so we can be sure to pass out the best candy to the people that are! Or just to know which candies are the tastiest in case you want to shut off your lights, refuse to answer the door, turn on a scary movie and eat all the candy yourself. Here's a tier list ranking of the best Halloween candies— what you do with the candy is up to you.
S Tier
When trick-or-treating, these are the candies you tirelessly hunt for all night. You don't share S tier candies under any circumstances, and the stinginess is more than justified.
The first S tier candy is Reese's Peanut Butter Cups. This iconic combination of chocolate and peanut butter truly captures the taste of Halloween. Reese's does not only top this list, but according to a poll done by Monmouth University, Reese's is America's favorite Halloween candy by a wide margin with 36% of Amercians picking it as their favorite. 
Twix, another quintessential Halloween chocolate, also gets a spot in the S tier. The chocolatey cookie crunch paired with the gooey caramel makes Twix an elite Halloween candy. If there is a Twix left in your Halloween candy stash, you should probably eat it before someone else does.
A Tier
Both of these A tier candies were borderline S tier and should still be held on to for dear life, but not to the same extent. 
Snickers gets the first A tier spot. Snickers is an American favorite generating the third highest revenue out of all the American chocolate candies, according to CNBC. It is obvious why Americans can't get enough of this classic, irresistible fusion of chocolate,  caramel and peanuts . 
The final A tier spot goes to Kit Kat. Even though the saying in Kit Kat commercials is "break me off a piece of that Kit Kat bar," let's be real, no one is sharing their Kit Kat. 
B Tier
When you need a change of flavor after devouring your chocolate, Starburst is the perfect switchup. If you open your Halloween sized Starburst pack and find two pink ones, it automatically ascends to S tier. 
Skittles take the final B tier spot as it plays the same role as Starburst, being a fruity, chewy candy, except it is surrounded by a hard outer shell. It's always fun to mix the flavors to try and find the tastiest combination.
C Tier
The first C tier candy is M&Ms. Surprisingly, M&Ms are the best-selling chocolate candies in America, according to CNBC. M&Ms are good, but they are just too basic to put above a C tier. However, peanut M&Ms, are a game changer.
Milky Way, the last C tier candy, is another good, but not great, chocolate candy. Milky Way is just not on the same level as the elite chocolate candies such as Reese's, Twix, Snickers and Kit Kat.
D Tier
These are the candies that sit at the bottom of your stash and only get touched when you run out of everything else.
Milk Duds earns the first D tier spot which shouldn't be surprising as its name literally has "dud" in it. Be prepared to spend a long time chewing these, and even a longer time trying to unstick the caramel from your molars. 
Whoppers are just as forgettable as Milk Duds. This is a candy that can trick you as you'd probably expect them to be good since they are malted milk chocolate balls. However, after you eat one, you'll likely throw the rest away.
F Tier
If you're passing out these candies this Halloween, be prepared to see a lot of disappointed looks on children's faces. 
The first F tier candy is candy corn. This is a somewhat controversial take as some people cannot get enough candy corn come Halloween time. The taste of candy corn is difficult to explain, but it certainly doesn't taste like candy. The weird flavor on top of the strange waxy texture makes this one of the most polarizing Halloween treats in existence. 
Pretzels get the final F tier spot. Pretzels aren't bad themselves, they are actually a beloved snack by many. The problem is that they're not candy, yet, every year people decide it's a great idea to give these out. The saying goes "trick-or-TREAT!" Pretzels are not a treat. Give a child a bag of pretzels when they come up to your door and watch their smile instantly turn to confusion.