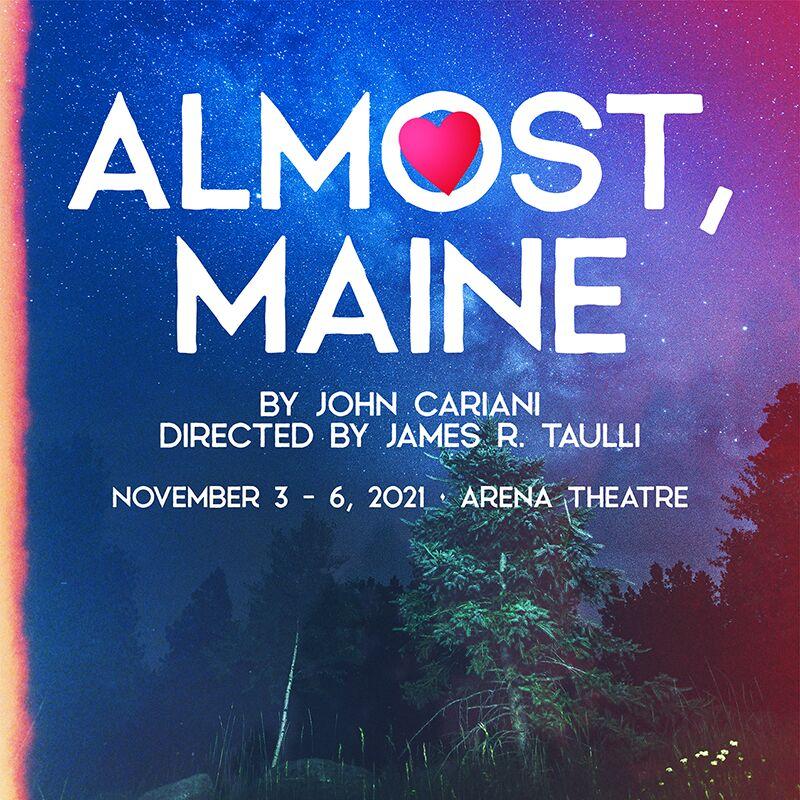 With scenes that serve to explore a variety of emotions and themes, "Almost, Maine" tells nine short stories, each dealing with the complications of life and love.
The play was directed by Jim Taulli, the dean emeritus of the College of the Arts, and Arielle Hightower, the stage manager. Taulli has had his fair share of productions, with over 23 years of experience on campus and more than 50 shows that he has directed. "Almost, Maine" is an adaptation based off of the original play by John Cariani. 
The cast was actually able to meet Cariani as well. Yoni Kruvi, one of the main actors in the production, was thankful for the opportunity to speak with him
"He set up a Zoom call with us and we talked to him for like an hour and he was super nice and super cool. He gave us a lot of insight into the play. He was really helpful and it really inspired us to put on a good show," Kruvi said.
All six actors really shined in this play. They were all tasked with playing multiple characters throughout the scenes, and they were all convincingly played. Since there were multiple stories going on, the show never dragged on and time really flew by. 
Kruvi and Gabriel Prunty were outstanding at balancing out the comedy with dramatic moments. Kruvi was terrific in "Sad and Glad," portraying the down on his luck Jimmy at the bar. Prunty made her presence felt instantly with "Her Heart" as Glory, a woman looking to pay respects to her lost husband. Prunty talked about how nervous she was coming into this play and how rewarding it felt for her.
"It feels so good to finally do the work that we love again. To show art and tell wonderful stories, to make people laugh and to feel. It feels so satisfying and so good to be doing this again," Prunty said.
Jacobii Leal and Danielle Simkins had their moments to shine, and the audience could really tell that they truly became one with their roles. Leal shined in "They Fell" where he played Chad, a guy who is starting to fall in love with his best friend. Simkins nailed her role as Gayle in "Getting It Back." She wants to end things with her boyfriend and give back all the love they have ever given to each other. 
In a lot of ways, the story revolved around Jonathon Herrera and Kathryn Mercer's relationship as Pete and Ginette, with those being the only characters that make multiple appearances in the play. Herrera is also allowed to display his dramatic talents in "Where it Went." 
In this scene he played Phil, a man going on a date with his wife who is looking to rekindle some kind of spark that the two no longer seem to have. Mercer was great in "Story of Hope." She starred as Hope, a girl who ran away out of fear when her boyfriend proposed and is now looking for him. 
Taulli chose this play specifically with these six actors in mind. He wanted to make sure that the actors really carried the play. 
"We don't have lots of big sets and all that kind of stuff. So, it's a play that allows the actors to really shine. So that's what we really focused on, is a piece that would allow the actors to shine and not be about bells and whistles and tap dancing and sets moving all over the place," Taulli said.
Some of the upcoming plays coming to Cal State Fullerton include "Midsummer Night's Dream," "Cabaret" and "On the Verge."