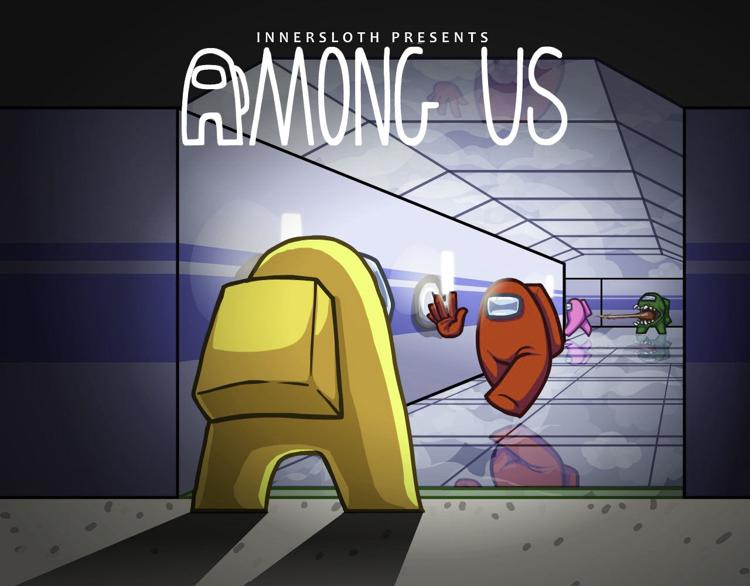 Indie game Among Us, by developer InnerSloth has become the latest internet fad to entertain us as we are social distancing. The game has amassed over 1 million players in just the past couple of weeks.
Initially released for Android on June 15, 2018, the game has been available for over two years now, but only recently acquired its large following. It has become so popular that the developers decided to cancel the sequel, Among Us 2, to focus their efforts on making the first one better.
A few weeks ago, the game became one of the most popular titles on Twitch after popular streamers and YouTubers introduced it to their millions of fans. When the game first launched, it had less than 50 players online per hour at times, but now has thousands of players online simultaneously.
The game plays like a virtual version of the party game Mafia. A match consists of up to 10 players aboard a spaceship. A majority of the players must travel through the several rooms within the ship to perform maintenance tasks while one to three players will secretly play as the imposter.
The imposter is an alien crew member with the ability to sabotage different utilities on the ship by slowing down the progression of tasks being done. Their ultimate power is killing innocent crewmates to cut down the number of non-aliens on board.
The main allure is the meetings that crew members can conduct, discussing with people on board they believe to be an imposter. Every time a meeting is called, either by pressing the emergency button or reporting a dead crewmate's body, a vote is held to possibly evict one member from the ship. During the meetings, players can use the chat to talk with each other. The member with the most votes against them is evicted from the ship, imposter or not, and then the round continues with players back running around the ship.
Among Us has thrived as a result of the human interaction it promotes in its core gameplay. While the tasks and maps may currently be repetitive and limited, the unexpectedness and randomness that other players can bring into the social aspect of the game keeps it fresh every round.
The tasks assigned to the crewmates are completed in the form of short minigames. Most take no longer than a couple of seconds to complete, while ones like swiping your ID card are frustrating enough to make you wish the aliens had recruited you to their side.
If all crewmates complete their tasks, they can win the game even if the imposters have not been voted out of the ship. Even deceased crewmates can remain in the drama and work to get the crewmates to win by traversing the game as a ghost, still able to complete tasks but only visible to other ghost crew members.
Imposters must pretend to perform tasks just as another crew member would, and after evidence of their bad-doing has been discovered, they must convince their other crew members that they are not the one to be suspicious of.
Knowing that somebody has witnessed you acting as the imposter and then having to lie your way out of getting voted off is a thrilling payoff, and the fulfillment you get when you successfully accuse someone else of being the imposter feels as good as being a trickster invading alien.
The imposters ultimately win by getting almost all of the space men out of the ship, either by killing them or voting them out. It is an entirely obtainable goal, but requires some slyness and deceit.
Gambling and testing out different ways of avoiding accusations, calling out other players or remaining silent is a never-ending reward system of fun and entertainment. Even a plausible excuse for acting suspicious can be thwarted by a crewmate's random decision to call for a vote on you, or your fellow imposter accusing you to avoid suspicion.
Among Us is a beautifully simple game. It is easy for any person to become familiar with it, and talking to your shipmates will never feel the same each round. Tackling the social and psychological dynamics that come with the game will be a constantly changing experience, but never be short of confusing, infuriating and hilarious.
Among Us is easily accessible, currently free on iPhone and Android, and only $4.99 on Steam for PC. It also supports cross-platform play between all versions. With its constantly growing fanbase and the ability to play with all of your friends, boarding your first intergalactic space vessel has never been more fun.
When even losing your debate and getting evicted from your ship can be the best and funniest part of the game, Among Us has created a system where the players are the best part of the game. After quarantine has deprived us of human interaction for so long, Among Us has brought us back together in the most chaotic of ways.
This article previously stated that a sequel would be released. Though a sequel was planned, it has since been cancelled. This information has been updated.