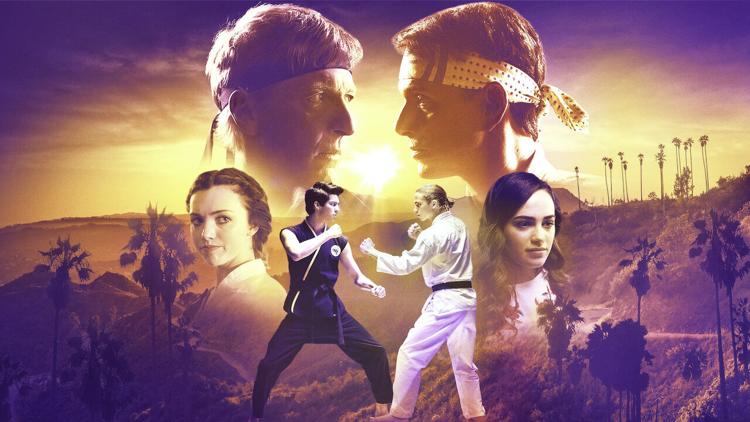 After two complete seasons, fans of the web series "Cobra Kai," which was initially released in 2018 and is a spinoff based on the original "Karate Kid" films, received a treat when Netflix added the series to its streaming platform in June 2020.  
The series was nominated for Primetime Emmys in 2018 and 2019, and after being released on Netflix, its popularity spiked. 
Ralph Macchio reprises his role as Daniel LaRusso and William Zabka returns as Johnny Lawrence, but they are not the only actors to relive their roles. Throughout the seasons, different characters from the first films appear, and fans are sure to see more in the new season.
Pat Morita, who played the iconic Mr. Miyagi, passed away in 2005, but his character lives on as a guiding force in Daniel's memory.
For fans of the original "Karate Kid" movies, this show is a must watch. It is a well fabricated series that falls under the genres of action, comedy and drama. It includes many references to the original films, and creates nostalgic moments for fans.
The show picks up 30 years after the original movie, and follows Johnny Lawerence, the bully and villian from the first film. After losing the All Valley karate tournament in 1984, he turns into a washed-up drunk. 
He stumbles upon his neighbor Miguel Diaz, played by Xolo Maridueña, being bullied by classmates and decides to teach Miguel the karate he learned when he was in high school.
The two develop a father and son relationship with a goal to bring back Cobra Kai karate. Once Daniel discovers this, he wants to stop the man who once tormented him in high school. But, what Daniel doesn't know is that Johnny wants to take his dojo in a new direction.
Daniel, who now has a family of his own, went from a poor child to a successful car dealership owner. Once karate comes back into his life, it's tough for him to balance his family and his rivalry. 
The show does a masterful job of making the audience feel sympathy for the villian, and the rivalry between Daniel and Johnny is better than ever. The best part is, it's hard to tell who to root for. 
Some shows on Netflix are difficult to get into and even harder to finish, but this is not one of them. Each episode is about 30 minutes, and it wastes no time jumping into the action. 
Though some fans may only return to see their childhood favorites return to the screen, the new characters are also intriguing and create a new generation of karate students. 
The best part about the show is that, while it is a high school drama, it's not cheesy or cliche. The conflicts between the main characters seem real and relatable, besides the fact that many of them know karate.
But if audiences haven't watched any of the "Karate Kid" films it is OK; the show provides flashbacks and catches up watchers early on, so references to the original movie won't be missed.
With the third season confirmed by Netflix and scheduled to be released in 2021, it's a good time to watch the first two seasons before the next one is released. With comedy, well coordinated action and a plot that is constantly moving, this show is not to be missed.