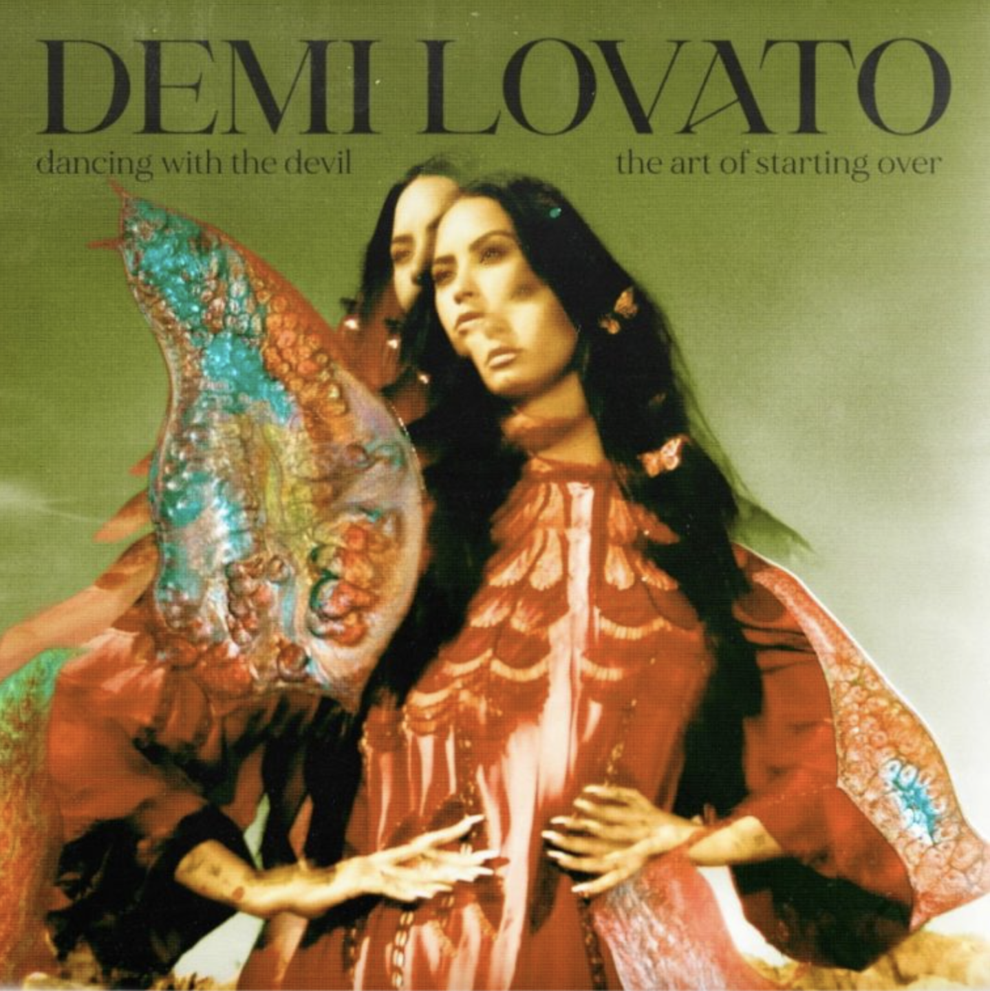 Demi Lovato's latest release, "Dancing With the Devil…The Art of Starting Over," fails to meet the standard set by her past albums.
Released on April 2, this album is Lovato's return to music, marking her first release since her 2017 album titled "Tell Me You Love Me." Accompanied by the release of a documentary on YouTube, the 19-track album discusses Lovato's struggles with substance abuse, addiction, an eating disorder and feelings of loneliness. Despite Lovato's strong and impressive vocals, her songwriting in this album comes across as shallow.
The layout of the album is strange as she begins with three slow-paced heartbreaking songs, then transitions to an introduction of the album and proceeds into the pop tracks. Listening to the album for the first time may blindside listeners because of the breathy introduction. 
The album's first track, "Anyone," is beautiful as long as fans ignore the repetitive and awkward lyrics. Lovato's vocals shine on this track, and almost every second of the song is composed of passionate singing. However, it's a double-edged sword, as her vocals are a little overwhelming and can quickly get boring. Lovato sings about her feelings of loneliness and hopelessness, and how she fails to get help even after putting her struggles into songs: "I feel stupid when I sing/ Nobody's listening to me." Her voice stands out, but with lackluster lyrics, the song isn't one that fans will want to play on repeat. 
"Dancing with the Devil" discusses substance abuse and addiction. The song covers her struggles with alcohol and drugs, and Lovato says that upfront: "It's just a little white line, I'll be fine/ But soon, that little white line is a little glass pipe/ Tinfoil remedy, almost got the best of me." Similar to the first song, Lovato falls short with her lyrics. 
One of the most heartbreaking songs on the album, "ICU (Madison's Lullabye)," is dedicated to Lovato's younger sister, Madison. Lovato reflects on her relationship with her sister and the impact that she had on her and her road to recovery: "I look to you and you give me strength." While the singing is beautiful and message bittersweet, the ending comes off tacky as her sister says, "I love you, Demi."
Gaining popularity on TikTok, "The Kind Of Lover I Am," gives Lovato the space to explain what it's like to be in a relationship with her: "Doesn't matter, you're a woman or a man/ That's the kind of lover I am." Despite the strong message, the outro takes a comedic turn on a serious album: "I don't care if you've got a dick/ I don't care if you got a WAP/ I just wanna love." Lovato goes on for 35 seconds in an auto tuned rant that sounds like she listened to "Money Machine" by 100 Gecs and thought it would be a good sound to include in an album about substance abuse, recovery and starting over. The sound misses the mark of the overall message.
The 17th track on the album is a cover of the Tears for Fears' 1983 hit "Mad World." The song delves into feelings of disappointment and not fitting in: "Went to school and I was very nervous/ No one knew me, no one knew me/ Hello, teacher, tell me what's my lesson/ Look right through me, look right through me." Lovato's cover adds to the heartbreak that her album holds, but in comparison to the rest of the songs, it's disappointing that a cover has more emotion than the rest of her tracklist. Lovato's siren-like voice gives the cover an eerie, yet comforting and beautiful tone, compared to its original pop beat.
Closing out the album is "Good Place," a slow-paced song that reflects on Lovato's journey of overcoming obstacles and getting herself to the place she is in now. It closes out Lovato's story on a high note: "Now I'm in a good place/ Took a while to feel this way/ No longer have to save face." Unfortunately, it is a dull track, and the lyrics do not fully convey Lovato's perseverance.   
Overall, the album is very disappointing in regards to Lovato's songwriting, but her voice is stronger than ever. The songs about struggling with eating disorders and substance abuse could have been handled better, as she sings about those obstacles in a way that praises and romanticizes those topics. "Dancing With the Devil… The Art of Starting Over" is a shallow and repetitive album with tacky songwriting that loses listeners after the third track. 
Unfortunately, this album only has one standout track, making it an album that listeners should skip out on. If you're looking for artists in the same genre who successfully tackle heavy topics like substance abuse and eating disorders, Miley Cyrus, Ashton Irwin and Father John Misty are among the few who artfully and emotionally dive into the toll that these issues have on their lives.