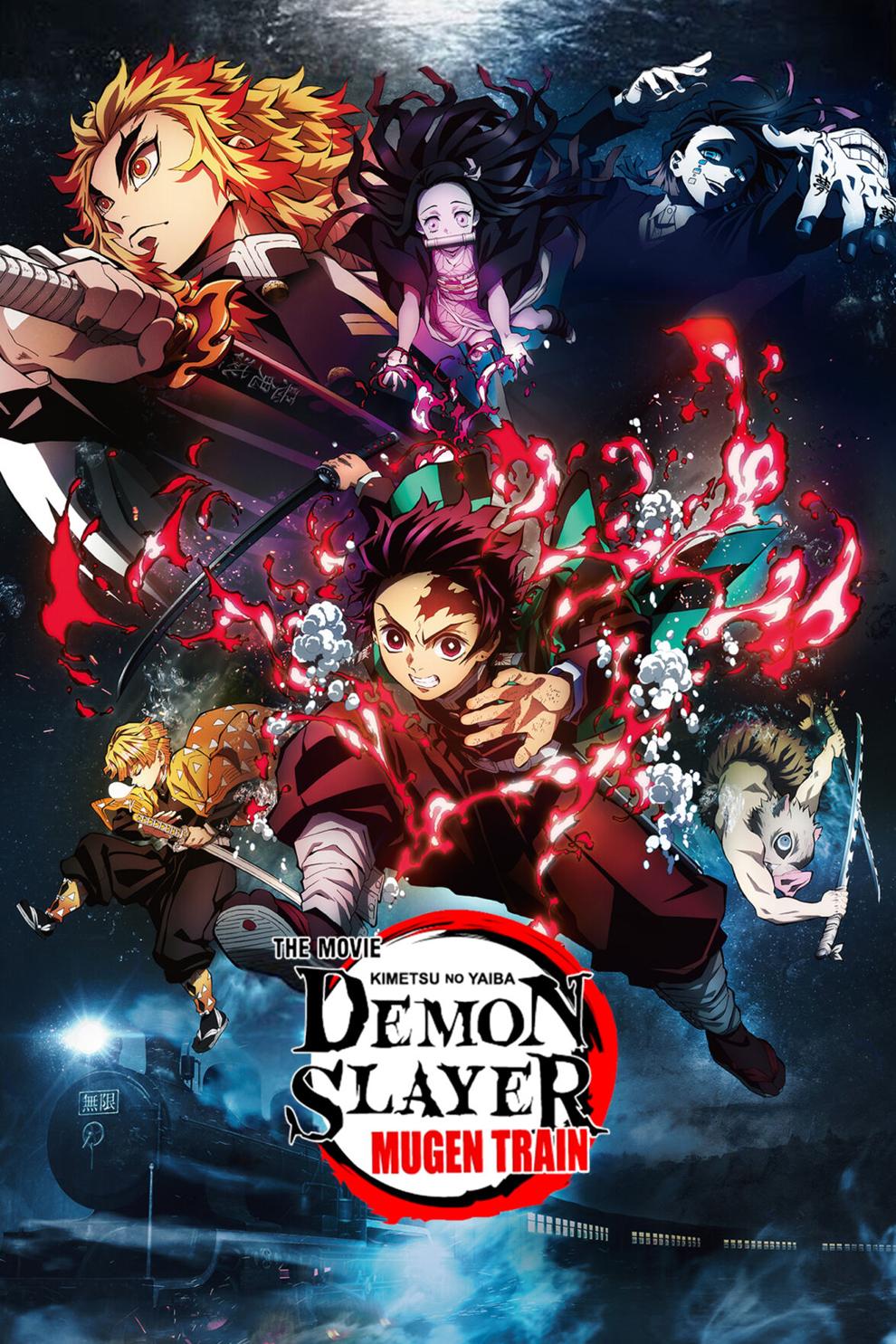 With a dramatic increase in manga sales following the airing of season one of "Demon Slayer," fans had high expectations for "Demon Slayer: Mugen Train," and it did not disappoint.
It was initially released in Japan on Oct. 26, 2020, and released in the U.S. on April 23, 2021. "Demon Slayer: Mugen Train" has become the worldwide No. 1 movie released in 2020.
"Demon Slayer" is well known in the anime industry for its high-quality animation style, and this film was no exception. In fact, it seems like the studio has upped their game. The opening scene was enough to let audiences know that they were in for a visually stunning experience. 
It begins with a prologue scene, showing Demon Slayer Corps leader Kagaya Ubuyashiki walking through a cemetery filled with dead Demon Slayers accompanied by his daughters. The forest and other plant life are lush and lit with sunlight. It's such a breathtaking sight, the audience could almost forget they're watching an animated movie.
There is also a scene where an antagonist explores the main protagonist Tanjirou Kamado's subconscious, and the audience is met with stunning cerulean skies and large, fluffy clouds. Tanjirou's spiritual core is visually comparable to the sun because it radiates warmth and golden light. The depiction of Tanjirou's subconscious is fit enough to convey the purity and kindness of his character.
A word of advice: it would be a good idea to have some tissues on hand while watching this film. 
While this movie is filled to the brim with awe-inspiring visuals, it's also filled with enough emotional, heart-wrenching moments to make entire audiences cry. One moviegoer commented that they had never seen so many people cry at a movie theater up until then.
Throughout the movie, there are several scenes that bring Tanjirou back to his family, and these are difficult to watch. 
The actor that voices Tanjirou, Natsuki Hanae, does a flawless job of conveying the desperation and deep longing Tanjirou has to be with family again, and it's hard not to be affected by these emotions. It has been emphasized that there is nothing Tanjirou loves more than his family, and it shows throughout the film. 
The movie does a great job of balancing these sad moments with comedic breaks to allow the audience some time to recover emotionally. 
The main narrative plot of "Demon Slayer: Mugen Train" begins where season one left off, at a train station with Inosuke Hashibira, Zenitsu Agatsuma and siblings Nezuko and Tanjirou Kamado about to board the train to meet up with the Demon Slayer Corps Flame Hashira, one of the most powerful warriors in the Demon Slayer Corps, Kyojuro Rengoku per their assignment. 
Many anime film adaptations don't usually contain significant story arcs. They are generally released as original video animations, and it's refreshing to see "Demon Slayer: Mugen Train'' set itself apart from the crowd. 
The fight sequences are beautifully animated, leaving audiences stunned at the visuals and the fast-paced action. 
The film also does an excellent job allowing the audience to get to know the characters with a dream sequence that delves into individual dreams. Through this, they're able to learn more about their personalities and personal motivations. For example, viewers learn that Inosuke thinks he is the leader of their little group, and they also learn Zenitsu is just as in love with Nezuko in his subconscious. 
Most importantly, the audience has the opportunity to learn more about the Flame Hashira. Viewers get a glimpse into Rengoku's family life and the complicated relationship he has with his father, a former Flame Hashira himself. 
Because of his father's depression and lack of interest in anything having to do with the Demon Slayer Corps in his retirement, Rengoku takes it upon himself to train and mentor his younger brother, who wants to follow in his footsteps and become a Demon Slayer too. 
By allowing audiences to get to know Rengoku, they begin to understand his mindset and motivation in wanting to mentor Tanjirou, Inosuke and Zenitsu to turn them into better swordsmen. 
Viewers will need to clutch their tissues throughout the last 20 minutes of the movie because there is little-to-no emotional break at this time.
"Demon Slayer: Mugen Train" is a visually stunning film filled with tear-jerking moments and comedic scenes that will leave audiences feeling like they're experiencing emotional whiplash. It's a must-see for all anime fans, whether they've seen the main series or not. 
And let us just say Hotaru Haganezuka, the swordsmith for the Demon Slayer Corps, isn't going to be too happy with Tanjirou.