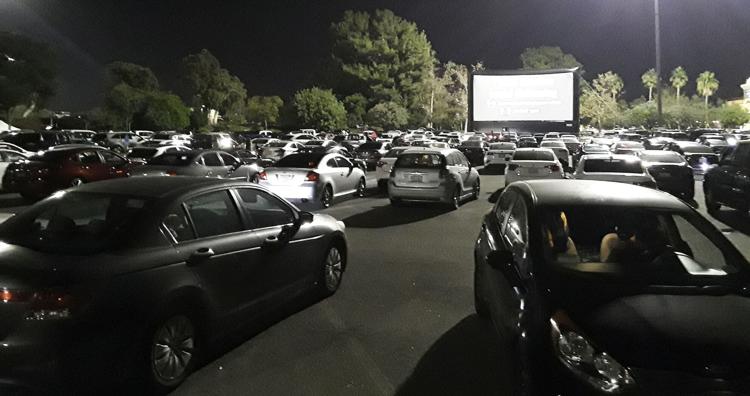 Nostalgia filled the air of the Brea Mall parking lot turned drive-in movie theater in recent nights, where Starlite Movies and Activated Events hosted safe events for all ages to escape the confines of home.
Starlite Movies was originally a drive-in theater in South El Monte that opened in June 1950. The original screen was demolished in 1997, and now, the theater grounds are used for swap meets. However, Starlite Drive-In still exists as a traveling pop-up version. A large inflatable screen, projector and high grade FM transmitter travel around Southern California with pop-ups in Irvine, Brea, Norco and San Clemente.
Christopher Nolan's film, "Tenant," released in newly reopened indoor theaters, but the outcome was worse than what people hoped. In light of the recent box office struggle, it is apparent that movie goers are skeptical about returning to the in-door theaters. Starlite Movies capitalized on this with a plan that brings movie lovers the experience they love with less of the risk.
Tickets need to be purchased online ahead of time. QR codes are emailed after purchase and scanned at the entrance of the drive-in. The area is surrounded by waist-high temporary metal railings similar to those outside of concerts, making the space easy to navigate. Masked employees in safety vests with red light-sticks scan virtual tickets and guide cars into the parking area.. 
Doors open at 6 p.m. on a first come, first park basis. The movie starts at 8 p.m. which leaves plenty of time to get rid of possible traffic that may result from over 100 cars congregating in one place.
Sunday night's showing of the classic musical, "Grease", cost $40.50 including a fee for one vehicle. The number of people in the car cannot exceed the number of seatbelts. A large popcorn and two extremely tasty fresh lemonades costs $21 even with a $5 coupon given at the entrance.
Additional information on the ticket page and the confirmation email containing the tickets warns of possible car searches. 
The trade-off for this experience is sacrificing the large reclining seats for car seats. Employees directed cars to park forward or backward depending on driver preference. This allowed people with pick-up trucks ample trunk space to park in reverse and watch the movie from the back of their car. The set-up allowed guests to deck out their trunks or truck beds with lawn chairs, pillows and blankets. Some cars even had lights strung inside. 
The experience was incredibly nostalgic with a few classic cars in the audience adding to the ambiance. The irony of watching a movie set in a time of drive-ins was not lost. The drive-in is worth multiple visits through which the ideal car comfort and snack pack will evolve to near perfection.
Starlite Drive-In's next showing in Brea will be "Crazy Rich Asians," on Thursday, Sept. 24  at 8 p.m.