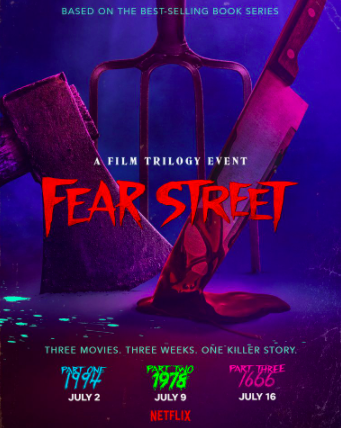 The second installment in the "Fear Street" trilogy, "Fear Street: Part 2: 1978," released on July 9, and the film falls short of being a fun teen slasher— making it just another horror movie. 
The sequel picks up right where the first movie left off: Deena (Kiana Madeira) and Josh (Benjamin Flores Jr.) are looking for a cure for Sam (Olivia Scott Welch). They visit a survivor of the Camp Nightwing murders and the only known survivor of Sarah Fier's curse, C. Berman (Gillian Jacobs). 
Upon their arrival, C. Berman tells the tragic story of Ziggy Berman (Sadie Sink), Cindy Berman (Emily Rudd), Tommy Slater (McCabe Slye), Alice (Ryan Simpkins) and Nick Goode (Ted Sutherland) at Camp Nightwing in July 1978.
Ziggy, the outcast at camp, is the angsty teenager who no one understands and who feels the harshness of the real world all too much. Cindy, Ziggy's older sister, is a counselor at Camp Nightwing and is the uptight, "good girl" role model, while Alice, a counselor and Cindy's old best friend, serves as the bad influence. Nick Goode, a character featured in "Fear Street Part 1: 1994" as the local sheriff for Shadyside, is a counselor who tries to be the hero in every situation. 
Tragedy begins within the first half hour as Tommy, Cindy's camp boyfriend, is attacked by Nurse Lane (Jordana Spiro) who claims, "One way or another, you're going to die tonight." Nurse Lane's daughter, Ruby Lane, a murderer in Shadyside who was cursed by the witch Sarah Fier, sparked Nurse Lane's interest in finding and stopping the next person that the witch will curse — a task she failed. 
A journal of Sarah Fier's history, lair and everything else needed to end the curse was in Nurse Lane's possession and falls into Alice's hands to which Alice, Cindy, Tommy and Alice's boyfriend, Arnie (Sam Brooks) set out to find the witch's house. When the group enters the lair, Tommy's possession ensues, sparking a murderous rampage at Camp Nightwing. 
While Tommy terrorizes Camp Nightwing, Cindy and Alice are trapped in Sarah Fier's lair, Ziggy and Nick Goode begin to fall for each other and Ziggy is cursed by the witch. 
The movie deals more with the relationships between characters rather than the murders themselves, a drastic change from "Fear Street Part 1: 1994." Despite Cindy and Ziggy's strained relationship, the strength of sisterhood became the main focus toward the end of the movie.
"Fear Street Part 2: 1978" was entertaining for the most part, but viewers were overloaded with information without any explanations. There is no background as to how or why Tommy was cursed, how Ruby Lane was cursed or why Nurse Lane was trying to end the curse even though her daughter wasn't cursed anymore, leaving the viewers with more questions than answers.  
Since the murders occur at a children's summer camp, they aren't shown on camera — except for the murders of the counselors, who are older than the campers. The film is still graphic, but much less in comparison to "Fear Street Part 1: 1994." 
For a film that takes place in the late '70s, the soundtrack was disappointing and there were multiple missed opportunities to use popular '70s hard rock songs from groups like Led Zeppelin, The Rolling Stones or even Paul McCartney to make the film a fun teen slasher.  
Taking more of a serious tone, "Fear Street Part 2: 1978" opted for ominous instrumentals, less jokes and more terror. Overall, it's an entertaining movie, but it does not compare to "Fear Street Part 1: 1994" in any way.
A disclaimer for viewers, as with the first movie, "Fear Street Part 2: 1978" discusses self harm, drug and alcohol abuse and suicide, with visuals that might be triggering for some audiences. 
"Fear Street Part 1: 1994" and "Fear Street Part 2: 1978" are both available to stream on Netflix. "Fear Street Part 3: 1666" will be released on July 16 and will delve deeper into Sarah Fier's curse and her life.