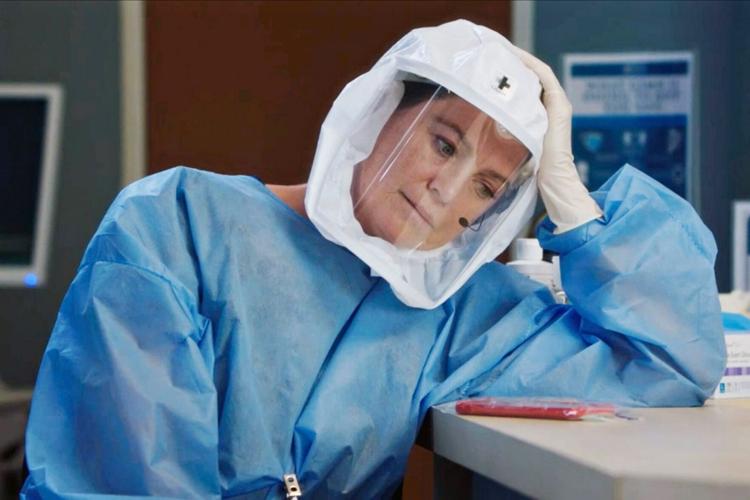 After an abrupt season finale cut short by the coronavirus pandemic, "Grey's Anatomy" returned on Thursday to portray the biggest medical story of 2020 while also wrapping up plots that left fans hanging in April.   
Two new episodes of "Grey's Anatomy" aired after an episode of "Station 19," a spinoff series about firefighters, to create a three-hour premiere crossover event. Each episode showcased current issues and honored health care workers for their service. However, the goal of representing today's climate was challenged by the responsibility of resolving a variety of cliffhangers from last season.
Production for "Grey's Anatomy's" 16th season, which was intended to have 25 episodes, was cut short with only 21 episodes as the last one aired on April 9. 
The series, which follows Seattle surgeons' medical careers, romantic relationships and traumatic personal lives, now looks like our world with characters wearing masks and social distancing. Watching doctors on TV deal with the hardships caused by the pandemic defined the premiere. 
In an interview with Variety, Ellen Pompeo, producer and star who plays the lead protagonist Meredith Grey, said the series has always been able to entertain audiences while touching on real issues. She said the intent is never to politicize stories, but rather to give people something to consider. 
"We'll continue to do that as we always have. I don't think we're going to do that anymore this season than we do normally," she said.
Showrunner Krista Vernoff responded in the interview and said that it's their job to humanize the pandemic because many politicians have politicized it. 
In the interview, Vernoff discussed her difficult decision to center season 17 around COVID-19 rather than provide escapism to viewers. Her initial decision was to avoid the pandemic, she said, however, various show writers managed to persuade her. 
"The writers are brilliant and they had some pitches that were so exciting to me that it made me feel like we could do our show, the romance, the humor and the escapism and the pandemic," Vernoff said. "It's the biggest medical story of our lifetime and it's the biggest medical show and it's a shame not to do it. We owe it to the medical community and the front line workers to tell these stories."
The first half of the two-part episode opens with a beautiful wide shot of Meredith sitting alone on an empty beach before awakening from her daydream. From there, she returns to a chaotic hospital and viewers see a large text that reads, "April 2020." 
The episode naturally succeeded at explaining how standards have changed at Grey Sloan Memorial Hospital. Surgical specialties no longer matter. Surgeons now check temperatures and attendings perform tasks that are normally handled by interns. 
Despite the main theme of the episode focusing on the stress and exhaustion that healthcare workers face, there are still moments of optimism such as when citizens and firefighters applaud the characters for their sacrifice. 
A central conflict in the episode was the lack of personal protective equipment, representing the real issues that healthcare workers faced early on in the pandemic. 
One memorable scene is when the doctors and nurses received packages of what they expected to be masks and gloves, but turns out to only be medical walking boots. This is followed by one of the characters breaking down and hitting the mainly useless boxes with a golf club. 
To some, this scene may come off as being too dramatic, but it showcases how many healthcare workers in real life faced frantic uncertainty with the high demand of patients. 
The characters also have to accept an increase in patient losses caused by the pandemic. One doctor notes that he lost 10 times more patients than he normally would. Each actor delivers successful performances that viewers can't help but get emotional over. 
In addition to displaying the tension doctors felt, the series showed patients dealing with grief and stress. 
The episodes also tackled racial issues relating to the pandemic. One doctor notes that Black and Hispanic communities are impacted worse by COVID-19 and in another scene, a patient tells a healthcare worker he doesn't want a Chinese doctor. Moments like these, although minimal, exemplify the writers' attempt to shed light on every issue the pandemic has brought out. 
The use of flashbacks throughout both episodes resolved cliffhangers and created levity through humorous moments of a time before April 2020. Viewers were treated with both a fantasy and real world experience that "Grey's Anatomy" always tries to balance. For fans who are in it for the romance, friendships and comedy, there's plenty of that as well. 
Perhaps the most iconic moment that defined the entire premiere is the final scene. The return of a familiar face, and a relationship fans undoubtedly missed, brought joy during this dark time. 
Based on the premiere alone, it's safe to say that viewers are in for a season that will not only stand out among the previous ones, but will give audiences the entertainment and perspective that they desperately need.