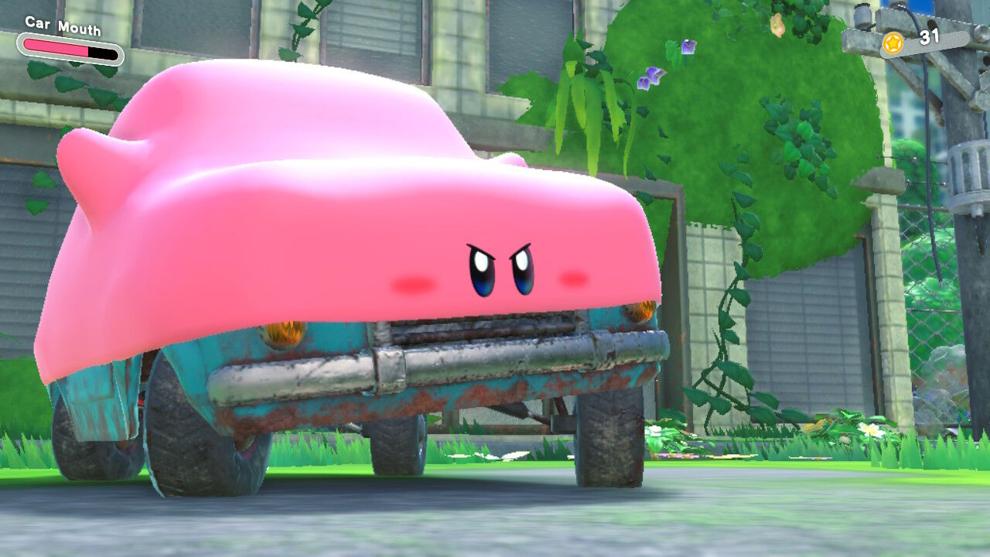 Fans of Nintendo's bottomless pink puffball Kirby rejoice as he makes a new full-featured 3D platform appearance in Kirby and the Forgotten Land on the Nintendo Switch.
In Kirby and the Forgotten Land, players take on the role of Kirby, the iconic and insatiable hero of Dream Land, who is on a new adventure set in a mysterious and abandoned Earth-like world where nature has overtaken the surrounding buildings and structures, and an abundance of formidable enemies and bosses await to challenge your reflexes.
After Kirby and his friends are sucked into a new dimension by a wormhole, Kirby sets out to rescue his friends and explore the mysterious circumstances that have landed him in a strange and foreign new land. 
Fans will feel right at home with the inclusion of Kirby's unparalleled suction powers and the floating jumps that are a mainstay of his arsenal of moves and tricks. Also making an appearance is the variety of power-ups that Kirby gains from absorbing enemies and classic forms such as the fire and hammer abilities.
New for Kirby and the Forgotten Land is the inclusion of "Mouthful Mode," a new game mechanic that enables Kirby to partially engulf everyday items such as cars, vending machines, traffic cones and light bulbs to gain an entirely new set of movements and combat abilities. 
While fans of Nintendo games may see a resemblance in gameplay to a particular red hat-wearing plumber's latest escapade, the integration of "Mouthful Mode," along with the classic Kirby abilities and power-ups, keeps the game feeling fresh while offering some genuinely hilarious moments for players. 
Speaking of gameplay, Kirby and the Forgotten Land marks the pink puffball's public debut in a 3D world. Whereas previous mainline platforming entries in the series were primarily a 2D affair, Forgotten Land makes full usage of the 3D setting to enable Kirby to run, jump and fight his way through beautifully rendered environments that are at times a sharp contrast from the usual backgrounds Kirby finds himself in.
Gameplay in Forgotten Land consists largely of exploring and completing linear levels in a variety of worlds to rescue Waddle Dees and collect stars to upgrade Kirby's abilities. As Kirby, you'll spend your time fighting enemies and bosses to unlock new areas to explore, all while making use of your new "Mouthful Mode" to traverse levels in new ways. As a bonus, the more Waddle Dees you rescue, the quicker you'll unlock a hub area appropriately known as Waddle Dee Town where you can buy upgrades, mini-games and new abilities from the inhabitants. 
Combat feels engaging and exciting, thanks in part to the various power-ups Kirby can acquire. The game is filled with that classic Kirby aesthetic that fans have grown to love, and both Kirby fans and newcomers alike should have no trouble finding something they like in Forgotten Land.
While the formula of Forgotten Land may seem simple and repetitive on paper, the inclusion of a harder difficulty mode called "Wild Mode," alongside hidden unlockables that appear upon completion of other objectives, offer a decent level of replayability. It should be noted that while Forgotten Land is by no means a challenging game once you've discovered how to make use of the various tools at your disposal, the game is most certainly aimed towards younger gamers or those seeking a casual experience.
Ultimately, the main appeal of Kirby and the Forgotten Land lies within the emphasis developers at Hal Laboratories placed on exploration. The focus on discovery, alongside the shift to 3D and the willingness the team seemingly had towards examining what worked in previous titles, ranks Forgotten Land high on the list of Kirby games. Whether you're looking for something genuinely adorable to dive into or you're a long-time fan eager to join Kirby on his newest adventure, Kirby and the Forgotten Land offers something for those searching for a 3D action platform with a ton of charm. 
Kirby and the Forgotten Land is available now on the Nintendo Switch.