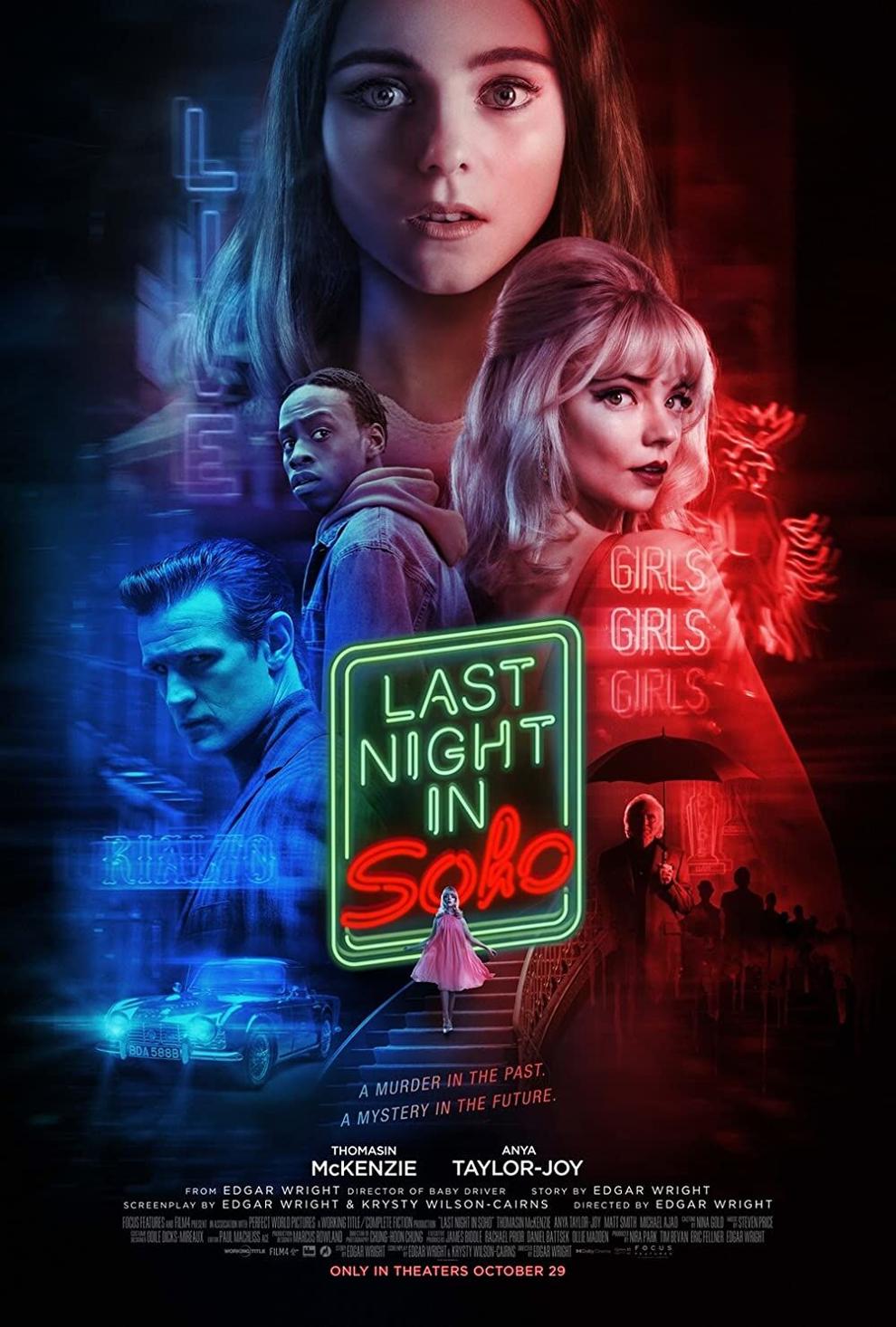 "Last Night in Soho" is the latest smash hit film from director Edgar Wright, delivering a psychological thriller featuring stand-out performances and a twist on time-travel that keeps the audience guessing until the end.
Wright's new tale follows an aspiring fashion designer named Eloise, (Thomasin McKenzie), who mysteriously time-travels to the 1960s, where she encounters an aspiring actress named Sandie (Anya Taylor-Joy). While both characters pursue their dreams in their respective times, they realize that sometimes it comes at a cost.
What's interesting about this film, aside from it being Wright's first foray into the genre, is its twist on time-travel. A lot of the film's mystery is driven by Eloise's ability to travel to 1960s London in her dreams and her ties to the mysterious Sandie, whose body she seemingly inhabits while traversing the past. 
The relationship between these two characters is what drives Eloise's evolution as a character when she begins to mirror herself after the glamorous Sandie. 
Steeped in mystery, this is a movie that anticipates what the audience is guessing. Just when they think they've figured things out, there is a twist that sends them right back to the drawing board. 
The star performance in this film comes from McKenzie, whose character is accepted into a fashion school and moves away from home. After a rocky start to her relationship with her roommate Jocasta (Synnove Karlsen), she finds a new place to rent with Miss Collins (Diana Rigg). It's here where she falls asleep and is transported to the past. 
As Eloise acclimates to her new school and surroundings, her fascination with Sandie begins to take over her life. When she begins to notice landmarks from Sandie's life, she sets out to figure out who Sandie really is and what happened to her. 
McKenzie's performance as Eloise is perfect, managing to play both the meek side of the character at the beginning before she slowly starts to model herself after Sandie, changing both her looks and confidence. As the madness progresses and she begins to realize the dark underpinnings of Sandie's story, her sanity is pushed to the brink. 
Taylor-Joy is part of a renaissance of fantastic young actors who deliver powerful performances. The way she embodies Sandie feels natural due to not only her acting skills, but also her singing and dancing talents. Her character dreams of making it big, tying her thematically to her contemporary counterpart Eloise, and realizes she needs the help of a manager named Jack (Matt Smith) to make it as a performer.
Also co-starring in this movie is the late Diana Rigg, who plays Ms. Collins — the owner of the house where Eloise finds refuge. In her last credited role before her death, she delivers a fantastic performance that is as memorable as her role in the hit HBO series "Game of Thrones," where she played Olenna Tyrell. 
Rigg's presence, along with McKenzie and Taylor-Joy, is a great showcase of both old and new Hollywood actors. She is fantastic in this movie and it's tragic that this was her final on-screen performance. 
Smith is also perfectly cast as Sandie's manager Jack. His natural charm was fitting for the character while managing to give him a necessary dark underpinning. 
This movie is compelling from beginning to end and also looks incredibly beautiful. Eloise's love of 1960s music and fashion gives the film a timeless quality that is accentuated by the London backdrop, glamorous costumes and hairdressing. 
"Last Night in Soho" is an aesthetically pleasing film that uses color to enhance  the story and themes. The use of glowing neon lights on buildings changing from red to blue accentuates the mood. 
Another of the visual motifs that recur throughout the film is the mirror image, which is executed in such a creative way. In one scene when Sandie is walking down a case of stairs with a large mirror next to her, we instead see Eloise as her reflection. The two are constantly swapped out for one another in a seemingly impossible way, using the magic of movie making to make it possible. 
The heavy use of the mirror image throughout the film speaks to the underlying complexity of these characters and their motivations, which don't become clear until the end of the movie. In one of the most memorable set pieces, Sandie is dancing with Jack in a club and Wright constantly swaps out McKenzie with Taylor-Joy without cutting in a perfectly choreographed scene. 
Fans and casual viewers alike will find Wright's new film to be a fun time at the cinema. 
"Last Night in Soho" is now playing in theaters and is rated R for brief drug material, bloody violence, brief graphic nudity, language and sexual content.