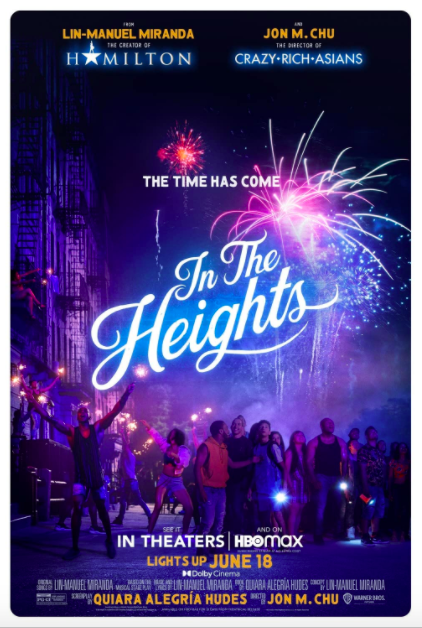 Long before Lin Manuel Miranda burst into fans' hearts with a golden storyline of heroism in his Tony award-winning Broadway musical, "Hamilton," the writer found his voice at Wesleyan University where he brought to life "In the Heights," a story of hope, love, belonging and dreams.
What started as a student produced musical in 1999 grew exponentially over the next nine years until Usnavi, the main character and a bright eyed bodega owner, along with his community — a family of hopeful dreamers — took to the Broadway stage in 2008 to bring audiences to Washington Heights, New York for a heartwarming and complex story about finding their way back home.
On June 11, after more than a decade of hardwork and love, Miranda's story made it to Hollywood. "In the Heights" is a movie that caresses viewers with infectious melodies, palpable passion and an unbelievably brilliant message of hope.
For those who first fell in love with the Broadway musical's soundtrack, the extravagant dancing scenes and heartfelt moments added in this film are everything fans could've asked for and more.
Washington Heights is as vibrant, colorful and booming as every lyric makes it seem, and falling into Usnavi's world feels like coming home for the first time, with each carefully scripted moment creating an atmosphere of peace, ambition and blindingly bright optimism.
Director Jon M. Chu is no stranger to success in Hollywood. His best known work is the 2018 film "Crazy Rich Asians," which was nominated for two Golden Globes in 2019. Chu's iconic use of color is not lost on Miranda's story as each scene constructs a hopeful vibrance that captures the theme of dreams and the light of the future.
In the original Broadway production, Miranda stepped into the lead role of Usnavi — a casting choice that is very similar to when he assumed the lead role as Alexander Hamilton in the award-winning musical, in the production of "Hamilton." However, Miranda humbly sets the spotlight on Anthony Ramos in this film.
The young performer got his start acting as John Laurens and Philip Hamilton in the production of "Hamilton." In 2014, Miranda tweeted a picture of Ramos, voicing his praise with a caption that read "This is Anthony Ramos. You don't know him yet, but boy, will you. Kid's a star," and he was absolutely right.
Ramos' performance in this film is iconic in every sense of the word. His passion for the character shines through every line, and his understanding of Miranda's complex themes makes for a main character that is easy to love.
But, not everything great about the movie is left up to Ramos.
Other characters like his love interest Vanessa, played by Melissa Barrera, and Nina, the genius girl next door played by Leslie Grace, add depth and emotion to every storyline.
Fans can also expect to see Benny, played by Corey Hawkins and a fun cameo by Chris Jackson, known for his role as George Washington in "Hamilton." Of course, Miranda also makes an appearance as Mr. Piragüero, a humble street vendor.
As Usnavi dreams of returning to his home in the Dominican Republic, the community sings and dances its way through complex social circumstances like gentrification and class concerns.
Miranda's attention to detail ensures that these storylines are given every bit of attention they deserve and the beautiful resilience of the community is a lesson that every viewer can hold onto.
Every character in Washington Heights is on a mission to find their way to happiness. Nina's journey follows the trials of being the "genius" in the neighborhood. Life as a Stanford student leaves her feeling like the world is hoisted on her shoulders, and that burden is enough to make her feel dizzy and lost in a sea of misplaced hope from her childhood home.
Vanessa dreams of "getting out," but her pessimism will never take her where she needs to go. The trials of these characters and the rest of the neighborhood are so painfully relevant and raw to real life circumstances that it's impossible to not feel a connection to this movie.
The careful storytelling, fast paced lyrics and dedicated cast make this movie a jewel for any fan of cinema. It's about finding a way back home. Miranda portrays exactly what it feels like to dream of home and this film is a classic reminder of what it means to feel hopeful and happily content in a sea of dreams.
Underneath each dance scene and romantic story, there's a feeling of hope that is impossible to ignore. This story undoubtedly tugs at the heartstrings in every way. Whether fans are crying about the beauty of the ending or the illuminating lessons that seem to crawl their way into our hearts, grabbing a box of tissues is surely not a bad idea.
"In the Heights" is available in theaters and to stream on HBO Max through July 11.