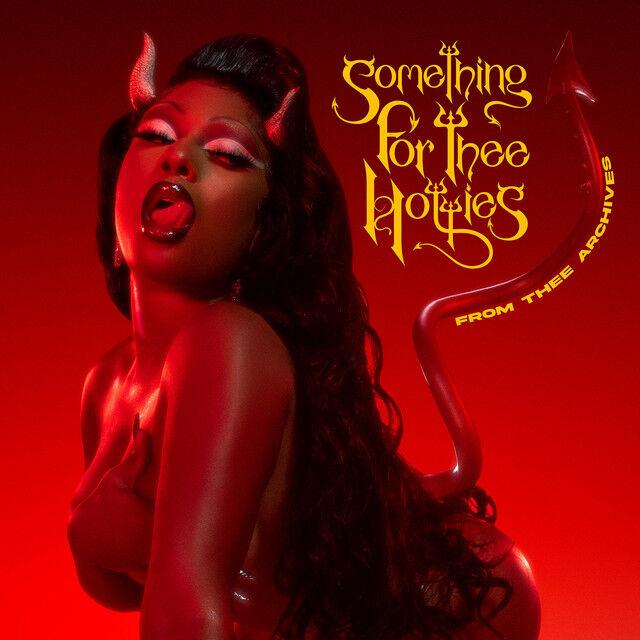 Megan Thee Stallion has once again proved why she is Thee Hot Girl Coach, showing her unmatched work ethic. Only ten days after the release of her collaboration with Popeyes, the "Hottie Sauce," Megan Thee Stallion has dropped her latest mixtape "Something for Thee Hotties." 
The album contains 21 tracks, consisting of both songs from the vault and all-new tracks.
This album has proven that Megan is one of the most skilled contemporary rappers, demonstrating her lyrical prowess with themes of sex, anime, success and hometown pride present throughout the mixtape. "Something for Thee Hotties" is sure to be a groundbreaking hit among fans. 
"Tuned In Freestyle"
If listeners ever question whether Megan Thee Stallion's confidence waivers, she quickly puts that to rest in the first track. 
"One thing about me that you need to know/ I ain't nothin' like none of these average h***,"
as if fans needed a reminder, there is no one like Thee Hot Girl Coach.
When she isn't making her mark, she gives fans a glimpse of her playful side. "I got these n***** blushin', lookin' like they Pikachu/ I'm the hot girl, feelin' like Charizard,"
In case fans couldn't tell, Megan Thee Stallion proves to be an unashamed anime fan.
"Megan Monday Freestyle"
The pop culture references don't stop at "Pokemon." Megan also gives a quick shoutout to the TV series "Scandal,""Damn, I must be Olivia Pope 'cause y'all keep puttin' me in all of these scandals."
"Southside Forever Freestyle"
Megan's humility has never vanished. In this track, she reminds fans that she hasn't forgotten where she comes from, and still holds her roots close to her heart. 
"I'm goin' hard in this b****/ goin' hard for them kids/ Doin' s*** they ain't seen in the ghetto/ I'm goin' hard for my mama, she knew I could do it."
Megan not only wants to prove to all of her fans that they can also succeed, but shows her dedication to honoring her deceased mother.
"Kitty Kat" 
On the fastest delivered track, Megan proves that she can move miles a minute. The Houston rapper references her own successes to prove she is a tier above the rest. Can we blame her?
"Is anybody round this b**** keepin' score?/ Grammy-nominated p****/ b****, I got four."
"Opposite Day"
If listeners were worried that the H-Town Hottie would only give anime a single shout out, she may be a bigger fan than some might expect. The master of wordplay somehow managed to make a sexually-charged reference to "One Piece."
"He keep beggin' me for one piece, Luffy (Yeah)/ All around the world tryna get this coochie (Yeah)."
"Bless The Booth Freestyle"
A constant throughout Megan's music is her playfulness. No matter how vulgar the subject matter is, she'll find a way to incorporate a joke without fail.
"If I f***** your boo, don't/ worry, these n***** seasonal/ like McFlurries."
Comparing a man to a fast food item is possibly one of the best ways Megan has made it clear that men are far from what she values most in her life.
"Thot S***"
Undoubtedly the most well known track on the mixtape, the single being added to the tracklist is an excuse to have "Thot S***" played on loop. Despite being released four months ago, the single is still highly celebrated among Megan Thee Stallion's fans. 
"H*** tryna call me a snake, s***, I guess I can relate/ 'Cause a b**** spit a whole lotta venom/ And since these h*** all rats, when they come around me/ All I see is a whole lotta dinner."
Megan Thee Stallion's unshakeable confidence seems to stem from her awareness that she is on a rap pedestal, and it doesn't seem like she will be knocked off by anyone anytime soon.
"To Thee Hotties"
Megan made the last track of the mixtape a thank you letter to her fans, explaining how much she appreciates the support that has put her on "the big stages" she now performs on.
"I really just wanted to get on here right quick and tell y'all thank y'all so much for rocking with me. Y'all don't know how much it mean to me, through the ups, through the downs, y'all always sending me positive messages."
With that, Megan Thee Stallion leaves Thee Hotties, giving fans a soundtrack to feel just as confident as she does. Even if it's just for 45 minutes. 
"Something for Thee Hotties" is another staple of work that proves Megan Thee Stallion is among one of the most skilled rappers with her quickly delivered lines full of wordplay. She is creative and confident, matching her two C's (Chanel) without fail.