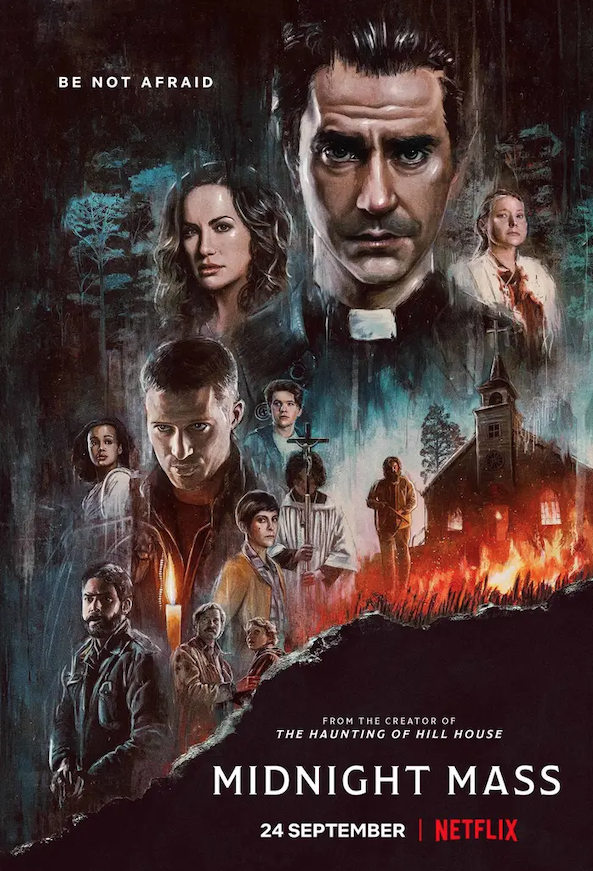 Netflix turned to Mike Flanagan, a master horror craftsman, once more with "Midnight Mass," adding another gem to their growing horror collection. Flanagan delivers a limited series that elevates contemporary Catholic horror.
The miniseries was created and directed by Flanagan after his work on the 2018 Netflix horror series "The Haunting of Hill House." 
It features actors he typically works with, such as his wife and frequent collaborators, Kate Siegel, Annabeth Gish and Henry Thomas. Other members of the cast are recognizable in some of Flanagan's other work, but he alleviates the issue of typecasting by allowing the actors to play drastically different roles than their previous parts. Thomas, for example, plays a cold, aloof and God-fearing fisherman named Ed Flynn; a much different turn than his roles in previous Flanagan productions.
"Midnight Mass" is a true exercise in patience yielding reward. The first couple episodes do not play as just horror. There is some imagery that will scare viewers, but the central focus appears to revolve around guilt and grief and how those themes tie into the struggle of religious faith. 
Presenting itself as a drama first, the show slowly breaks down the audience's guard with a plot-driven narrative that sprinkles in horror elements before submerging the viewers into the chaos midway through the season.
The story follows Riley Flynn, played by TV veteran actor Zach Gilford. Riley is a disgraced alcoholic who served four years in prison after killing a young woman in a drunk driving accident. He returns home to Crockett, a small remote island somewhere off the coast of the United States inspired by the Pacific Northwest. 
The town, ashamed of his actions, doesn't embrace him fully, aside from his mother, Annie Flynn (Kristin Lehman) and an old lover, Erin Greene (Siegel). The town is mostly made up of devout Catholics and Riley further fails to fit in after he lost his faith while in prison. 
Riley's homecoming coincidentally follows a new parish priest, Father Paul ( Hamish Linklater). With Father Paul's arrival comes a blend of the supernatural and miracles — ailments alleviate, injuries are healed and faith is restored. Not all is well, though, as a dark secret falls upon Crockett, begging to be revealed.
Linklater is a standout in the role of Father Paul. Gilford serves as the skeptical audience, keeping viewers neutral in a deeply religious setting, but Linklater's character serves as the inverse. Linklater uses a physical performance to draw the audience in, but also knows when to pull it back and become relatable. The shroud of mystery he gives Father Paul helps carry the series when the pacing slow
Another standout performance belongs to Samantha Sloyan, who plays the hypocritical Bev Keane, the most devout member of St. Patrick's Catholic Church on the island. Bev is a character fans will really love to hate and Sloyan turns in a performance that creates, possibly, one of the best contemporary horror villains.
Despite the many twists and turns with the plot, some twists are easily predictable, but the show finds many ways to keep viewers on their toes. 
The series provides a study of the Catholic church and faith itself. It examines evangelicalism without making any judgement through honest representation and clear character motive. Religion is shown in both positive and negative lights and concludes with the idea that religion can be used to heal and harm depending on the person using it. This, mixed in with the themes of guilt, grief and salvation, create a complex narrative that falls in line with the strong writing and storytelling Flanagan uses in his other works.
There is frightening imagery, a few jumpscares, a haunting soundtrack that makes use of traditional Catholic hymns and a full embrace of the paranormal that takes an original spin off of classic horror. 
For those looking for an ambience similar to "The Haunting of Hill House," this isn't quite it. The scares aren't as overt and the method of storytelling minimizes the tension until the climax of the show. 
However, the sense of dread is always present and characters' plights being a driving force to continue watching fall in line with Flanagan's previous series. For viewers who are looking for horror that builds and eventually snaps into chaos, "Midnight Mass" is sure to satisfy.
This show is a tragedy with adult themes, no lack of discomforting moments, adult language and disturbing imagery that will undoubtedly put off some adult viewers. However, the engaging storytelling and mind-blowing payoff make it worth watching this Halloween season.
"Midnight Mass" is one of the best shows of the year and transcends the horror genre. The thematic, moral complexities and deep narrative blend seamlessly with the terrifying elements to create a show that will be talked about long after its conclusion.
"Midnight Mass" is available to stream exclusively on Netflix.