The holidays are quickly approaching, and what better way to get in the spirit than by watching Netflix's brand new rom-com series, "Dash & Lily."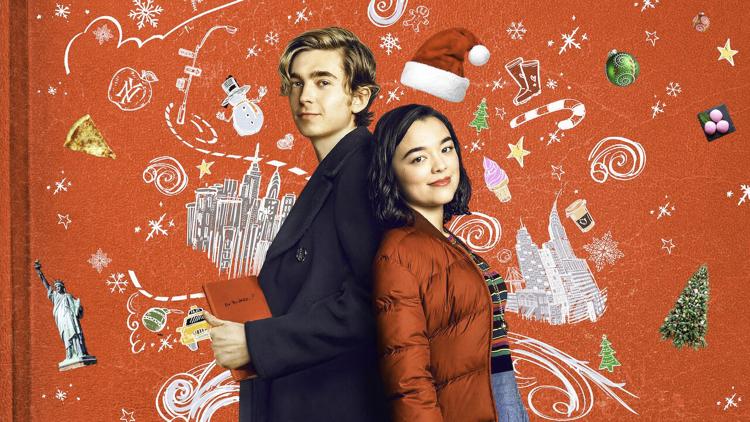 Released on Nov 10, "Dash & Lily," which is produced by Nick Jonas, is a tale of two teenagers whose only form of communication is through a notebook found in a book shop in New York City. Dash, played by Austin Abrams, stumbles upon a little red book while shuffling through the shelves at The Strand. In the book, Lily, played by Midori Francis, has left specific dares, dreams and desires for whoever picks up her notebook, designed for her to hopefully find and get to know the love of her life.
The show is based on the young adult novel, "Dash & Lily's Book of Dares" by co-authors David Levithan and Rachel Cohn. Netflix has adapted the book into an eight-episode series that was released just in time for the Christmas season.
Dash and Lily are both misfits who stand out in their own ways. Lily doesn't connect with people her age and keeps her circle small, familiar and full of older people. She has an old soul, listens to Joni Mitchell and doesn't go out much like other teenagers. Oh, and she's obsessed with Christmas.
Dash, on the other hand, has his fair share of lonely Christmases as his father usually abandons him on the holiday, which ultimately makes him a bit of a grinch. He's a rather cynical and standoffish teen who is used to solo nights at home. Dash isn't as carefree as Lily is, which makes the show interesting as one would quickly assume that the two would be quite incompatible.
However, loneliness strikes and Lily wishes for a special someone to spend the holidays with. Her brother inspires her to fill one of her notebooks with questions and dares to be answered by whoever finds it at their local bookstore. Dash is the first to find the book and accepts Lily's challenges. As the show progresses, the two continue correspondence by trading the book off at different parts of the city, without ever meeting.
"I have to confess, you intrigue me," writes Dash in a note to Lily at the beginning of their whirlwind romance.
It may seem like just another cheesy rom-com, but it does have nuances that distinguish it from other series. Rather than focusing on physical attraction like most movies and shows do, this series decides to focus on the strong power that an emotional and personal connection holds. Dash and Lily truly get to know one another through their words as they begin to reveal their fears, favorite things and beliefs.
Although the two appear to be rather different, the more they learn about each other, the more alike they truly are. Dash and Lily explore one another's past traumas. They push each other outside of their comfort zones. They bond through unique tastes in music, books and movies. It's possible that if they initially met face to face, they would have made brisk assumptions about the other and maybe not have given each other a chance.
The show demonstrates a different approach to a modern love story. Dash and Lily build a trusting connection without ever needing social media, knowing each other's names or ever meeting. Sure, there are some cringey moments throughout the series, but what romantic comedy doesn't have its cheesy, over-the-top moments? Overall, it's nice to see two strangers get to know each other in such an unconventional way, at perhaps the most chaotic time of the year.
Some critics say that Dash and Lily's compatibility didn't make any sense and upon meeting face to face, the magic disappears. Others say the fun is all in the chase and mystery of not knowing each other's appearance, and therefore find it hard to believe that Dash would actually be interested in Lily after meeting her.  
This highlights a problem in society in which so many people pay more attention to physical traits and appearances, rather than focusing on establishing emotional foundations which make a relationship truly special. 
In the end, the show offers a fun and reinvigorating take on young romance. If you find yourself searching for something new and heartwarming to watch this holiday season, consider "Dash & Lily." Only if you dare, of course.