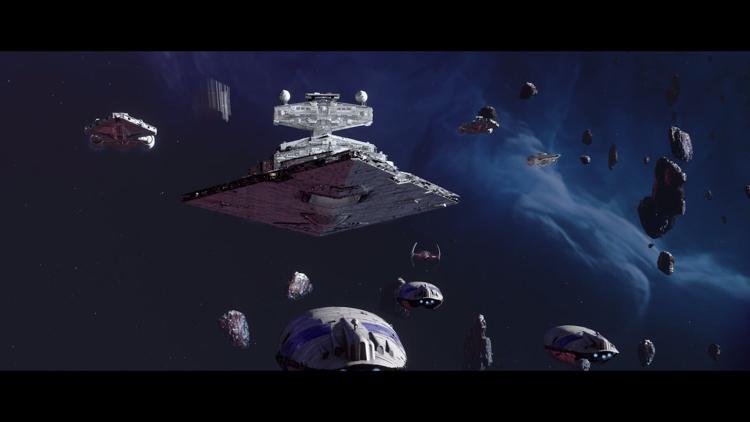 Electronic Arts has given people a reason to stay inside their COVID-19 bunkers with its latest in-space starfighter game, Star Wars: Squadrons.
This game is more of a reimagining of its 1997 predecessor, Star Wars: X-Wings vs. Tie Fighter, but instead of just a PC release, Squadrons is available across most of the major platforms.
Given the video game publisher's track record with the Star Wars license, it may be hard to trust the publisher to spend a hard-earned $40 for. But with a lower price than most major publisher games, it can prove to be a bargain.
A cheaper Star Wars game, where you could live out your fantasy to be in the cockpit on your favorite ship, is tempting and good, but not great.
Two modes
Set shortly after the last movie of the original trilogy, it's another Rebels versus Imperials story, with bland development of some of its characters. After an imperial general decides to defect following the destruction of the planet Alderaan, a fight ensues between that general's previous squadron and his new allies.
The good guys win and all is good in the galaxy once again, but the story is lacking in depth and the dialogue is generic. It is a story mode that a dedicated fan could consume in one disappointing sitting.
Space flight
The main appeal of the whole experience is piloting your machine in space, and it controls well, but for the hardcore flight simulator fans, they'll find this game leaning on the arcade side of realism while flying.
One interesting gameplay mechanic that was also present in the 1997 game is the power management between the engine, shields and weapons. The player has the choice of selecting where they want the power to go on the fly, and the different selections have their own purpose depending on the situation.
The power management system is where the depth comes from, and players that master how to properly manage the power within their machine have a significant edge over other players.
A downside to this otherwise brilliant system is that coupled with the other buttons that players need to press, it can be a lot to deal with, and newer players may struggle with how to manage the vehicle and mess of inputs.
For players that have had experience in flight simulators like X-plane or Digital Combat Simulator, proper aviation techniques can give you an advantage over others in the multiplayer, but those techniques don't necessarily translate well due to the arcade feel of the game.
The problems with aviation in this game revolve around how the flying is very tight and snappy. The pilot in this game must have a good grasp of controlling the throttle and underpowering the machine throughout combat.
If Squadrons followed the laws of physics, it would be interesting to see a machine able to suspend itself in space without moving or turning, or crashing into the objects in space and not exploding the ship.
However, it's a video game, and a Star Wars game at that. It's justified that this game has some unrealistic features that would otherwise drive some harsh critics to insanity, but their criticisms are somewhat justified as well in that it is not the simulator it sold itself to be.
Is it worth it?
All of the things that could be nitpicked from this game could have really made Squadrons a flop and another stain on Electronic Arts's infamy, especially when dealing with Star Wars titles, but all of this can almost be forgotten because the game is just so beautiful.
The multiplayer maps are the right size for combat, but unfortunately, you can't explore more than what is outside of the designated zone, even if the player wants to just fly around in space all day and see the interesting characteristics.
There's also a vast amount of detail on each ship, whether that's on the ships actually piloted or the computer-controlled ships that are massive compared to others.
With customizable options, the player can purchase cosmetic liveries that make their machines unique, all at the sake of in-game currency that players don't have to purchase with real money - a big improvement from Electronic Arts's previous fiascos on microtransactions.
At a $40 price point, it's a great purchase so long as you understand that mastering the competitive multiplayer mode will take time to understand how to properly pilot the machines.
For the most hardcore of flight simulator players, it's a low learning curve. Still, transitioning from a simulator like Digital Combat Simulator or X-plane, there are noticeable differences in piloting, an essential part of the gameplay.
If you're purely a Star Wars fanatic that wants to go through an expansion on the franchise's universe, you'll be disappointed that the story is lackluster, and it would be best to just watch other people playing through it online for free instead.
Rating: 7/10. Maybe the next one will be better.