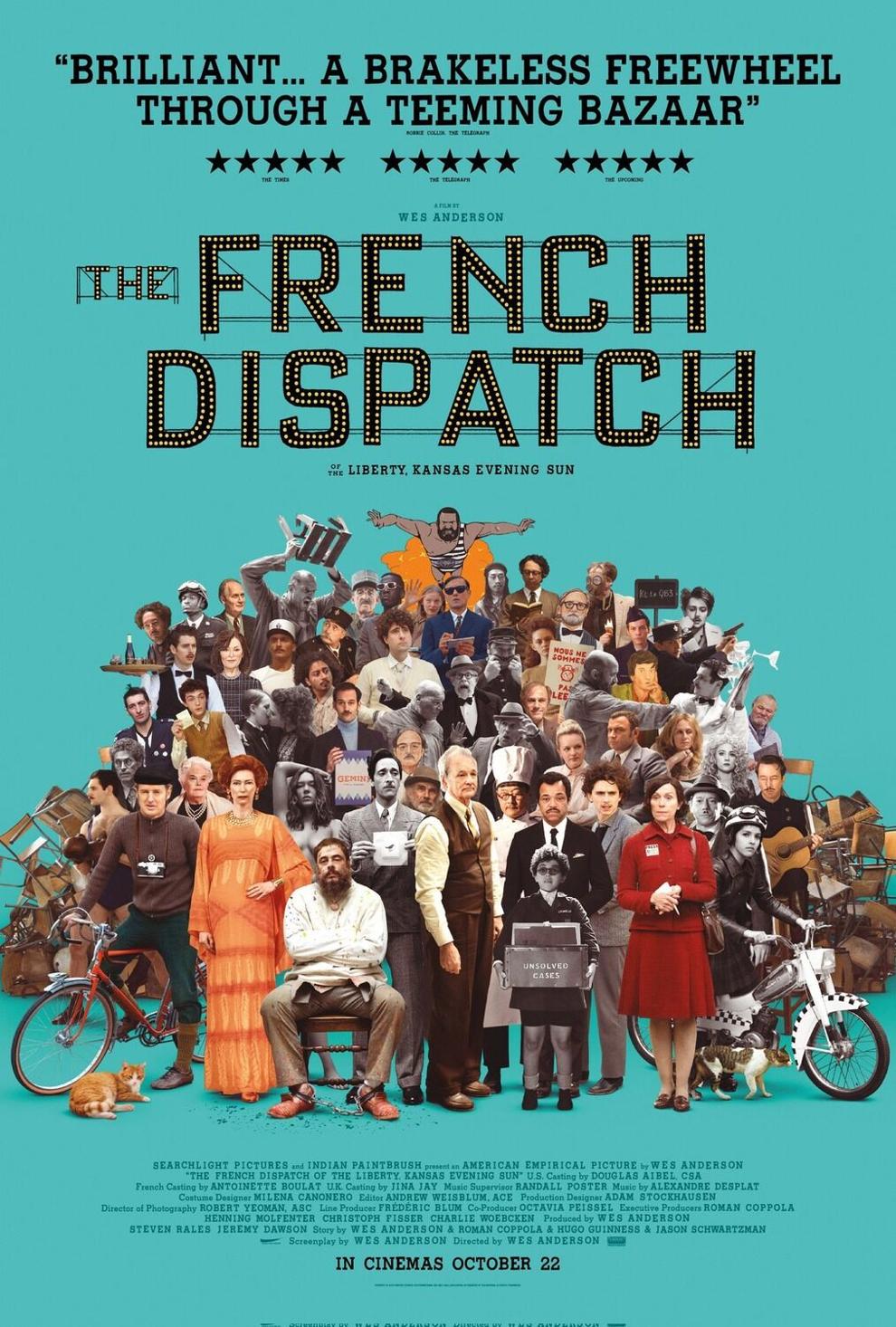 Considered as one of the greatest directors of modern cinema, Wes Anderson's 10th studio film, "The French Dispatch," brings together an all-star cast, a unique storyline and a picturesque backdrop for his story. However, does it live up to the high bar that he has set for himself? 
Anderson is one of those directors who immediately brings about a certain amount of nostalgia. From "Rushmore" to "Fantastic Mr. Fox," his films have shown that he has never taken his foot off the pedal. 
"The French Dispatch" is an anthology film that follows several journalists on their journey to capture the essence of Paris for a Kansas City-based publication. Divided into four storylines, Anderson creates a unique world for each person that encapsulates their character. 
Beginning with a quick look into the city of Ennui-sur-Blasé, which is guided by Owen Wilson, who plays a traveling journalist on a bike. Then, diving into the world of an artist played by Benecio Del Toro, imprisoned for double homicide, and a fellow prisoner turned art dealer, played by Adrian Brody, who wants to make a profit off the artist's work. 
The film, then, ventures into the world of young activism with the life of college students who are fighting for their cause. Lastly, the viewers are invited to dinner with a writer and food critic, but is disrupted by the chaotic world around him. 
Each segment feels like a new glimpse and a closer look into a part of Ennui-sur-Blasé.
Rather than a cohesive full-length film, the film behaves like a collection of short films. This is a new avenue for Anderson, whose films normally follow one general storyline.
The film meant to showcase or follow a "best of" structure, in which The French Dispatch of The Liberty, Kansas Evening Sun, would publish past articles as their final publication, since it was the last wish their their late editor, Arthur Howitzer Jr., who passed away of a heart attack, expressed on his will. 
Anderson used the film as an ode to The New Yorker and his love for the magazine.
What stands out about this film, and what some may criticize or consider a drawback, is the collection of different storylines that move rather quickly. 
Anderson welcomes the audience into a world, but then he will move to the next after a little while. The characters of the previous story are left behind and never seen again. 
Each segment is divided up in the viewpoint of a writer who is assigned the job of covering these storylines, and for that reason, it feels justified and appropriate.
For example, in the third part, Frances McDormand is assigned to cover Timothee Chalamet and his revolutionary college friends. Things end when the story feels complete from a journalistic standpoint, and therefore, the show goes on. 
Although what may be considered a drawback, it seems like more of a proper structure to how newspapers and magazines compose their stories. The film is viewed as if the audience is reading a magazine — when the article is finished, the reader moves onto the next section.
After 15 years of creating great films, Anderson has perfected the formula when it comes to his style: The perfect symmetry, camera angles that pan from one section to the next, and most importantly, a color scheme that is uniquely Wes Anderson. 
In "The French Dispatch", you have all that and more; Anderson has taken elements of his previous films and mastered them all into this one.
Anderson will long live in the directory of great filmmakers, but it won't be only for his ability to be unique. It will also be for his ability to capture everyone's attention, take the audience to a new world and leave viewers inspired and appreciative for the power of cinema. 
"The French Dispatch" is not only one of Anderson's greatest films, it's one of the best films of the year.