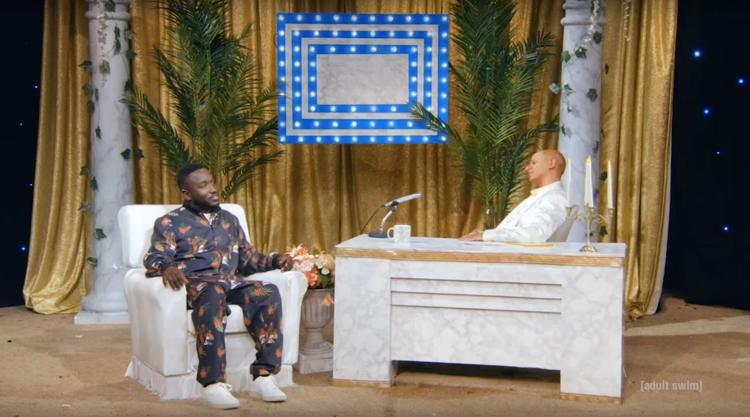 After a four-year hiatus, the comedy talk and prank show, "The Eric Andre Show" came back strong for its fifth season, which aired on Oct. 25.
Comedian and host Eric Andre did not disappoint as he combined his chaotic energy and recurring pranks from past seasons with new tricks. 
Just like every season, Andre changed up his hairstyle, house band and show set. For season five, Andre got a tan and shaved his head. In an interview with Jimmy Kimmel, he said that he not only shaved his head but his entire body.  
As for the set, he went with a semi-classy gold and white marble look. His band switched it up by incorporating green screens, a new component of the show. They had multiple green screens around the band and where the guests entered, playing random background images. 
Surprisingly, the show still manages to book some high-profile guests, as Andre caught some fame during the third and fourth seasons, whereas before the show became popular, many guests didn't know what they were getting into. 
The 15-minute show is set up like a grundy talk show, and throughout the 2-3 minute interview, Andre and his co-host Hannibal Burress prank and harass their guests. During breaks, the show cuts to pranks that Andre does on the streets of New York City.
For the first episode, Andre had actress Judy Greer and figure skater Adam Rippon as his first two guests. Greer and Rippon were definitely on edge during the show.
During Greer's interview, flying hot dogs slammed down on Andre's desk, which started shifting up and down like a hydraulic lowrider. He ended the interview with some odd questions while chugging bird feed, and then he pretended to drink his nanny's fecal matter as Greer observed in disgust. 
The skits that transition between Greer and Rippons' interviews include some fan favorites like New York subway skits, his "legalize ranch" character and his Sprite sponsorship skit. As always, Andre almost gets into a few fights on the subway. 
His type of humor is definitely not normal and crosses the line quite a bit, almost like a recreation of how "Jackass" was filmed in 2000. 
During his interview, Rippon handled himself better than Greer. However, Andre pranked Rippon when he was sitting in his chair as someone kept grabbing his ankles through the chair as if he was going through a haunted house.  
The episode ended with his musical guest, like any other normal talk show, but this one consisted of Anderson .Paak chugging a six-pack while drumming. 
Since the episodes are short, there are two episodes per week. 
For the second episode, the guests included rapper Saweetie and actress Shanola Hampton from the show "Shameless."
The two interview segments were on the shorter side, but Saweetie was the only one on edge as her chair ripped out from under her, Andre smashed his desk and leaves Saweetie dumbfounded. 
The big shock in this episode is when Burress quits the show and Andre does a skit where he is cloned from Burress nose hair and Andre names his clone Blannibal.
Even though Burress did compliment Andre, the show still maintains its humor and authenticity. But, it is missing Burress' unenthusiastic remarks toward guests who play off of Andre's chaotic behavior. 
Andre added some new skits in this episode, with a parody of a prescription pill called Lexivan and a fake game show called "Fart Splosion."
Both of these skits are over-the-top funny. During "Fart Splosion," he pranks a focus group and breaks through a glass window. While they are all confused, he announces they are on the fake prank show and farts as the window breaks. He then gives them each $5.  Their reactions are priceless. 
The show ends with another Rapper Warrior Ninja segment, which he did in season four, and features Jasper Dolphin, Taco and Pi'erre Bourne. Andre has them rap through an obstacle course while he tases them. 
After taking four years off, the Eric Andre show seemed to be over, but after the first two episodes, the show has not lost its chaotic authenticity and over-the-top humor that makes it one of the most unique prank shows around.