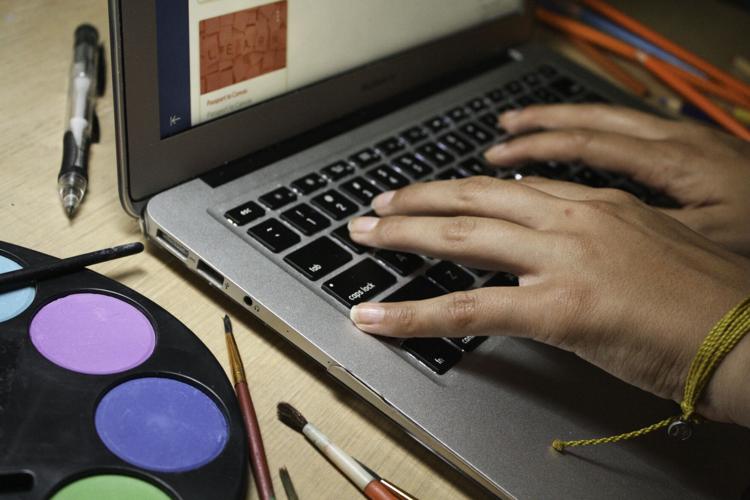 As classes begin for the fall semester, students must adjust to the new difficulties that come with learning and working in a virtual environment. On top of challenges like learning to navigate Canvas, many students are also enduring online learning, mainly via Zoom, for classes that run over five hours. 
Cal State Fullerton's College of the Arts offers five hour and 45 minute classes to provide students sufficient time to paint, draw, sculpt and create an array of projects during class time. 
These classes provide materials such as electronic devices, online software, kilns, easels and live models to help the students work and prevent them from having to purchase the necessary tools themselves. 
Out of the 239 courses approved for on-campus instruction, eight of them are art courses.
Paul Dang, a sixth-year entertainment animation major said that a challenging part of taking his almost six-hour production course away from the classroom is not being able to use the hardware provided in the lab area. 
Much of the computer and tablet hardware was not only provided to students during class time but also could be accessed during most times of the day at the Visual Arts Computer Labs. 
"Doing it at home has been a little more difficult," Dang said. "Because having no access to a Cintiq or a tablet makes doing a lot of the artwork very difficult, or making it way longer to do."
He said that other than hardware challenges, he has had to become accustomed to not having his fellow classmates around him to collaborate with and get help from. While he can text-chat with his classmates one-on-one during their Zoom sessions, it has not been as fulfilling as a usual classroom environment.
"I definitely feel less motivated when there aren't others with similar minds around me. I like seeing others do their work as well, it encourages me to do work better and faster," Dang said.
Other than for motivation, Dang also uses his classmates and their progress to gauge his own work and make sure he is on track, a practice no longer possible with classes being conducted through a camera and the students miles apart.
Lisa Eslinger, a sixth-year entertainment art and cinema and television arts major, said that the adjustment to virtual education has brought a mix of benefits and sacrifices for her.
Eslinger said that since starting the school year without in-person instruction, she has been missing the classroom conversations and critiques that are essential to the dynamic of these almost 6-hour art classes. 
She said that she understands how difficult it can be to feel fulfilled from an online course while being alone at home. These classes usually thrive on interpersonal communication and guidance between the students and professor, but online learning has forced the class to sacrifice the best of these interactions. 
"We had an in-person instructor there and we were all hands-on," Eslinger said. "So, it's hard to do that online and have the same effect while we're at home and we have — we're just trying to survive, you know, in our normal lives. I think it's very different."
She said that long-distance learning has given her the incentive to work by herself more often instead of working only during her class' designated hours. She said she developed this habit as a result of a lack of leisure activities.
"It's kind of just work all the time now, which I don't think is the best for my mental health" Eslinger said.
During class, Eslinger said she prepares a daily plan for what she needs to accomplish. Since she must be present for the duration of the class, she said that managing her time beforehand is helpful. 
The biggest sacrifice made when transitioning to online learning is the interaction that is lost between fellow artists. Eslinger said that those interactions are one of the core aspects of being an artist. It fails to be as effective when the students are unable to create and collaborate in person.
"It's just not the same," Eslinger said. "I really miss seeing everyone's faces, and just what they are into in general. Like I think that's a big part of being an artist, seeing things and experiencing things and it's hard to do that while you're online all the time, or always on Zoom."