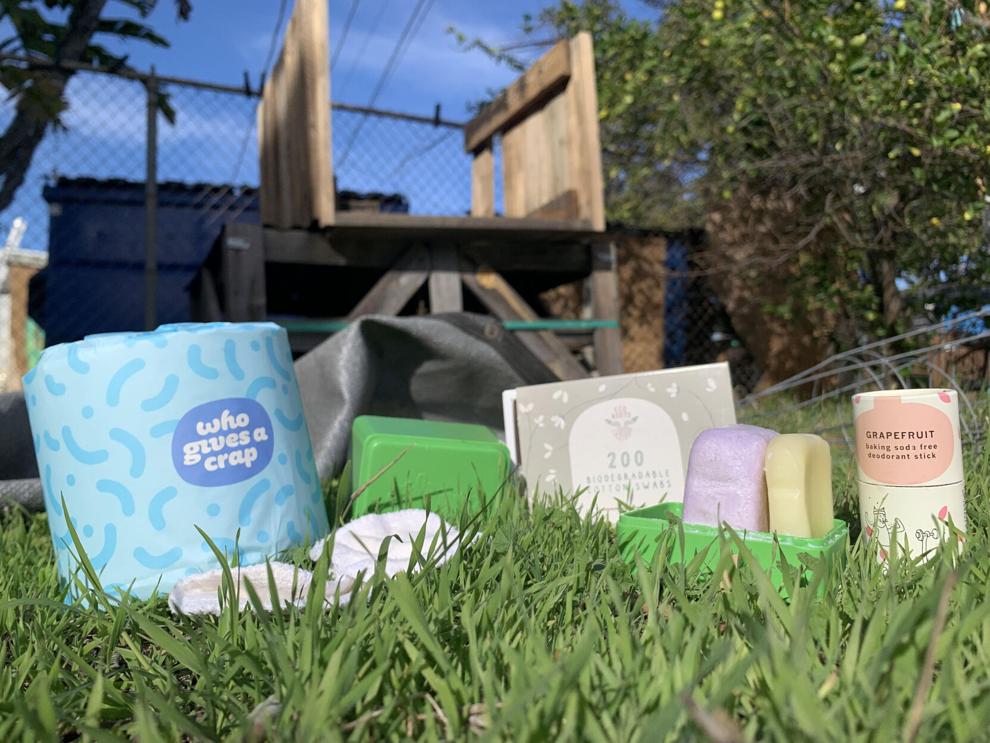 There are many sustainable replacement options for single-use plastics and disposable products in the bathroom. According to Dosomething.org, almost half of Americans do not recycle their personal care and beauty products. Making parts of your home greener can not only help the planet, but can also save money.
Here are six eco-friendly alternatives for your bathroom that are affordable and comparable to the usual plastic and disposable products. 
Shampoo and Conditioner Bars
According to Johnson and Johnson, 552 million plastic shampoo and conditioner bottles end up in landfills each year. Ethique, an Australian-based company, sells their shampoo and conditioner bars for around $13 to $17 in compostable packaging. Not only are they climate positive, but they also donate 2% of their profits to charity and plant a tree for every purchase made. 
As a concentrated bar, the water waste is also taken out of the manufacturing process. Ethique claims average bottles of shampoo are diluted with up to 60% water and conditioners around 90%. Ethique states that their shampoo bars are equivalent to three liquid shampoo bottles and five liquid conditioner bottles. All their products are available to purchase on their official website.
Metal Safety Razor 
In 2019, USA Today reported that the Environmental Protection Agency estimates that two billion plastic razors end up in landfills each year. A pack of 36 disposable Gillette razors at Costco costs $39.99. A better alternative is a metal razor, as metal is relatively recyclable, with the EPA estimating it to have a recycling rate of 27.8% in 2018. A great one from Eco Roots costs $36.50 with a 10-pack blade replacement for $4.95. Eco Roots products are available to purchase on their official website. 
Cotton Swabs 
There are two sustainable replacements for cotton swabs. One is a reusable swab, available for $12 on Earth Hero. The website states that these swabs are good for over 1,000 uses and can easily be cleaned. However it may not be ideal for those who like to use cotton swabs to dry their ears after a shower. 
In that case, a good alternative is biodegradable cotton swabs from Eco Roots. Many cotton swabs are made with plastic handles which is why when choosing cotton swabs, it is important to look for those made with wooden or paper handles. Q-tips brand cotton swabs are also biodegradable and available in most retail and convenience stores like Target, Costco and CVS. 
Face Rounds  
A cotton ball or pad is the usual disposable go-to when it comes to removing makeup. While cotton is biodegradable, the process of growing it is very damaging to the environment because of runoff pesticides, fertilizers and minerals. The green alternative and cheaper option would be reusable cotton rounds, sold at $10.97 for a pack of 10 through Eco Roots. 
Reusable cotton rounds, though still made from cotton, are washable, working the same way as cotton balls while producing less waste and less demand for cotton. These cotton rounds also come without plastic packaging, unlike cotton balls. 
Deodorant 
Most deodorant sold in stores today comes in plastic casings. Sites such as Earth Hero offer a variety of options for stick deodorants that come either in paper packaging or paste deodorants in glass containers. Target also sells the brand Native, which has a cardboard packaging option for their deodorant.
Similar to shampoo and conditioner bottles, deodorant casings present more plastic waste. As of 2018, the EPA found paperboard and paper to be recycled at a rate of 68.2%, while plastic is only recycled at a rate of 8.7%. 
Toilet Paper 
The use of tissues wipes out 27,000 trees a day, according to the Mirror news. The company Who Gives a Crap is trying to change this. 
The company derives their toilet paper from bamboo, which can be a more sustainable alternative to typical wood. Additionally, the company donates 50% of its profits to help build toilets for those in need and improve access to sanitation.