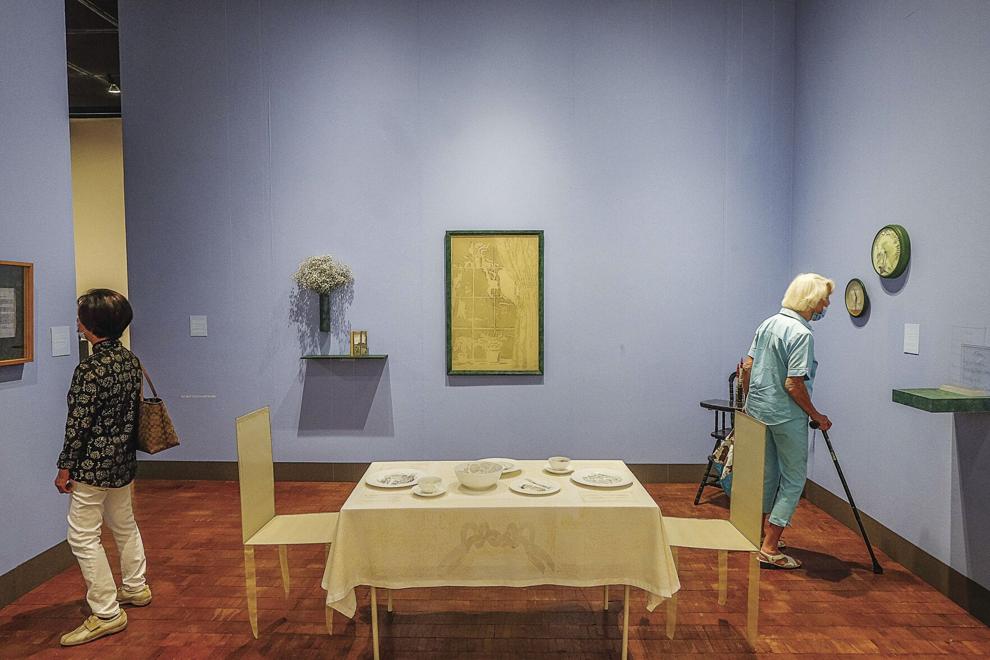 The Nicholas and Lee Begovich Gallery at Cal State Fullerton has opened its doors for the first time since the start of the pandemic with the exhibition entitled "Kim Abeles: Smog Collectors, 1987-2020."
The gallery showcases a series of works that Los Angeles-based artist Kim Abeles created over the span of 30 years. The works mostly use particulate matter from smog and air pollution in Los Angeles, California. This exhibition was originally scheduled to open on Earth Day 2020, but was delayed due to the COVID-19 pandemic.
Abeles said that she was inspired to use smog as a medium when she moved to LA in the '70s and heard people insist the pollution that blanketed the city and blocked her view of the San Gabriel mountains was just fog. 
To create the works, Abeles placed a cut stencil over a canvas and set it on the roof of her studio from anywhere from a few days to a month. After she removed the stencil, she used methylcellulose to set the remaining smog particulate in place. 
On display were several portraits of world leaders. Her portrait series "Presidential Commemorative Smog Plates" evocatively represents the environmental record of every U.S. president from William McKinley to George H.W. Bush — the worst offenders were left out longer, creating a stark contrast between the bright porcelain and dark smog matter. 
Abeles said that since beginning the series, she has come to believe that environmental issues can't be solved just by individual actions and that those with real power need to enact broad societal changes.  
"We can't just do it by ourselves and have leadership kind of over there doing their own thing," Abeles said. 
Abeles' work is dynamic and is greatly influenced by current events. One group of paintings on display had been left outside to collect smog for 12 days when the 1992 LA Riots began, imbuing the piece with the smoke and fire from the civil unrest in addition to the pollution of the city. 
Clark Silva, an art history graduate student who worked at the event said that the standout of the gallery was a full dinnerware and linen set that had been stained by smog particulate and was meant to illustrate pollution that can enter the home. 
"We're sort of assuming smog in LA when we're outside, but to have pieces that trap smog that comes inside, I think is really kind of that eye-opener piece," Silva said. 
Abeles said that her favorite piece displayed in the gallery was one entitled "Zoë's Highchair (Forty Days of Smog)", which was created using her daughter's highchair. 
One piece on display, entitled "Deck Chairs on the Titanic (30 days of smog and ash from the Bobcat Fire) was created using the ash from the fire that burned over 100 thousand acres of the Angeles National Forest last year. Paulina Sanchez, a communications major who was volunteering with Titan Radio to DJ the event said that the series reflected her environmental anxieties, especially around air quality and wildfires. 
"I think it's great that artists are taking their own measures to bring awareness and show that they care about the environment and what's happening to it," Sanchez said.
While Abeles' work had strong environmental themes, Gordon Winiemko, a cinema television arts professor who was at the reception took a less literal interpretation of the art. 
"By sort of doing it in this way, by this kind of smog process, and letting it stain the plate, it's a commentary as much on the environment, of the sort of physical, natural environment as it is in our cultural-political environment," Winiemko said.
John Simon, a Yorba Linda-based art collector and CSUF alumni said he enjoyed visiting the gallery before the pandemic and that CSUF's art program doesn't always get the accolades it deserves. 
"Cal State Fullerton, a lot of people don't know it, but going back 40 years, 30 years, they've had great shows including very important artists like John McLaughlin, Tony DeLap," Simon said. "I think sometimes Cal State Fullerton doesn't get all the airplay it should for being a great art institution."
The "Kim Abeles: Smog Collectors 1987-2020" exhibit will be on display at the gallery until Dec. 18.