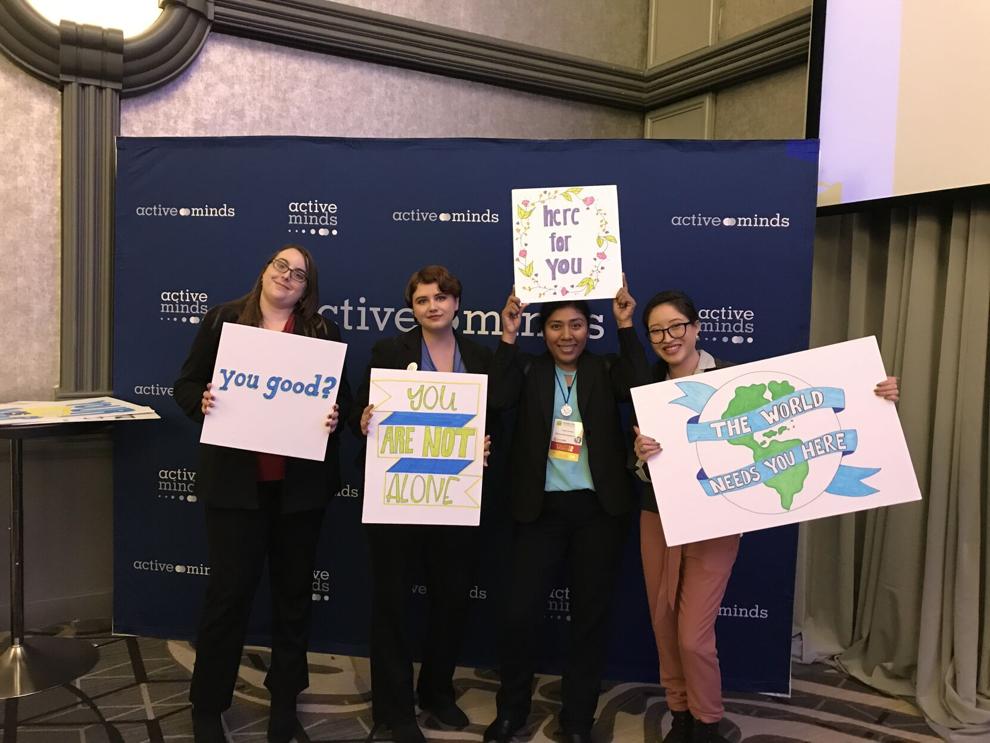 With a strong passion for students' mental health, Brittany Johnston took on the role of President for the Active Minds Chapter at Cal State Fullerton, making it her goal to redefine and organize the club as a safe place for students to discuss mental health. 
"It's very acceptable to talk about taking care of yourself to do self-care," Johnston said. "But, what isn't accepted are discussions of mental health issues that are not fixed by self-care or face masks."
Johnston is a fourth-year psychology major, and has dedicated her final two years at CSUF to reorganizing and restructuring the Active Minds chapter in a more effective way. 
Active Minds is a nonprofit organization that supports mental health awareness and education for students. The organization has chapters at hundreds of universities across the nation. Its goal is to inspire open discussions about mental health and contribute to the overall destigmatization of mental health. 
Johnston said that originally Active Minds at CSUF was more of a self-care organization. While she wanted to keep that aspect, Johnston said she felt that it was also important to foster more awareness and activism. Today, Active Minds hosts discussions that create awareness for mental health topics such as PTSD or bipolar disorder, while educating students on resources and tools they can use when they are having difficult days. 
Johnston began her journey in Active Minds by becoming a national cohort and soon became the Active Minds event coordinator. A year later, she was elected as the president for the organization, and is currently in her second year of presidency. 
"I saw so much potential in this club and the people who want to be in this club," Johnston said. "I really wanted to do my part to leave something behind for this school and for these people." 
Before Johnston became president, she said that she saw some issues that needed to be addressed. She noticed that they were losing members, and there were no records of any events hosted by the club. 
Johnston said the club was unorganized and she felt they had little to no resources. As soon as she became president, she knew she had to go in a completely new direction. 
"I kind of wanted to build it from scratch in a sense," Johnston said. 
They started by cleaning their locker and getting rid of old and expired materials that were broken or not working. While doing so, they also set aside money to buy new materials. 
Johnston's role as president includes organizing and creating events, communicating with board members through weekly emails, creating the schedule and leading group discussions during their general weekly meetings. 
"She makes it look so easy. She talks about her responsibilities and it sounds like a lot but she manages them so well. You'd never guess that she was in charge of a billion things," said Madison Lozano, an Active Minds board member who is in charge of public relations. "She is the glue to our club."
In addition to assigning tasks and keeping activities organized, one of Johnston's main priorities is making sure that she is there for her board members as a reliable support system.
Damien Mousavi, the event coordinator for Active Minds, said he was initially intimidated by being involved as a board member for a club for the first time. However, he felt that Johnston was really welcoming and helpful, Mousavi said. 
"She's really understanding and easy-going, but at the same time she always got things done," Mousavi said. 
Rachel Rataczak, treasurer for Active Minds,  said in addition to Johnston's communication skills, she is also very confident in herself and her decisions. Rataczak said that this reduces confusion amongst the board members because her directions are straightforward. 
"She's also very kind and caring towards general members and board members in a way that gets us to do things to get things done but also makes us want to do it as well," said Indianna Bouch, the secretary of Active Minds. 
Johnston has served a successful two years as Active Minds president. However, she said that she plans to spend the next year focusing on her major and working to get her license as a family and marriage counselor or a clinical social worker. Because of this, she is training one of her board members, Celeste Salinas, currently, the I.C.C. representative for Active Minds, to take over her role next fall. 
"I think she's a great president. I don't know, I don't feel pressured but hopefully, I can live up to what she has done with the club," Salinas said. 
Salinas said that one of the main things she's worried about is the amount of public speaking she will have to do when she becomes president. When training, Johnston gave her advice about how to feel more confident in her public speaking abilities and ease her nerves. 
Salinas also said her favorite thing about Johnston is how caring she is — a trait that she hopes to carry on in her presidency. 
"She has definitely been one of my inspirations to become a better person, and be a healthier person, and to treat others in more of a kind way," Lozano said.