Schools have reopened, students are back on campus and Student Life and Leadership is ready to host a hybrid Discoverfest event that will include both an in-person and virtual fair for the fall semester.
Discoverfest serves as the opportunity for students to dip into student life and get involved with organizations available at Cal State Fullerton. 
The first 80 fully-registered groups to sign up for the event will be guaranteed a table for the in-person day, while the remaining clubs will participate virtually on the second day.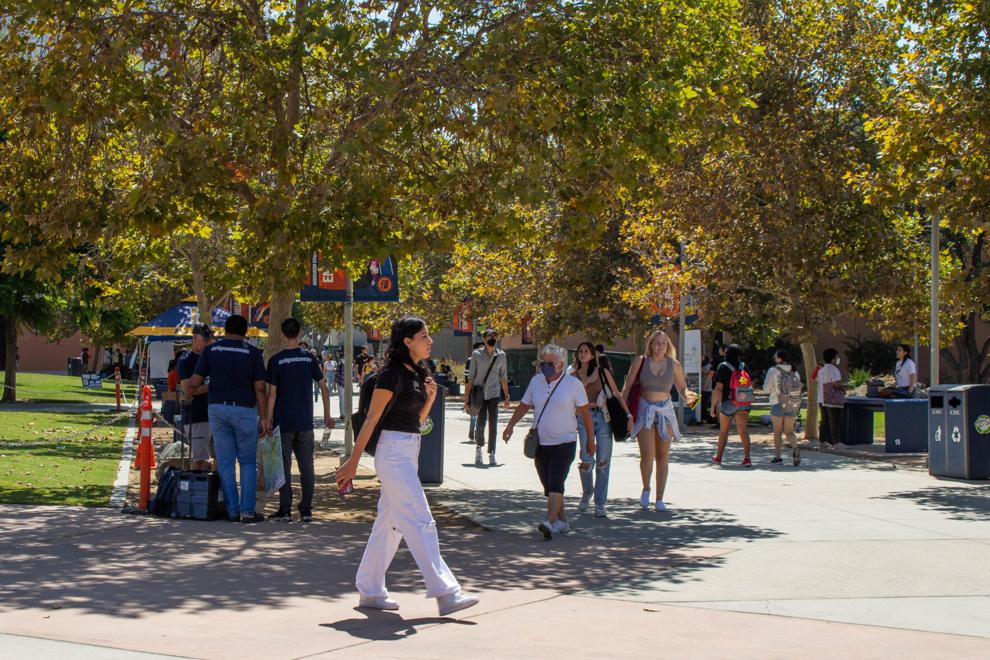 The in-person event takes place on Wednesday, from 11 a.m. to 2 p.m., and students can expect to see a variety of club booths along the Titan Walk.  
The Virtual Involvement Fair will take place on TitanLink on Thursday,, where students can navigate through informational links of registered clubs and organizations on campus.
The two previous Discoverfest events were hosted virtually through TitanLink. Although it is not a complete return to "normalcy," this semester's event is one of the first at CSUF to incorporate a hybrid approach since March 2020. 
Gleanne Kienzler, the coordinator for student organizations, said the previous semesters saw a lot of traffic on TitanLink with the fall 2020 digital Discoverfest, but it was hard to gauge and keep track of how many students were in and out of Zoom sessions.  
Titan Orientation Programs and Student Life and Leadership hosted a Discoverfest Fall 2021 Preparation Webinar via Zoom on Aug. 18, which served as a starting point for students and clubs to learn about this semester's hybrid approach.
Xiaopan Xue, the coordinator for sports clubs, said that the decision to make the event hybrid was with the student's safety in mind. The virtual element gives an equitable opportunity for the clubs on campus as the in-person event has been drastically reduced, having about 75 to 80 tables.
"We reduced it with our student's well-being in mind and just trying to make sure that we're slowly bringing back the in-person experience, but obviously with the current situation with the pandemic in mind," Xue said. 
During the preparation webinar, Student Life and Leadership said they will have an information booth set up to assist students. The booth will have giveaway items, QR codes with a directory of all the clubs present during the in-person event, as well as colored bracelets to let attendees know the wearer's comfort level around others.   
Associated Students Inc. Vice President Kira Dawson, emphasizes on safety during the event. Dawson said that the implementation of in-person events calls for the consideration of COVID-19 precautions because students' health and wellness is ASI and Student Life and Leadership's top priority.  
"If students attending the event would feel more secure getting a COVID test before or after the event, we have that service available on our campus," Dawson said.
Even with the added precautions, students are still excited to get back to events and campus life. Dawson said that the in-person interaction is what makes Discoverfest fun and engaging. Dawson brought up concerns with just being virtual and how some students felt left behind. 
Virtual events had a disconnect for language clubs like the French Club, Alexis Colon said, who currently serves as the treasurer for the club.  Colon also said that it was a lot harder to engage with people over Zoom and that she didn't notice people showing up to the Discoverfest Zoom meeting.
Colon said that the club is looking forward to the in-person fair because the person-to-person contact really helps the club. 
Ashley Hernandez and Kaelyn Rojas, president and vice president of Abled Advocators respectively, said that they are excited for the club returning to campus, but also voiced concerns for their members. 
"We want to make sure that we are in no way contributing to students getting sick, or any COVID cases going up, or anybody possibly passing it on to family members considering the fact that our members come from a very vulnerable population," Hernandez said.
This semester's Discoverfest is met with excitement and precautions, but flexibility is the name of the game during the upcoming hybrid fair event. 
Student organizations must complete the three-step re-registration process to participate. For more information and to RSVP visit https://fullerton.campuslabs.com/engage/news/228127.