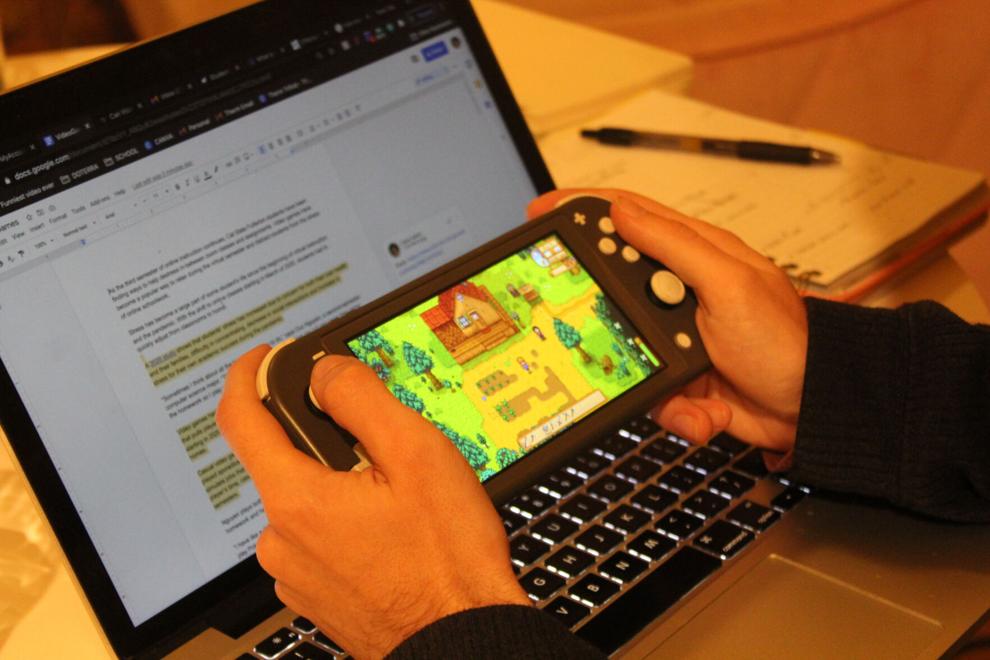 As the third semester of online instruction continues, Cal State Fullerton students are searching for alternatives to help destress in-between Zoom classes and assignments. Video games are a popular way to relax and distract students from stressful school work.
According to a 2020 studyFarzan Sasangoharaan, an engineering professor from the Texas A&M University, students' stress increased due to concerns for their health and families, difficulty concentrating, decreased social interactions and increased stress for academic success.
"Sometimes I think about all the homework I have to do," said Duc Nguyen, a CSUF computer science major. "Thinking about the homework stresses me out way more than doing the homework so I play video games to help distract me from that for a little bit." 
According to Wired, a technology-oriented magazine, video games have a powerful way of engaging the mind and creating an immersive experience that pulls players away from reality. Casual gaming gained popularity in 2020 when people transitioned their jobs and classes to the comfort of their homes. 
Casual video games don't require a large time-investment and are usually played sporadically throughout the day. These games are typically task-oriented, and sometimes simulate skills that can be applied to real life. Because these games don't ask for too much of the player's time, it has become popular among college students. 
Nguyen said he plays casual and story-based games to help distract him from homework and to destress. 
"I have a daily ritual. I usually go out for a walk during the afternoon and, during that time, I play Pokemon Go. And at night, when I really need to destress, I'm going to play Stardew Valley, which is like a farming simulator. If I see that I have more time and not a lot of homework to do, I'm going to play a story-based game," Nguyen said. 
Games such as  Stardew Valley allow the player to peacefully create and care for a farm within a cozy 16-bit town. The town is filled with charismatic residents that the player can create relationships with, perform favors to receive gifts and strengthen their online friendships. The casual gaming style can be a great way to play during a quick study break. 
Story-mode games provide a more immersive experience that offers the player an in-depth storyline and conflict that must be resolved to win. Some story-mode games like Skyrim or Fallout can easily steal hours from players, but are less beneficial for busy students.  However,  the games are still effective in alleviating any stress by immersing the player in the journey.
Other casual games like Animal Crossing, became the most popular pastime during the pandemic since its release on March 20, 2020. This game is similar to StarDew Valley because it allows players to slowly improve their town, care for their villagers and pay off debt. 
"I think like the fact that I could do things and get like small tasks done without having to worry about getting a good grade or a bad grade on it has been really relaxing and being able to pull out of my education brain and put on a fun game has helped a lot," said Alyssa Samoa, a sophomore communications major at CSUF. 
Animal Crossing allows players to interact with their real-life friends.  Because the pandemic has led to a decrease in in-person socializing, meeting up with friends on their islands has become the new, safe alternative to "hanging out." 
Students can also socialize through popular online free-roam games. Some examples include Minecraft, Grand Theft Auto and Red Dead Redemption. These games can help students connect with other players and friends.
In addition to the platform's ability to connect with others, free-roam games also allow players to travel and do whatever they want in the game with no tasks or quests. Emma Jauredui, a future transfer student, plays Ginshin Impact, a free-roam game, and Call of Duty, a first-person shooter game, as a way to destress. 
"I think especially with the free-roam one I feel like there's no pressure to do anything. It's like you can do whatever you want in the game at your own pace and it's kind of just like a fun little thing to do on the side," Jauredui said. 
Video games are an immersive experience that is an easy distraction for students to relieve stress. Whether it's 30 minutes or two hours, video games have shown to be an essential tool for students during online instruction.