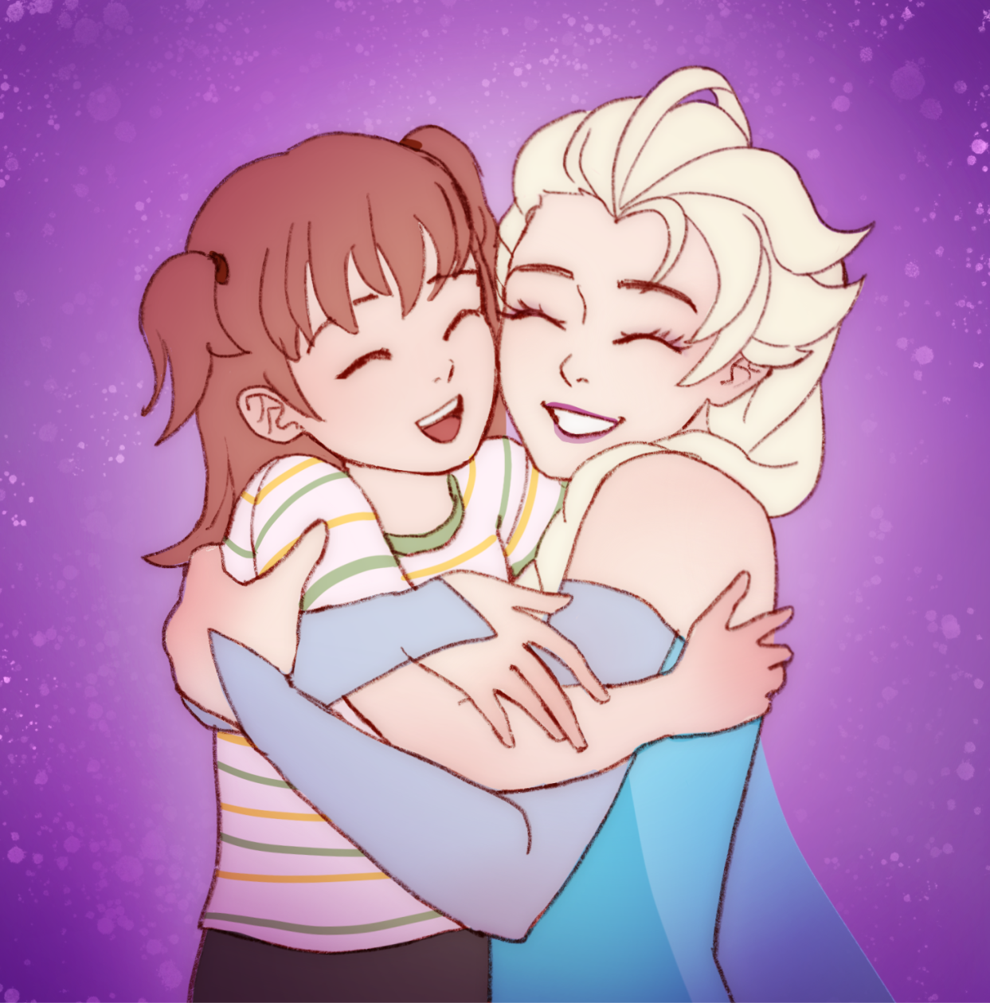 Whether it's Queen Elsa visiting from Arendelle, a superhero dropping by to say hello after saving the city or a magic maker with a handful of surprises, this organization is dedicated to spreading positivity, happiness and most importantly — moments of magic. 
A Moment of Magic is a national nonprofit organization dedicated to bringing magic to the children who need it most. In 2014, founders Kylee McGrane and Margaret McAndrew began their journey by dressing up as two princesses and visiting children receiving medical care. As they made their way through local hospitals in New York, the "Princess Project" was born. But what started as a humble mission adopted by two college roommates quickly became a viral story that captured the hearts of millions. By November 2016, the organization began establishing chapters at colleges and universities across the United States. 
Cal State Fullerton joined the mission in 2020, with club members establishing the first and only chapter in California. Brisa Bernal, the chapter's founder and president, said that she learned about the organization from a friend who joined a chapter in North Carolina, and she took the opportunity to bring the magic to the West Coast. 
After a series of interviews with the national organization and the onset of the COVID-19 pandemic, CSUF's chapter of A Moment of Magic was finally approved by the college last November, marking the start of a new journey for the club's first executive board. Bernal said that the virtual environment made it difficult to find members, but she relied on close friends and sorority sisters to get the club off the ground. 
"More than anything, through my sorority, I have a lot of sisters who I felt would be interested in this type of club, so they were the main people who made up my exec board just because I was comfortable with them. I knew how they worked," Bernal said. "Finally, once we got registered on campus, we were able to do the virtual Discoverfest and then we got the word out to people."
Despite the hardships behind recruiting members virtually, Bernal was able to find executive teammates who were inspired by the club's mission and their excitement to spread a bit of magic. 
"I wanted to join A Moment of Magic because I thought that it is a great way to gain experience working with kids, especially since I am interested in going into pediatric nursing. I have a passion for working with kids, and I love the feeling of being able to add a little bit more 'magic' to a child's day," said vice president Caitlyn Cripps in an email.
Michelle Chavez, the club's secretary, also said in an email that aside from wanting to work with children, she also wanted to support Bernal in starting the club. 
"I wanted to join A Moment of Magic because I had already known Brisa and knew that starting this new club was something she really wanted to do and when I got offered a few positions for this club, I knew that I wanted to help her reach her goals, as well as helping put a smile on children's faces even if we can't do a lot of it right now due to COVID," Chavez said. 
The club offers a variety of services to fulfill their mission of "restoring the magic of believing at a time when a child needs to 'just-be-a-kid,' and reminding them to be brave, strong and fearless." 
Bernal said that the organization is best known for their character programming, where college students are cast as different characters who then visit children upon their parents' request. Students can choose from a diverse selection of characters, ranging from superheroes to princesses or even brand-new characters that are made up to reflect the interests of the kids.
"We offer a plethora of different fairy tales, superhero characters and they even have unique ones that they've created themselves, made stories for to be inclusive of people who maybe wouldn't see themselves in the other characters that are available," Bernal said. 
Before members can get into character, they must be officially cast through an extensive audition process with the national organization. Active members who are interested must have 30 volunteer hours, which can include time shadowing a current character or working on Facebook live streams. 
They must also accept financial responsibility for the character, which can typically mean raising about $400 with the club, and they will need to submit a video of themselves and their measurements along with their top three character choices. The submissions will be reviewed by the national organization team and if a member is cast, the decision will be passed down to the chapter's executive board, so they can plan a "coronation" day to celebrate the new characters. 
With the prospect of an in-person semester for campus organizations, Bernal said that character programming is one of her top priorities. 
"My main goal right now is getting more characters in our club because I think that that would really help us to get the word out. It's just something that a lot of people would be interested, but maybe they don't know the process to get there or really how that works," Bernal said. 
If stepping into a character's shoes is not the right role for some students, the club also invites magic makers to join the fun. Magic makers are out-of-costume members who participate by leading arts and crafts, reading stories and interacting with the kids as a way to break up the monotony of their day. 
While the club typically works with children in pediatric care, Bernal specified that their goal of spreading magic is not strictly limited to those receiving medical care. 
"The overwhelming majority of kids that we interact with have childhood cancer or other vulnerabilities like that, but we really reach out to anyone who's even socially vulnerable so kids who are in foster care, kids who have intellectual or developmental disabilities," Bernal said. "It could be anyone who needs a little bit of magic in their lives." 
After a year of hosting virtual meetings and a few fundraising events, Bernal said that she has a list of goals set for the fall if organizations are permitted on campus. These goals include reaching out to local hospitals, planning a fundraising gala and raising awareness for this new adventure. 
"This is a really great organization and the perfect club to join if you like and want to make a difference in a child's life who has been through a lot with their conditions and just want to have fun and forget about everything else," Chavez said in an email. 
Both Chavez and Cripps will be returning to the club in the fall as general members, and they said they are most excited about meeting new members in-person and hopefully getting the opportunity to host in-person hospital visits. 
"A Moment of Magic is always accepting members! Boys and girls are all welcome! Also, this club would provide a lot of good experience for anyone interested in theatre or acting," Cripps said in an email. 
Students interested in joining A Moment of Magic at CSUF can visit their Instagram page @amomentofmagiccsuf and fill out an interest form. Bernal also said that the best way to get involved is to start attending meetings and talking to the members. Interested students are also required to have their flu shot to minimize risk to children who are potentially immunocompromised. 
"Since we are so new, try to be intentional about letting us know that you want to join because we're working out all the kinks, but we would love anyone who is interested to come and are so open to people joining our club. Please don't be shy. We're all new at this. We're going to figure it out together," Bernal said.