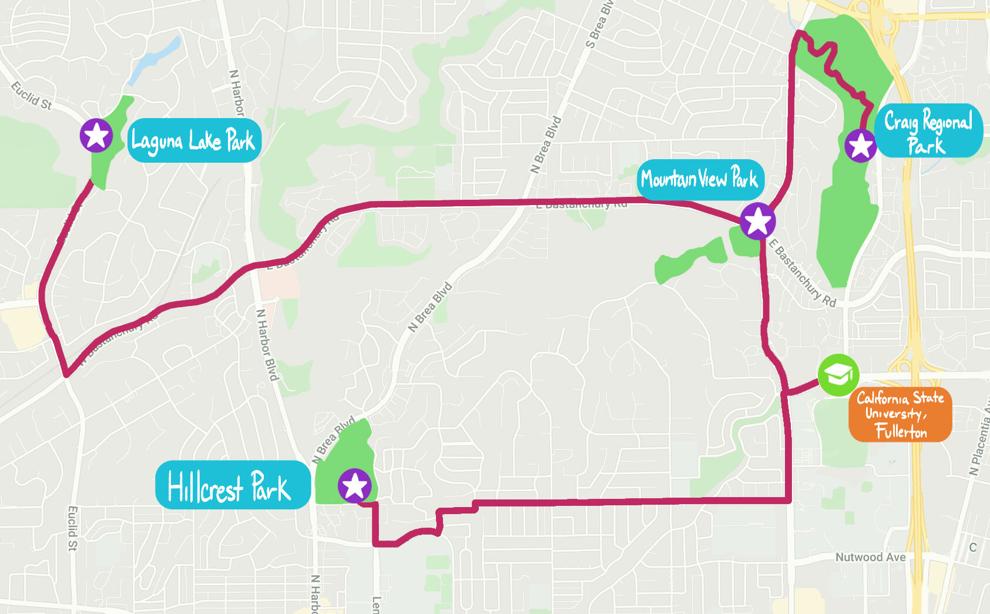 The empty buildings, parking lots and sidewalks bring back a sense of nostalgia as graduates realize they will soon be saying goodbye to their alma mater.
Since the start of the COVID-19 pandemic, Cal State Fullerton's graduating classes of 2020 and 2021 are allowed to step foot on campus to take their graduation photos. The familiar structures students used to walk past without a second glance look a little different, now that graduation is only a month. 
The university still has protocols in place for designated photography spots on campus. Graduates are welcome to come to campus in groups of eight or fewer to capture photos commemorating their time spent at CSUF. 
To take photos at the Langsdorf Fountain, Titan letters, Titan Towers, Titan Fountain and the promenade entrance, students should plan to stay for at least one to two hours, expect lines and pack comfortable shoes to walk in. 
Students can park in the Nutwood Parking Structure and walk toward Langsdorf Fountain, located on Nutwood Avenue beside the orange trees. This is the first spot designated for photoshoots; a wide open space which is great if there are many graduates there at once. At this location, students can enjoy a variety of backgrounds without having to travel far.
Beside Langsdorf Fountain, there is a tall arch — the entrance to the promenade and the next photo opportunity. Students can pose in front of the arch or beneath it to capture the CSUF letters in the background, making the campus a significant part of their photos. 
Taking a stroll down the Promenade walkway to the center of the campus will be the next popular photo location, the Titan Student Union. Here, students can take a wide shot with the giant letters spelling out "Titans" as their backdrop. This is a very popular spot for grad photos, meaning students should be prepared for a longer wait time. 
Back toward the Nutwood Parking Structure, students can find the Titan Towers. Standing right on the corner of Nutwood Avenue and State College Boulevard, students can get some elevated shots. The flower bed adds a pop of color to pictures, ensuring they'll have a nice soft background. 
If students find themselves unable to go to campus to take their grad photos, or simply want photos with a change of scenery standing apart from their fellow graduates, these four Fullerton city parks will work best to achieve that natural backdrop look.
This park has amazing photo-op potential. The park hosts a grand waterfall, a large staircase and scenic trails that any graduate would look great posing in front of. The park is large, so bring a pair of comfortable shoes and students are set for capturing the perfect shot. 
This park is perfect not only for fishing, but also for graduation photoshoots. The lake serves as a beautiful backdrop; however, photographers should look out for ducks possibly photobombing the shot. This park is also quite large, so carrying comfortable shoes and some sunscreen is recommended. Nearby is the Thankful Tree, a hidden Fullerton gem. This striking tree would look great with a Titan posing right in front of it. 
This park is lush with beautiful daylilies, roses and elm trees that will add an amazing pop to pictures. In the central viewpoint of the park, there are brass plaque guides that show the surrounding views, which include the downtown Los Angeles skyline, Mt. Baldy Peak and Santiago Peak. 
Featuring rolling hills, trees, a small lake, a rose garden and open space, this park is another great photoshoot contender. This park does require a small parking fee ranging from 3 to 5 dollars. This is another large park with lots of walkways and plenty of photo ops. 
Any of these locations will work perfectly for students to strike a pose in their cap and gown. Just remember these tips and remember to say cheese!