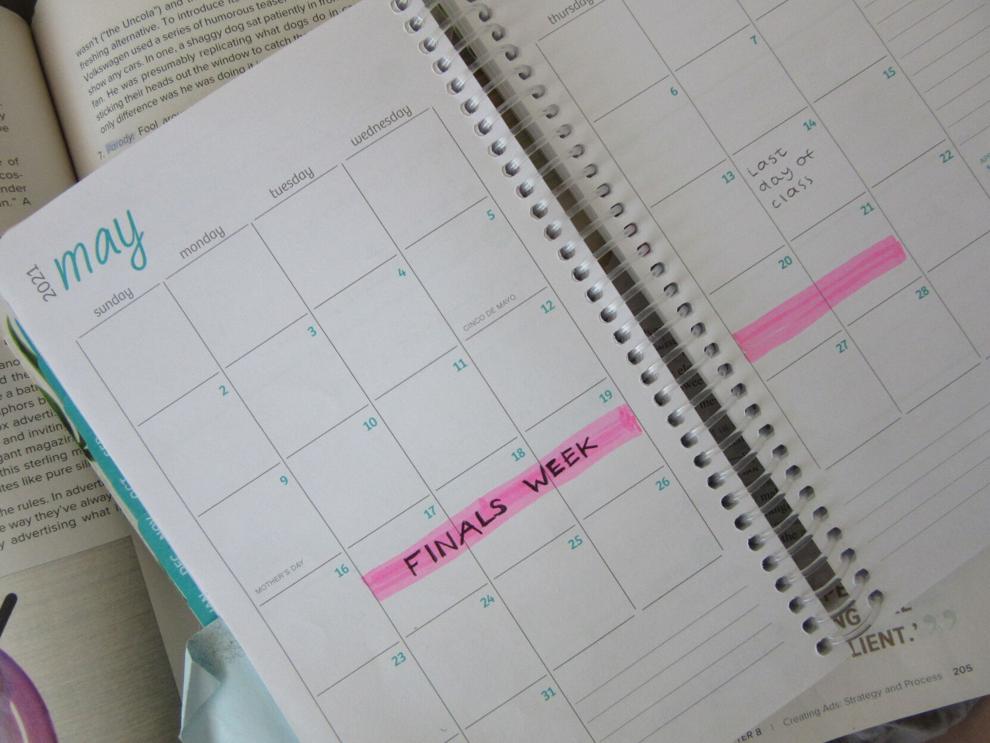 Long-awaited finals week is just around the corner for Cal State Fullerton students. As they  begin to prepare for exams, quizzes and final projects, students have mixed emotions about the schoolwork that lies ahead. 
"I'm a mix between stressed and not stressed. I really only have two finals. My third class is more like a quiz. That's not during finals week, and then I have my senior honors project," said Madeeha Sheriff, a biology major with a concentration in cellular and developmental biology.
According to the academic calendar, May 14 marks the last day of class before finals week from May 17 - May 21. However, some professors choose to open exams earlier, so students have more flexibility and freedom.
Sheriff is set to graduate in May, and she explained her ambivalent feelings toward finals. While she said she knows she's set in most of her classes, and the hard part of the semester is already completed, it will be her last time taking finals at CSUF. After graduation she plans to enroll in medical school at Lake Erie College of Osteopathic Medicine in Pennsylvania. 
Sheriff said her go-to study method is to review problems and questions as well as keeping the course packets for classes nearby, so she is certain she is studying the right concepts. 
"Writing it down. I like the hand to the paper kind of thing," Sheriff said on how she best obtains knowledge.
Due to Ramadan, Sheriff is currently fasting. 
"I just found out, during the day, when you're fasting, your brain can't focus that well. So what I've been doing is I sleep at 10 p.m. and I wake up to eat food at like, four in the morning," Sheriff said. "I realised I'm a 'morning studier,' so I've been getting a lot done starting at like 5 a.m. to noon."
Karch Cabalo, a business major with a double concentration in accounting and supply chain management, said he is distressed about finals coming up. 
"Maybe it's because there's a lot of added pressure. Because this is, 'my last semester,' if I pass all my classes," Cabalo said.
Cabalo is enrolled in six 400-level business classes this semester, and he said that the workload has been tough for him. 
"Accounting here is really difficult. Plus, I've kind of been struggling a little bit, but I did really well on one of my accounting midterms and I'm not exactly sure what's going to be on the final for my other accounting class," Cabalo said. "Those give me the most anxiety because it is accounting and it is supposed to be really difficult."
As a full-time student and part-time worker at Walgreens, Cabalo has found his go-to study method to be the most unconventional one: "What helps me is just like, usually cramming before the exam," Cabalo said.
However, he advises fellow exam-takers to get 75%-100% of their assignments and projects done the week leading up to the final weeks of classes to get those out of the way and essentially only focus on finals.
Freddy Ruiz, a kinesiology major, feels good about finals coming up and said that he has his time management skills down. 
Ruiz gets up at 6 a.m. every day, does his daily chores and workouts, and goes to work. He spends his evenings studying for about three hours a day on the weekdays. 
"I'll study about an hour, take a 30 minute break, then study for another hour. And that's all I'm doing for the day, and then I'll go on to the next subject," Ruiz said.
For him it's important to take breaks and get his mind off school and classes for a little bit. During study breaks, he will typically play his guitar, play some video games, watch TV or stretch. 
One of Ruiz's professors uses Proctorio. While Ruiz said he has gotten used to Proctorio, he was thrown off that the test will end if the technology detects any type of sound – a worry that's hard to control when you're attending school from home in a house with family members and pets. 
"When we first started using it that was my biggest worry like, oh my gosh, I'm not going to finish my test because my little brother is screaming," Ruiz said.
According to a spokesperson from Proctorio, the platform will not end if there is background noise or sound interruption. It will flag the audio for the administrator to review. 
Christopher Flores, a cellular and developmental biology major, said has a favorite song he listens to for 10 hours straight when he's studying: Bowerlake by Russell Shaw, originating from a video game called Fable. 
Flores always goes through the course descriptions and looks at the professors' slides. 
"I really like using my imagination when I study. So like, get in the zone. Why am I studying this?" Flores said. 
As a biologist, Flores said he pictures himself solving a world problem, which helps him better remember what the issue could be applied to in real-life instances. 
Flores said that his preferred study snack is a little ridiculous, but keeps him awake.
"They're kind of like Splenda. They're Crystal Light caffeinated packets, because I'm a five year old and don't like to drink water. I just mix it in with that, and that keeps me up," Flores said.
While students prepare for finals differently and have their own way of studying, there's one common denominator for all them: in just 14 days, finals week begins.
This article was updated to clarify that Proctorio will not shut down immediately after it detects any sound in the testing environment.