After a rough transition to virtual learning in March 2020 and then a completely virtual fall semester, Cal State Fullerton students prepared this week to tackle another semester of synchronous Zoom meetings and fast-approaching deadlines.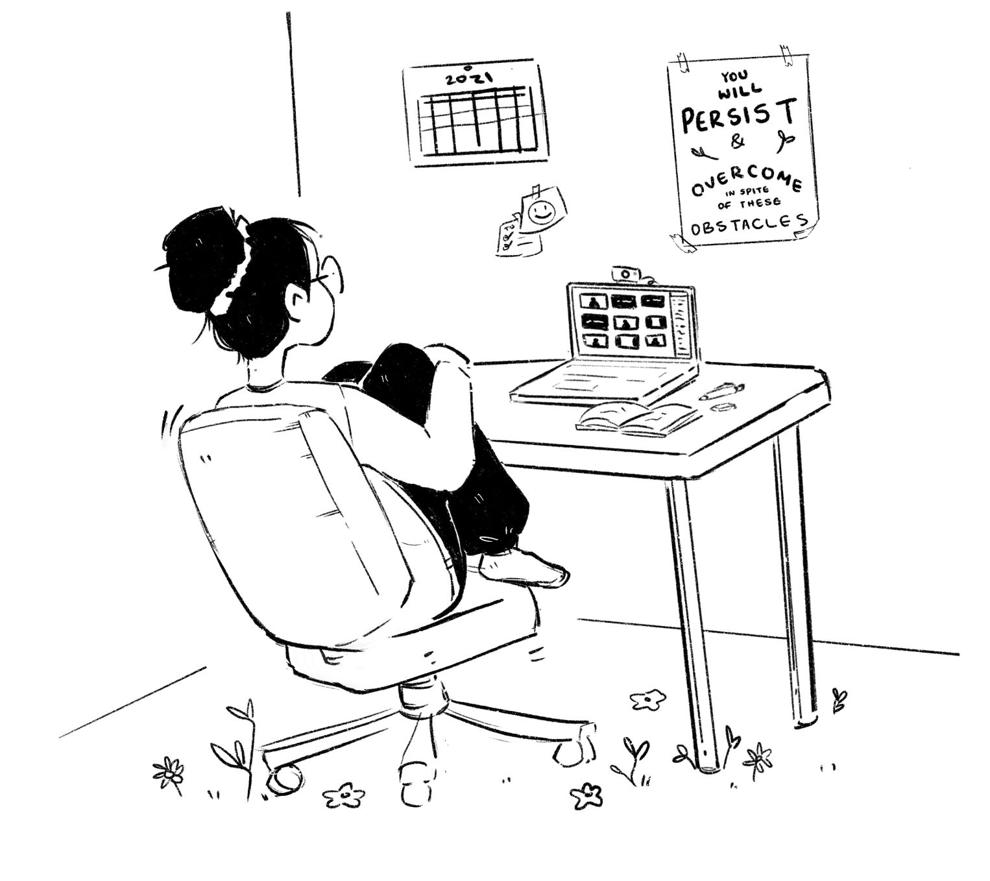 Despite having experience with remote learning, many students still felt stressed and overwhelmed after their first week of spring classes, but there were some perks to tackling a third semester online. 
Makenna Kim, a first-year English major, said that she is still getting used to the various online platforms and how different professors use them. 
"It was kind of stressful, to be honest, because the teachers use different websites, and they sometimes make you go to entirely different websites, and sometimes it's a little unorganized," Kim said.
Despite the initial stress, Kim said she feels more confident this semester because she understands how to navigate Canvas and Titanium with more ease. 
Though many students are mourning the loss of a traditional college experience, this time online has given them the opportunity to learn how to use important online services like Zoom, Titanium and Canvas. 
For students who are trying to make the most of their online semester, Kim said that students should strive to participate more in their classes. It may be a simple piece of advice, but Kim said that participating in class can help students feel more engaged, and it helps them establish a relationship with their professors. Even in this digital world, there are opportunities for making connections, and Kim said that students should make an effort to work hard to reach out to their professors. 
"They have their office hours, and they're always open to email, and I feel like they're all pretty open to talk to students," Kim said. "You can tell that the professors are trying. We have to give them something to work off of." 
Connor Willey, a third-year communications major,  said that while his first week back was not overwhelming, getting back into the swing of school after a long break was difficult, especially under the circumstances of quarantine. 
"It wasn't an overwhelming amount of work, but I had to switch gears in my brain," Willey said. 
Willey said he plans to take advantage of one-on-one Zoom meetings with his professors this semester. Willey said these meetings helped him in the past, and he said students should try to make those connections even if they are not the same as in-person meetings.
"I think it's still possible to connect with your teachers. It's not the same as being in class, it's not to that extent, but I think it's still possible," Willey said.
Jenna Achtien, a first-year Spanish major, said that despite having a week of classes, she still does not feel like school has really started.
"It was good to get back into classes, but at the same time, I really didn't feel like we were back in school again. It mentally didn't click, but it was nice to see my teacher's faces," Achtien said. 
Despite her own struggles with online learning, Achtien said she understands that her professors are also struggling despite many of them having the experience of previous semesters.
"I feel like it's just as much of a challenge sometimes for the professors because they're really not used to technology. I even had one professor who forgot to put her volume higher so she can hear us," Achtien said.
Achtien said students can kick the spring semester off by making a Discord group chat for their classes so they can stay in touch with classmates more frequently.
It is also clear that some students feel unorganized and overwhelmed, and Willey said that writing everything down on a calendar helped him visualize and plan out his week. 
After a week of spring classes, students are preparing for another virtual semester and pushing toward their goals of passing classes, all while professors are trying to adapt to teaching virtually.