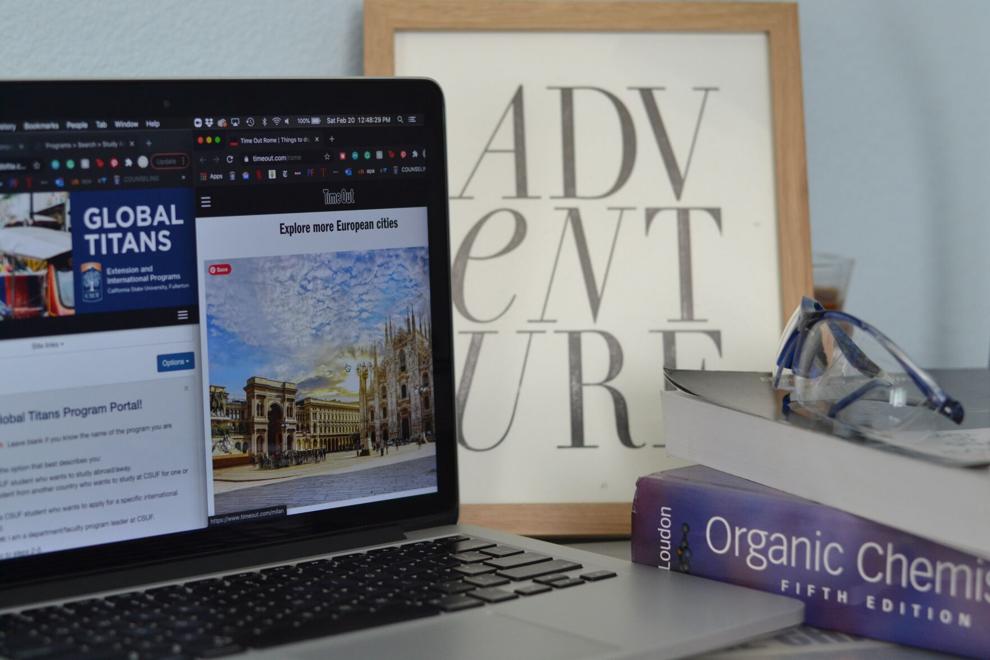 Cal State Fullerton's Study Abroad and Global Engagement Office has been exceptionally busy despite many international borders closing last year. 
After the evacuation of students abroad at the start of the COVID-19 pandemic, programs redefined its strategies for delivering international experiences in a virtual environment. For the time being, students are trading in their passports and plane tickets for their laptops and internet connections as they embark on virtual journeys from home. 
Jack Hobson, the senior director of the Global Titans Center, said his study abroad advisors have spent the last 10 months preparing virtual programs to satisfy the needs of students who wish to have an experience abroad. 
"While the mode of delivery has changed, the desire, and the need, and the right of nearly 40,000 Cal State Fullerton students to have a global engagement experience, that hasn't changed," Hobson said.
With virtual global engagement, faculty abroad and faculty at Cal State Fullerton can merge classes in a virtual mode. Hobson said this virtual addition to study abroad opportunities will continue after regular programs reopen.
"One of the things that I like about the virtual global engagement experiences is beyond the fact that they don't blow up people's lives. They can keep their job. They don't have to move out of their apartment. They don't have to do all these things, but they can have a meaningful global experience that is interactive," Hobson said.
Programs available to students span a wide variety of opportunities from CSUF department programs to non-credit bearing programs. While the pandemic disrupted travel plans, Hobson said virtual global engagement strives to help students access a higher educational experience.
Virtual programs may be bound to a computer screen, but Hobson said he wants these virtual experiences to be as "meaningful" and "transformative" as traditional abroad adventures.
"We're hoping that our virtual global engagement experiences can be designed such that they fall exactly into that same category so that it's not just kind of icing slapped on top of a regular old class," Hobson said.
Aileen Vickory, study abroad advisor, oversees the Global Titans Ambassador program, which connects study abroad alumni to the CSUF community and creates a mentorship program for students who wish to go abroad. She said students should consider studying abroad because of the lessons they can learn. 
When virtual programs became the only option for study abroad, Vickory and her Global Titans Ambassadors team had to modify their means of outreach to students. 
"If study abroad teaches you anything, it's you learn how to adapt," Vickory said. "You learn how to roll with the punches as you go, and you learn how to take things as they come, and you become flexible." 
Global Titans Ambassadors share their experiences with students who are interested in the study abroad program. The reopening of travel programs is uncertain, but Marley Uyemura, an ambassador who studied abroad in Tokyo, Japan, said that early preparation is essential during the research and application process. 
"We like to really make sure that students know that this is an option for them, that this is something that they can do," Uyemura said. "By attending these sessions, even a year in advance, it kind of gives you an idea of what's out there." 
The office's website helps students find the right program and connects them to financial aid and scholarship resources. For the time being, virtual expos, workshops and advising meetings are ways students can gather more information on how to begin their online journeys. 
Beyond the benefits of cultural immersion and self-growth, the ambassadors also said students can benefit from the opportunities that emerge after the program ends. 
"We really try to let students know that regardless of where you come from, what type of student you are, there is a program for you," said ambassador Vanessa Lara who studied in Mexico, Cuba and the Dominican Republic for her co-curricular service-learning opportunities.
Ambassadors can also help inform students about post-graduate opportunities, such as the U.S. Student Fulbright Program, Japan Exchange Teaching Program and Peace Corps. 
Natalie Ma, an ambassador who went to Mexico and China, said to fight for your dreams to study abroad, whether that is during undergrad or postgrad.
"If you really want to do this and it's part of your dream, you just got to go for it," said Ma.