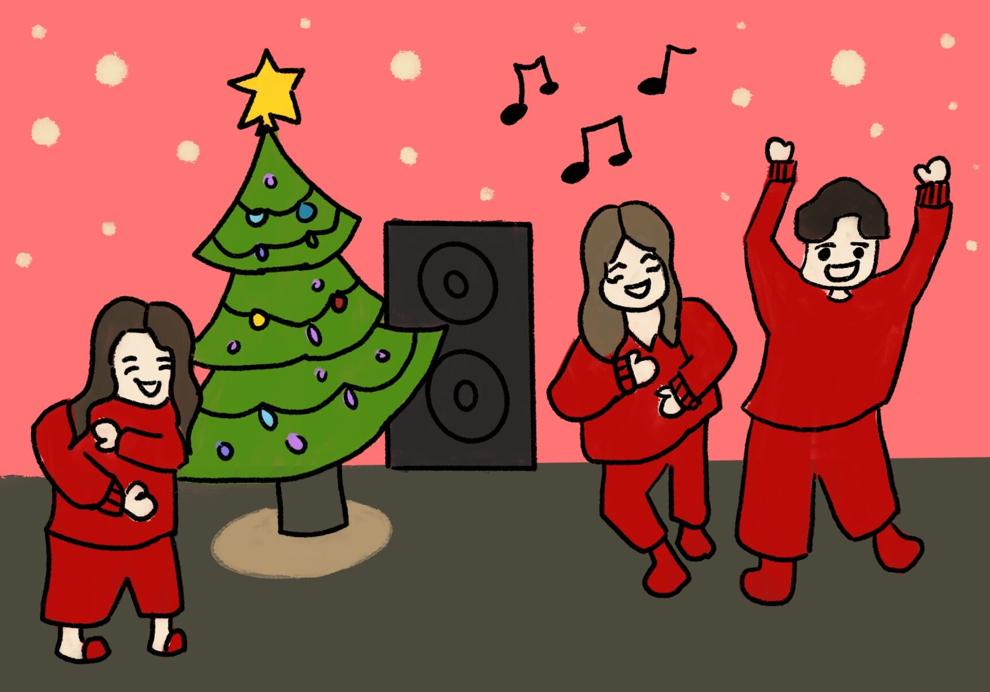 As the holiday season quickly approaches, many may find themselves in need of a Christmas song playlist. Here are 10 tracks that will suit any and all purposes for a merry, or not so merry, festivities. 
"A Great Big Sled" by The Killers ft. Toni Halliday 
If there is a need for a quick surge of joy, "A Great Big Sled" is the perfect song to start off a Christmas gathering. Released in 2006, the track begins with grandiose string instruments and drums, leading into lyrics that portray an adult yearning for the innocent joy of being a child on Christmas morning. The track almost seems written specifically for company holiday parties that many employees will be forced to attend. 
"Christmas Treat" by Julian Casablancas
A rendition of Saturday Night Live's 2000 skit "I Wish It Was Christmas Today," Casablancas captures the overwhelming merriment of the holiday season in this 2009 track. With an alternative rock spin to the skit, "Christmas Treat" is full of energy that can even make a listener feel jolly while Christmas shopping. With Casablancas asserting the simple joy of hearing sleigh bells, "Christmas Treat" serves as a reminder to appreciate the little things during the holidays.
"Rockin' Around The Christmas Tree" by Brenda Lee
This classic proved that guitar belongs in Christmas music in 1958. With a classic rock and roll sound, "Rockin' Around The Christmas Tree" is one of the most recognized Christmas singles to ever hit department stores. While it might be overplayed to some, Lee definitely deserves her place on all Christmas playlists.
"Dear Santa (Bring Me a Man This Christmas)" by The Weather Girls
If a man hunt is on anyone's to-do-list this winter, this 1983 track is the perfect theme song. It is essentially "It's Raining Men" with a Christmas twist. The Weather Girls understood that all some people really want is to be held by a fireplace during the holidays. If yearning is what keeps anyone up on Christmas night, at least there's a track to dance to. 
"Don't Shoot Me Santa" by The Killers
If a Christmas song about wanting a man isn't creative enough, this 2007 track details the story of a young boy running from a murderous Santa Claus. This version of Mr. Claus not only denies naughty children Christmas presents, he also kills them. Lead singer Brandon Flowers explains to Mr. Claus that he was only getting even with neighborhood bullies, however, Santa is not a sympathetic man. With the first track of the trilogy detailing a deadly Santa, The Killers prove to be no strangers to odd narratives.
"Jingle Bell Rock" by Bobby Helms
If a track about escaping a murderer isn't suitable for everyone's Christmas activities, there are still plenty of classics to play. A track immortalized through the years and unforgettably featured in "Mean Girls," this 1957 hit is another go to for ensuring merriment throughout the winter holidays. The track is sure to add a pep to the step of all listeners "dancin' and prancin' in Jingle Bell Square."
"Last Christmas" by Wham!
For those that find themselves wanting to sulk during the holidays, Wham! fortunately provided the perfect Christmas song to cry to in 1984. The synthpop heartbreak anthem is all about bittersweet memories that can quickly turn painful during the holiday season. It's the perfect track to dramatically weep and dance alone to, if one wants to spend Christmas night that way. 
"'Zat You, Santa Claus?" by Louis Armstrong
If a melancholy track doesn't suit everyone's purposes, there's always this 1958 jazz track to raise the mood of any Christmas celebration. Armstrong characterizes Mr. Claus as being sneaky, with Armstrong making himself out to be childlike in his pursuit of catching a glimpse of the bearded man. The combination of Armstrong's gravelly voice and trumpet instrumentation immediately welcomes some lively interpretative dance. 
"¡Happy Birthday Guadalupe!" by The Killers ft. Wild Light, Mariachi El Bronx
No Christmas playlist should lack mariachi music. The 2009 Christmas offering from The Killers seemingly takes inspiration from hookups turning into loving relationships. The band likely wanted listeners to feel that anything is possible during the holidays. The track's sunny disposition will keep spirits high throughout the icy (or excessively hot) winter holidays.
"You're A Mean One, Mr. Grinch" by Thurl Ravenscroft
Indulging in the 1966 track co-written by Theodor Geisel, aka Dr. Seuss, can serve as a great coping mechanism for all those who will find themselves worn out by gift shopping, overbearing relatives, and every other song on this playlist. The track can serve as a theme song to all who have a hole, or a splotched dead tomato, where their heart should be this holiday season.