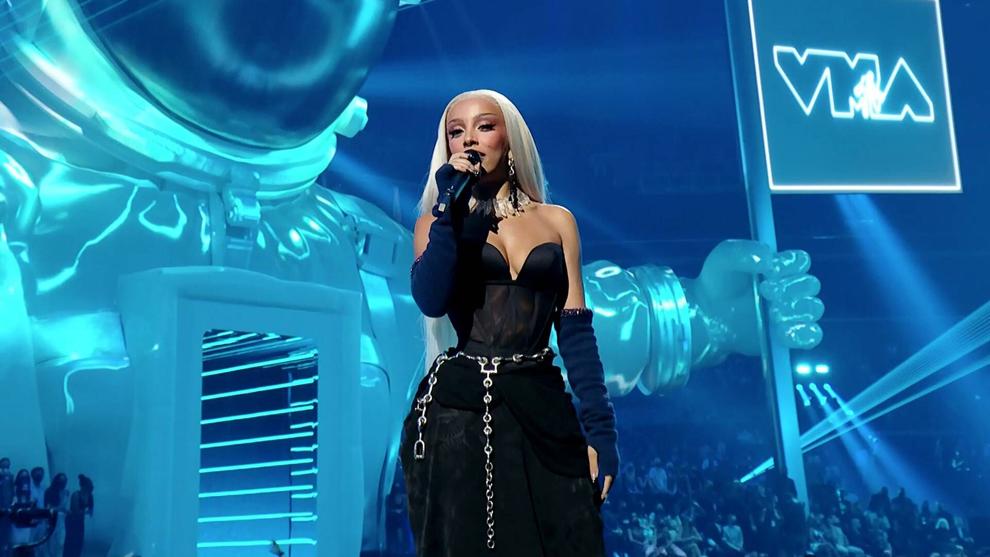 This year's MTV Video Music Awards celebrated the 40th anniversary of MTV. It included many performances at Barclays Center in Brooklyn, in addition to other performances throughout New York.
The biggest winners of the night were Olivia Rodrigo, Justin Bieber, Lil Nas X and BTS. 
After performing her hit song "good 4 U," Rodrigo won the Song of the Year Award for "Driver's License." She dedicated the award to all the other girls who write songs on their bedroom floors. 
Bieber opened the show with LAROI for a performance of their song "Stay." Bieber then followed that performance with his song, "Ghost," making it an entertaining start to the show with two solid performances. 
He then went on to win the award for Best Pop for his song "Peaches" featuring Daniel Caesar and Giveon. Bieber also won one of the biggest awards of the night, Artist of the Year. He beat out Ariana Grande, Olivia Rodrigo, Taylor Swift, Doja Cat and Megan Thee Stallion. 
In his speech, Bieber said that "music is such an amazing opportunity … to be able to reach people. To be able to bring us all together."
The biggest award of the night was Video of the Year, awarded to Lil Nas X for his song "Montero (Call Me By Your Name)," which also won the award for Best Direction. He was ecstatic over the win. 
He also gave one of the best performances of the night for the song as well as "Industry Baby," featuring Jack Harlow. 
Although BTS was not there, they recorded a message for their fans after winning the award for Best K-Pop for their song "Butter." They also won the award for Best Group. 
The first ever VMA Global Icon Award was given to the Foo Fighters who have won two VMAs and will soon be inducted into the Rock & Roll Hall of Fame. 
They first took the stage to rock the VMAs by performing "Learn to Fly," "Shame Shame" and "Everlong." Drummer Taylor Hawkins honored the Rolling Stones' late drummer, Charlie Watts, with a message of "R.I.P Charlie" on the drumset. 
Ed Sheeran performed his new song "Shivers" at Brooklyn Bridge Park. Alicia Keys performed "Lala (Unlocked)" with Swae Lee at Liberty State Park, followed by a tribute to New York through a performance of "Empire State of Mind."
The show was hosted by Doja Cat but opened with a surprise appearance from Madonna to congratulate MTV on 40 years. Doja Cat also performed a mid-air routine for "Been Like This" before coming down for another unique performance of "You Right." 
She also had many wardrobe changes that were certainly attention grabbing. When she won the award for Best Collaboration for her song "Kiss Me More" featuring SZA, Doja Cat joked that she was dressed like a worm . 
The show concluded with Machine Gun Kelly and Travis Barker who were first introduced by their respective girlfriends, Megan Fox and Kourtney Kardashian. 
Machine Gun Kelly made some headlines before the night even started for getting into an altercation with Conor McGregor before the show even began. McGregor was there to present the award for Artist of the Year. 
Kelly also won the award for Best Alternative for his song "My Ex's Best Friend" featuring Blackbear. In the speech he acknowledged his temper when he said he threatened the label not to drop the song at first but thanked them for doing it anyway. He also thanked the director of the video, Van Alpert, who he also fought with during the production. 
Kelly and Barker gave an intense performance of "Papercuts," with Kelly concluding it by destroying his guitar and collapsing to the floor. 
Overall, it was an entertaining show with plenty of performances from many different genres. There was something for everyone even if the runtime might have been a little too long for people to sit through.