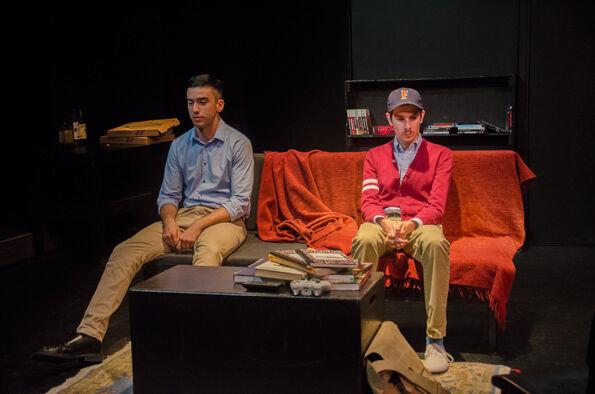 Cal State Fullerton's College of the Arts opened Really Really at the Clayes Performing Arts Center, Arena Theatre Friday night.
The lights fade up to a dramatic beginning as two disheveled roommates enter a dimly lit apartment. Leigh, played by Evette Torres, shows agony from a bloody cut on her hand.
As the lights switch to the other side of the stage, it reveals a typical college guy environment, complete with playful banter. Empty pizza boxes lay on the floor and beer bottles are scattered across the room as the boys talk about girls, play video games and study for midterms.
The boastful and privileged Cooper, played by Sean Ellner, fights with his roommates Davis and Johnson over who had sex at his party the night before.
Davis, played by Christopher Yu is deemed a good student by his friends—however that is meant to be taken negatively.
A dark side is revealed when Davis' friends discover he had sex with Leigh, who is the pregnant girlfriend of their friend Jimmy. Johnson, played by Miguel Castellano, walks in on Davis and Cooper wrapped in each other's arms mid hug, bringing comedic relief to the scene.
At this point of the show, the audience is left to make their own assumptions of what really happened at the party.
Leigh's roommate Grace, played by Adaeze Emeahara, gives a powerful speech to the Future Leaders of America about the "me" generation, asking questions about achieving goals. She shows confidence, wit and the importance of the future for a younger generation.
The scene then switches to Leigh at her apartment as Jimmy, played by Timmy Jasperson, comes home knowing that she cheated on him with Davis. Leigh notices something wrong with Jimmy as it quickly escalates to Leigh in tears recalling a night of terror and rape. She defends her actions saying that she tried to get out, tried to stop him and yelled stop but yet no one was there to help. With great emotion and despair, the audience can't help but feel sorry for what happened to her.
The conflict only grows more intense as Davis finds out that Jimmy now knows the events of that fateful night. He is forced to skip his midterms, and shows vulnerability when he realizes what his actions could do to his future.
Cooper starts to question his friend as all the fun and games begin to fade. Real life sets in and Davis begs him to believe that he is not who Cooper thinks he is.
The show, under the direction of Sarah Ripper, has its ups and downs, from everyday college life, to real-life trauma that could happen to anyone. Leigh's sister, Haley, played by Chelsea Harvey, provides a comedic break in the show with her witty one-liners and sassy attitude.
Even in the moments of comedy there is a sense of darkness. The play explored themes of trust and suggests that it is only when people face intense situations that their true nature is revealed.
A topical and relevant story for a new generation, Really Really provides current matters that make an audience not only question, but also feel. Even in the end, the audience is left wondering who is really at fault.
The play is presented by Grand Central Art Center in Santa Ana and runs until March 28.