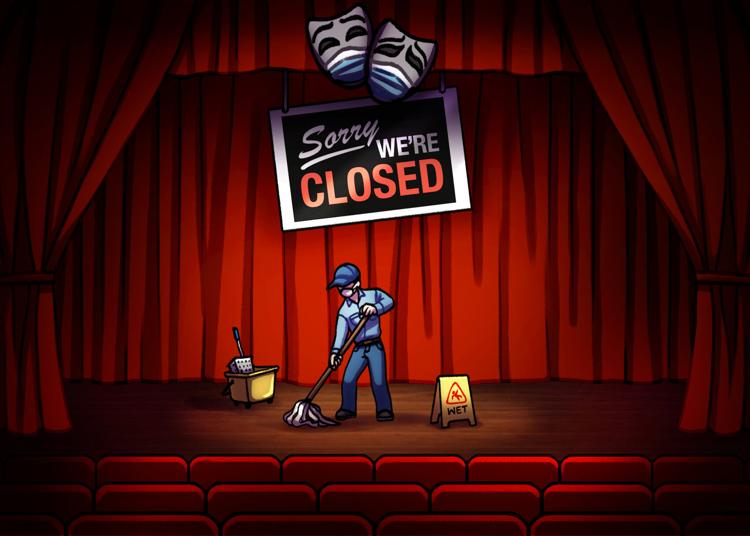 In Irvine in early March, the cast of University High School's production of "Pippin" was summoned to the theater classroom during lunch, dreading the news awaiting them. 
The principal was there to explain that the second of two planned performance weekends would be canceled due to an impending shutdown, and that night would be the last performance, with a reduced crowd of about 50 people. 
"I just remember, we were all in tears, absolute sadness and not really understanding what was going on," said Keza Kananura, now a freshman theater major at Cal State Fullerton. 
The shutdown was only supposed to last through spring break. There was still a chance that the show could go on. 
"Little did I know that Friday, March 17 was the last day I would ever see anybody again in person," Kananura said. 
Similar scenes of disappointment played out for performers across the country this spring when the COVID-19 pandemic brought all plans for live performances to a halt.
What started as a two-week shutdown has now stretched into eight months without theatre productions, with no clear sign of when they will be back.
With all this time away from the stage, CSUF theater students are missing the experience of performing before a crowd.
"I feel like a version of myself, not like the person that I normally am," Kananura said. "It's difficult because that's how I express myself. It's how I sometimes process things, and so to go almost a whole year without being able to do that is really difficult."
For performers like Kananura, performances are their lifeblood.  
"There's something about actually having an audience there that changes the energy of the entire performance," said Jack O'Leary, a senior pursuing a bachelor's degree in musical theater.
O'Leary was set to be a part of a musical adaptation of "Jane Eyre" when it too was abruptly canceled before even opening. 
"We understood that they were doing it, as like a safety measure of course and that's super important, but we were also just really bummed that we had done all this work, and then we didn't have a chance to showcase it," O'Leary said. 
Despite the unprecedented circumstances, CSUF students have still found ways to stay engaged with their passion.
O'Leary took his talents to Instagram Live, where he spent the summer reading chapters of J.R.R Tolkien's "The Hobbit," with theatrical flair.
"It's an inspiring story and I thought this is a story that I think some people need to hear right now, that in the face of insurmountable odds and crazy circumstances, it's the small everyday kindnesses that save the world," O' Leary said. 
Sabrina Lopez, a fourth-year acting student, found her inspiration in the real-life social movements after seeing a post from the theater department chair during this summer's Black Lives Matter protests all over the country. 
"He wrote something on Facebook about being against all sorts of discrimination and I kind of sat back and thought about well that's not true because there's a lot of instances of discrimination and racism that have existed within our department for years," Lopez said. 
In response, Lopez and a group of other theater students created the Theatre Artists Union for Student Equity and Diversity in June, where she has spent the last few months working to improve conditions for fellow students of color at CSUF.
Due to her efforts, another committee composed of primarily faculty and staff was formed to tackle the issue with Lopez and other students weighing in as well. 
"We've been pretty busy with that all summer. I've been in probably over 200 Zoom meetings," Lopez said. 
Nevertheless, Lopez has also found time to work on her craft. 
This fall, students in the theater department are working on a number of virtual and pre-recorded productions. Meanwhile, Lopez just wrapped up filming a play called "Orange Flower Water."
"I kind of like it in the sense that if we're filming more productions, that's just going to make them more accessible to more communities that otherwise wouldn't be able to afford to go out to go see a play. So it's an interesting dynamic that we have now," Lopez said. 
Alex Corey, senior theater major, is also part of one of the filmed productions but still misses the intimacy and communal experience of live shows. 
"Theater is that one performance form where you have to literally be in the room watching it to really experience it," Corey said.  
Theater is also about learning about yourself and the world around you, two things Corey has found himself doing a lot more over the last few months, he said.
"So for me, the experience of making friends and keeping in touch with them has really kind of shone a light on the fact that this is really hitting everyone differently," Corey said. 
Yet in the face of so much trauma and uncertainty, Kananura said she still has had a rewarding experience so far as a CSUF theater student.
"I am absolutely loving it. I never thought in my wildest dreams that I would get to go to school and do theater," Kananura.