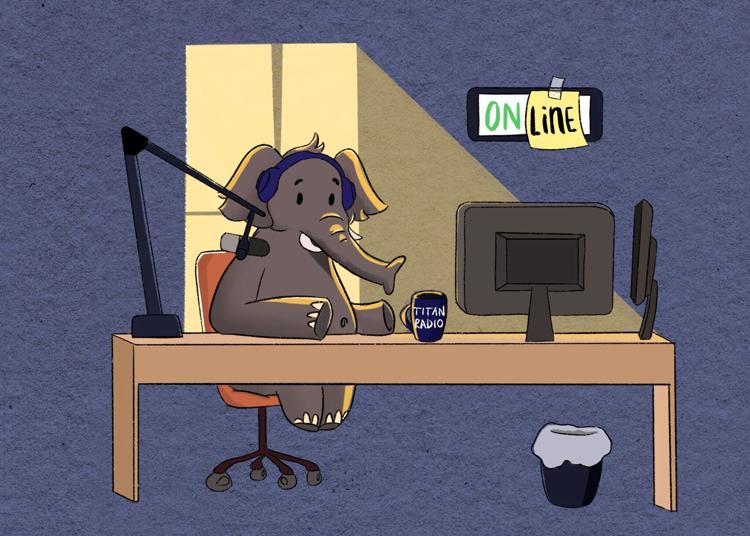 In past semesters, students could join clubs and organizations that fit their career through events or advertisements. However, this semester will look a little different.
In March, when the spring semester was barely taking flight, Cal State Fullerton closed its doors, and was forced to transition to online learning in response to the pandemic. Organizations and clubs that rely heavily on the engagement of on-campus activities also had to stop.
Among these organizations is Titan Radio. Like many campus organizations, Titan Radio is run by students, and they are facing the challenges of being completely online.
Founded in 2001, entertainment on campus was from the Titan Radio team, according to Titan Communications. The radio station would host live music shows at the Becker Amphitheater and worked with CSUF's Division of Information Technology to have Titan Radio play live through the speakers at the Promenade and Titan Walk.
But what happens when no one can set foot on campus?
"It definitely was a hard switch," said Areeba Kaukab, the communication and campus outreach director at Titan Radio. "A lot of the interactions that happen at the station happen to chance."
Kaukab is also in charge of running the radio's street team, where students gain valuable experience working at the station, or producing content they can use in their future careers.
Titan Radio is located in the southern basement of Pollak Library. For Kaukab, ceasing to operate at the place where she and her peers spent most of their time was difficult.
"A lot of us aren't able to meet each other in a fluid motion… we had to jump from a very interactive space to try to figure out a virtual space." Kaukab said.
For this semester, Kaukab hopes to create a sense of community among her team even without being physically there for each other.
"The biggest goal for me and the rest of our team right now is to make sure that our students feel heard… I really want events that focus on our students' voices, and obviously focus on having fun," Kaukab said.
As a transfer student, Kaukab's first home at CSUF was the radio station.
"If I didn't have the (Titan Radio) community, I don't think I would have that many people to connect to on campus," she said.
Similarly to Kaukab's wishes, Matt Sylvester, radio media coordinator, hopes that this semester brings the same amount of audience engagement and staff engagement that Titan Radio had in previous semesters.
As a new graduate, Sylvester's main concern was engaging incoming students and promoting Titan Radio. Like other clubs on campus, Titan Radio submitted an introduction video for Discoverfest, which will take place online this semester.
"When we were on campus, Discoverfest was huge for us, and physical marketing was huge for us… but that option isn't there because people aren't on campus," Sylvester said.
To combat the lack of in-person interaction, Sylvester said that the club is promoting engagement through other platforms.
"We're trying to reach out to Comm classes, we're trying to reach out to professors to let us speak in their Zoom classrooms," Sylvester said. "We really aren't going to know how good we're doing until our DJ applications close in three weeks."
The operations at Titan Radio will remain the same, apart from being remote. Students interested in being a DJ and having their own show will use Adobe Audition.
Shelby Stancliff, general manager at Titan Radio, explained that their shows will be pre recorded and broadcasted, but her goal is to show to students that Titan Radio is alive and well.
"We're still up and running, even if we're not broadcasting at the station," she said. " I just want to keep a presence and let people know that we're still here even if you don't see us or hear us on campus."
Stancliff encouraged students to participate and join Titan Radio, even if it's all online.
"Being able to record a show on your own and take time to edit it, rather than having to be in the station and broadcast, you get a little bit of freedom that way," Stancliff said. "It's a good opportunity for people that just wanted to dip their toes in the water."