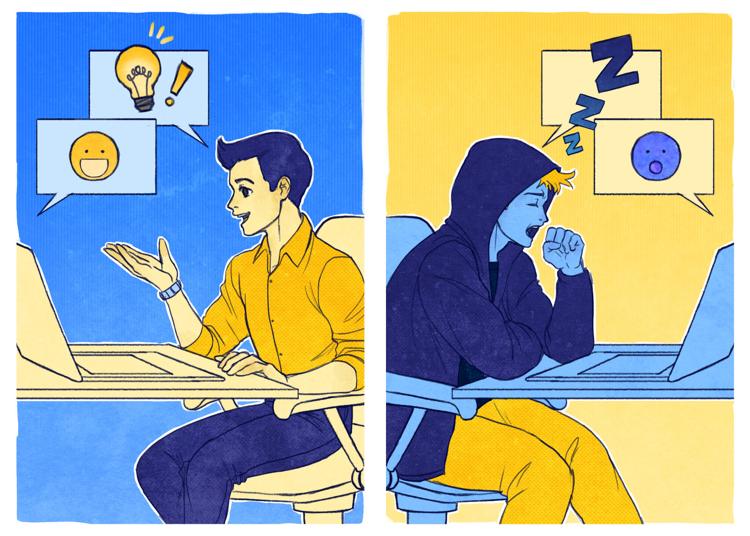 As the new semester begins during the COVID-19 pandemic, students in the Cal State University system are facing virtual instruction for their fall courses.
For many students, these circumstances mean frustrating hours spent learning via Zoom while they deal with other factors in their life.
After six months in this pandemic, we're here to offer some practices to help students navigate the remote learning experience professionally and efficiently.
Your Camera and You
When your camera is on, be conscious of what can be seen.
Casual dress is OK, by casual dress we mean a top and bottom garment. Showing up to class bare chested and in your underpants is not OK, virtual or otherwise. Dress for class appropriately and fully.
Do not neglect wearing bottoms, even if your camera is aimed at the waist up. Don't get caught with your pants down when you stand up to stretch.
Remember that Big Brother is always watching and that includes our professors and classmates. While we may tune out the class, our devices remain tuned in.
Be sure to get dressed with plenty of time ahead of the meeting, and out of the camera's view so you don't accidentally bare it all on a livestream.
As you would in an in-person course, sit up straight and nod along when the speaker is talking. Keep distractions, including snacks, out of sight and out of mind.
It is important to mute your microphone and turn off your camera any time it is not necessary or if you need to step away from the device. If you need to step out, consider leaving your laptop at your workspace to avoid accidentally unmuting yourself and broadcasting unwanted sound.
Your Privacy and You
As a student on Zoom, you always want to look your best. At the very least, show your best.
No matter how neat you may look, an online environment is delicate, and clothes alone cannot set the mood like a quiet room can. The slightest noise can distract you, your peers and your professors. Unfortunately, distractions come in many shapes and sizes.
Say your pet decides to crash the class to strut their stuff, or an angry parent barges into your room or maybe even a shirtless roommate storms in looking for their favorite T-shirt.
Even though those situations may prompt a few laughs, you may find an unhappy professor staring at you.
There are ways to avoid these distractions with planning and communication.
Make sure everyone in your household knows when you're in class. Give them a copy of your schedule, if it helps.
There's also the holy grail of four-walled privacy: the door lock. No canines, felines, parents or people allowed. The end-all-be-all solution for any and every classcrasher.
Your Downtime and You
The pace of a class is like the ocean, ebbing and flowing with an ever changing tide. Sometimes, classes call for complete attention, requiring students to take note of the tiniest piece of information. Yet, there are also times that feel slower than the thickest molasses.
This feeling plagues students in their classrooms, and while the most they can do is goof off on their phones, you aren't in your normal classroom setting.
You've seen it before: a student accidentally letting their music blare over the camera, or only one person with their microphone and camera off. Incidents like these are a dead giveaway that you're not on task.
While we don't condone the act of goofing off, there are measures you can take.
Headphones are useful for hearing professors better, but also helpful for keeping the sound where it needs to be: your ears. Banging out to tunes is always a great time, but it's wise to keep the music volume low in case you're summoned to the real world.
Paying attention is key.
Be skilled in recognizing downtime from an important time. It's better to have some rest when it's a review session, rather than when the professor is introducing new material.
Yourself and You
No matter how prepared you are, remote learning is far from ideal. It is another headache at a time when most of us could use less stress.
But you are making history by fighting the good fight and sticking it out.
As important as it may be not to fall behind, it's even more critical to focus on your physical and mental health during these stressful times. Take screen time breaks, stay hydrated and remember to eat. Keep a barrier between your school, work and home life. Don't sweat the small stuff.
The world is going through a tough time, but with this survival guide, the hope is that you spend less time worrying about your calls and more time focusing on you.
Always remember to do your best, look your best and feel your best. This year may be out of control, but it's yours to take bac