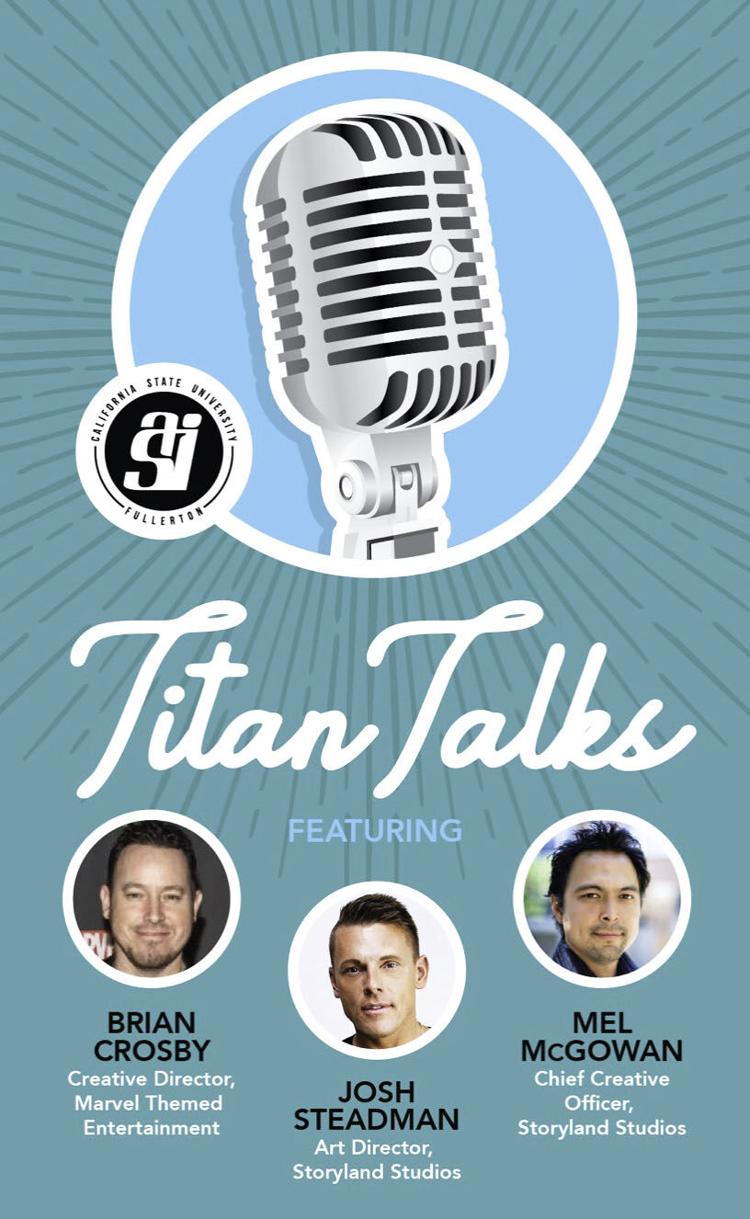 Three entertainment creatives from Storyland Studios and Marvel Themed Entertainment shared their success stories on Tuesday night, including how one went from scrubbing toilets for Disney to rising as a chief creative officer in a spin-off company.
In the kickoff episode of Titan Talks, which is a new talk show series hosted by Cal State Fullerton's Associated Students, speakers consisted of Brian Crosby, the creative director for Marvel Themed Entertainment, Mel McGowan, the chief creative officer, who started a Disney spin-off group called Storyland Studios with a couple of other Imagineering alumni, and Josh Steadman, a Storyland Studios art director.
Jacob Fry, the ASI host, asked the speakers if they feel pressure bringing the characters to life, since so many people are connected to the characters. 
"I think it's important to not only be a creator, but also be a consumer of the product and understand the way people experience parks, experience museums or experience our characters and what they love, what they're passionate about," Crosby said. "I think it's more hope that what you do resonates and that people enjoy it." 
Although each workday looks different for these creatives, they were able to describe some common daily tasks as an art or creative director. Crosby said these positions are very collaborative as it requires working with writers, artists, scientists, engineers, lawyers, marketers and so on. 
Though McGowan said he misses the peaceful time he had at the drawing table, he now appreciates the idea of never knowing what to expect the next day or even the next hour. 
Constantly pushing the envelope is a fun challenge for someone in the creative process and makes the mundane a little more exciting, Steadman said.
"Part of the day to day of the art directors' side is making sure what's been considered, like conceptualized, as a team is exactly what we intend for the client but also adding to it to make it a better product," Steadman said.
As for how he got started, he said he had known what he wanted to do since childhood. 
"I knew since I was a kid I wanted to be a theme park designer and I would say that I pursued it with a tenacity that was a little bit insane," Steadman said.
One common denominator that the three creators had when starting out was the raw passion to work as a creator in the entertainment industry. 
"I just started at Disney, actually, cleaning toilets; literally started on the ground floor at Disney and worked my way in and up," McGowan said. 
The toilet cleaning and perseverance paid off for McGowan as Disney ended up paying for his graduate degree that set off his almost 20-year career in the industry. 
The speakers were asked about their favorite projects to create out of all the stories they have been able to do in the past five years. McGowan answered the question with a pro bono project he worked on in Southeast Asia which was making a village for survivors of child sex trafficking. The team aimed to create a healing garden full of life, hope and renewal. 
"It's this place that really celebrates the unique sense of diversity and history and just a beautiful segment," McGowan said. 
Steadman shared his experience working on the castle for Shanghai Disneyland. His role was to create a walk-through design for the castle in just six weeks. True to the passion for his work, Steadman became emotional when expressing the feeling of accomplishment.
"For it to happen so fast was really incredible," he said.  
Crosby said that a lot of time and sacrifices are made before and after landing their positions with these prominent entertainment companies. 
"I think of it more philosophically as about stories that have a real power to kind of form who we are, transform who we can become," McGowan said.
One of Fry's final questions was how internships are looking during the pandemic, which has wreaked havoc in many industries.
"If your dream employer isn't offering an internship, you know, create your own project," McGowan said. 
Take advantage of what is available now, such as connecting with people in the industry via email or Zoom calls, McGowan said. He said the time spent commuting is now available for returning phone calls.
Crosby said the importance of networking, especially to get into the entertainment industry. He mentioned that most people don't know how small the industry is until you get into it. 
Steadman emphasized the necessity for passion and drive to succeed in the industry.
"We do what we do because we love what we do and if you're not passionate about doing it, you can't do it," Steadman said.